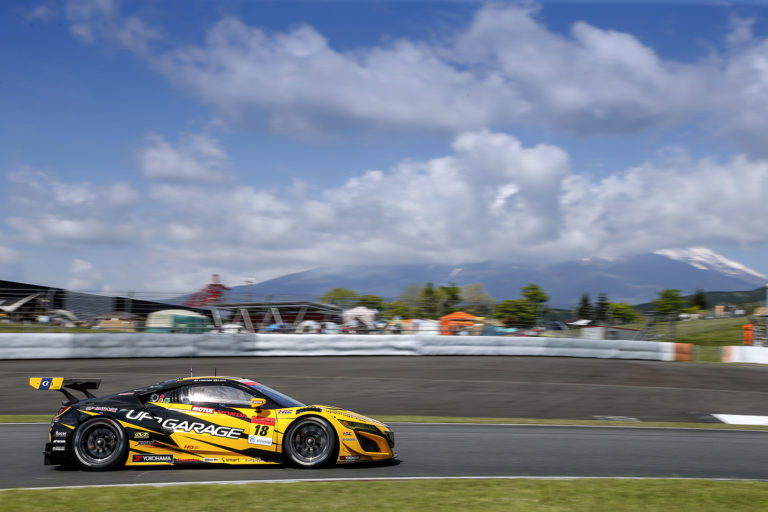 GT3 / 05 May 2022
NSX GT3 Evo 22s in action in Japan and USA
The NSX GT3 Evo 22's season continued this week with the latest rounds of both Super GT in Japan and North America's IMSA WeatherTech Sports Car Championship.
Super GT
Team UPGARAGE pair Takashi Kobayashi and Kakunoshin Ohta had begun the year with a superb second-place finish at the Okayama opener, but that meant the duo were forced to carry a 45kg success penalty for Round Two of the season at Fuji.
Held on a Wednesday as part of Japan's 'Golden Week' the pair navigated their way through a race that was red-flagged twice due to heavy accidents for other cars. They climbed from 17th on the grid to finish 13th.
With only half-points awarded for a race that did not go its full intended distance, Kobayashi and Ohta still hold third place in the Drivers' points with Team UPGARAGE third in the Teams' standings.
ARTA duo Hideki Mutoh and Iori Kimura ran strongly in practice and qualifying; the duo making it into Q2 and starting 10th.
The pair had risen as high as sixth in the race when contact for Kimura caused front-end damage. The car retired soon afterwards.
IMSA
Rick Ware Racing contested their second race of the season with a lone NSX GT3 Evo 22 for Aidan Read and Ryan Eversley; the former putting the car seventh on the grid in qualifying - the team's best starting spot to date.
He ran solidly through the opening hour of the race, climbing to sixth before the team was judged not to have correctly followed the 'wave-by' procedure during a safety-car period.
Doing this actually allowed Eversely to cycle into the lead, but the subsequent 2m53s stop/go penalty dropped the car - which nevertheless showed competitive laptimes - to 12th by the flag.
All three cars were competing as part of the NSX GT3 Customer Racing Programme; a global collaborative project with JAS Motorsport responsible for assembly of all cars.

Honda Performance Development (HPD) and M-TEC handle sales and technical support in North America and Japan respectively, with JAS responsible for these areas across the rest of the world.