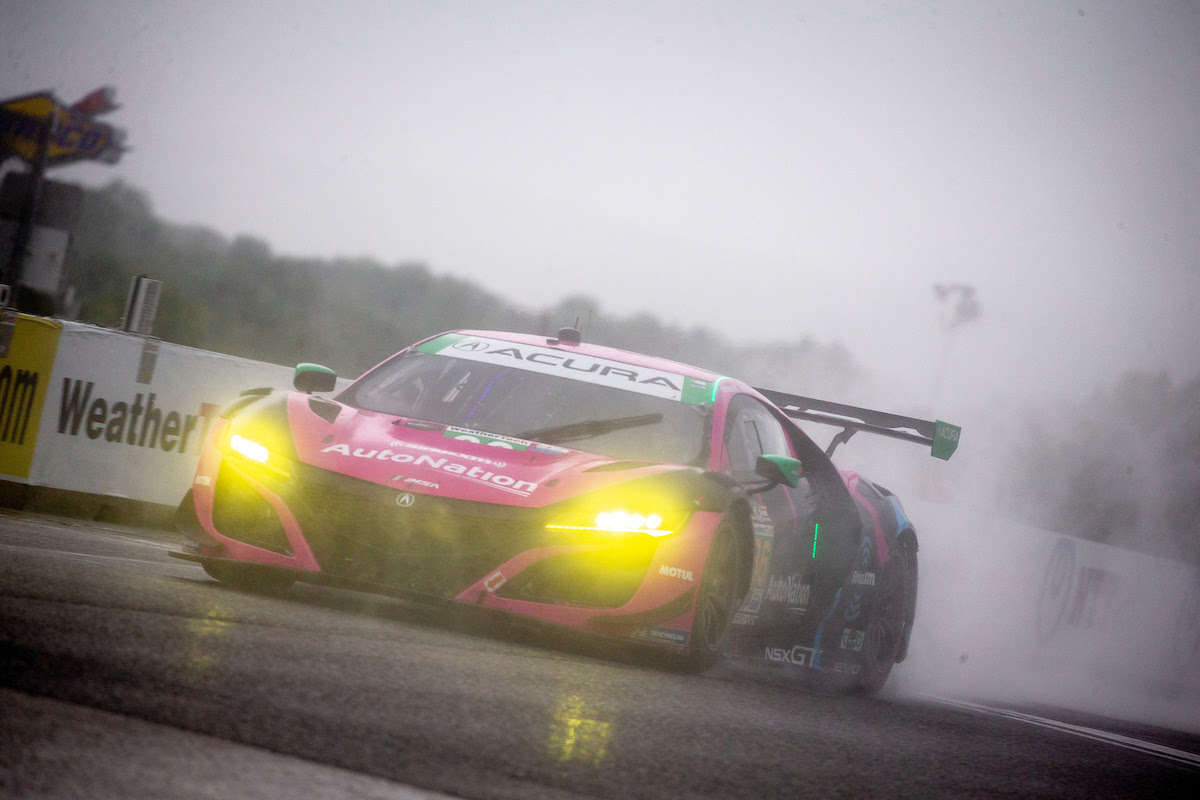 GT3 / 03 August 2020
NSX GT3 Evo on IMSA podium at Road America
Mario Farnbacher and Matt McMurry scored the NSX GT3 Evo' best result of the IMSA Weathertech Sports Car Championship season with a strong second-place finish in Road America race that was beset by torrential rain.
Farnbacher - who won last year's GTD title in the NSX - started seventh, but made an inspired call to pit for wet tyres just as rain began to fall on parts of the American circuit.
Once the track was totally wet, he found himself on the right tyres for the conditions and the Meyer Shank Racing driver began to carve through the field during the race's final half-hour.
He snatched the lead with five minutes remaining with a daring pass around the outside of Canada Corner, but spun on the next lap avoiding a crashing GT-LM car at the high-speed kink on the back straight and finished second instead.
Parente and McMurry moved up to fourth in the Drivers' Championship while Acura climbed to second in the Manufacturers' points.
The sister car, entered under the Heinricher Racing banner, qualified eighth in Misha Goikhberg's hands, ran seventh in the dry, but were undone when co-driver Alvaro Parente crashed heavily at Turn 1 on slick tyres as the rain hit.
Gradient Racing's Till Bechtolsheimer qualified 10th in the dry session on Saturday and both he and co-driver Marc Miller ran solidly during the first two-thirds of the race.
Miller, who had just made a scheduled stop, dived straight back into the pits for wet tyres shortly afterwards - just as full-course yellow conditions were declared due to the conditions. This proved crucial.
The stop, which dropped the car off the lead lap, also took place moments after the pits had been closed, which resulted in a later drive-through penalty and limited their car to 11th spot.
All three cars were competing as part of the NSX GT3 Customer Racing Programme; a global collaborative project with JAS Motorsport responsible for assembly of all cars.

Honda Performance Development (HPD) and M-TEC handle sales and technical support in North America and Japan respectively, with JAS responsible for these areas across the rest of the world.