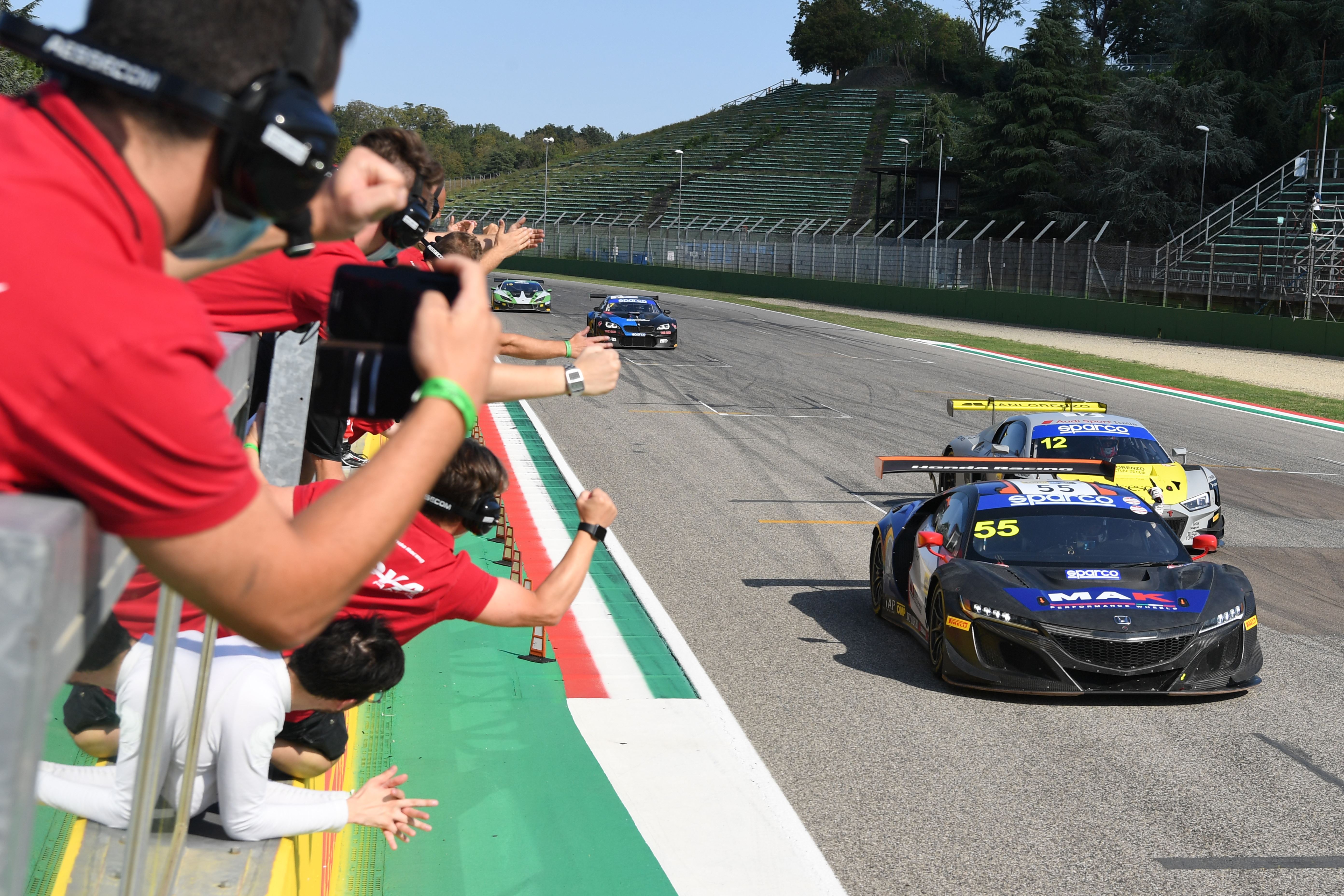 GT3 / 06 September 2021
NSX GT3 Evo scores first outright Italian GT victory
History was made at Imola on Sunday as the NSX GT3 Evo scored its first outright victory in the Italian GT Championship thanks to JAS Motorsport Development Driver Jacopo Guidetti, his co-driver Francesco de Luca and the Nova Race team.
Having started from pole position in the Pro-Am category, Guidetti pulled out a five-second class lead during the first half of the race, climbing from sixth place overall to fourth.
But an astonishing final few laps before his stop, combined with incredible work in the pits from Nova Race, meant that de Luca emerged from his stop as a surprise overall leader, ahead of all the cars crewed by fully 'Pro' line-ups.
De Luca hung on for several laps under immense pressure, but ultimately decided to focus on banking maximum class points, so did not take any undue risks when the two leading Pro cars came by.
That philosophy was to reward de Luca hugely with just two of the 50 minutes remaining as the leaders crashed together and left both he and Guidetti to take an unchallenged overall victory behind the safety car.
The pair were fourth in Pro-Am in Race One, meaning they are now second in the class standings in Italian GT's Sprint Series - of which Imola was the penultimate event - 15 points off the lead with 40 still available.
The sister car was driven by another JAS Development Driver, Erwin Zanotti, and Spaniard Jorge Cabezas and completed a sensational Sunday by winning the Am class.
Zanotti, who had started third in the category, delivered a strong opening stint to reach the driver changes in the same spot; an ultra-quick turnaround meaning that Cabezas rejoined the circuit second.
He took just 10 minutes to close down and pass the category leader and went on to take his first - and the team's second - Am win of the year in sixth place overall.
Combined with third in class in Race One, Zanotti is second in the Sprint standings - only five points off the series lead with just the finale at Mugello to come on October 9-10.
Both cars were competing as part of the NSX GT3 Customer Racing Programme; a global collaborative project with JAS Motorsport responsible for assembly of all cars.
Honda Performance Development (HPD) and M-TEC handle sales and technical support in North America and Japan respectively, with JAS responsible for these areas across the rest of the world.
Mads Fischer, JAS Motorsport GT3 Customer Service Manager, said: "It's been a fantastic weekend. Not only has the NSX GT3 Evo has won in yet another major racing series, but the first Italian GT Championship victory has been achieved by Jacopo Guidetti - a member of the JAS Motorsport Driver Development Programme - which makes me extra proud. The fact that another DDP member, Erwin Zanotti, also won his class in the same race makes the day even more special. I must give special credit to Nova Race, who put their faith in the NSX GT3 Evo just under a year ago and could now potentially win both the Pro-Am and Am titles this year. They did an incredible job to repair the damage to Jacopo's car after some contact late in Race One and were simply stunning during the pitstops in both races. They richly deserve this double success."