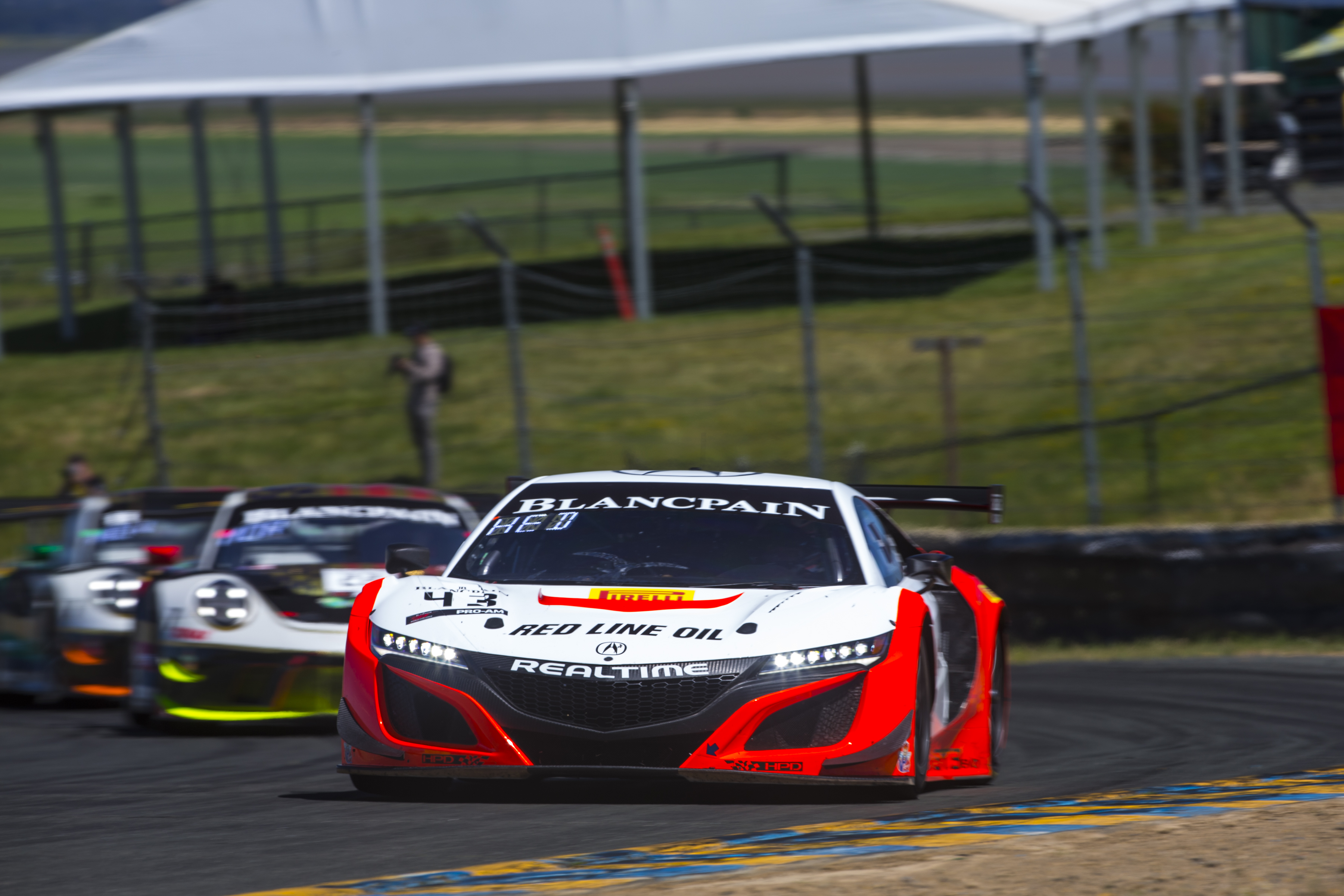 GT3 / 10 June 2019
NSX GT3 Evo wins again at Sonoma
RealTime Racing's Mike Hedlund and Dane Cameron took a fantastic pro-am victory at Sonoma to secure the sixth class win in eight Blancpain GT World Challenge America races in 2019 for the NSX GT3 Evo.
Hedlund, who only signed to deputise for the unavailable Bret Curtis 48 hours before the weekend officially began, qualified the car on class pole with a storming lap on Saturday.
He then drove a commanding opening stint in Race One to ensure that co-driver Cameron could emerge from the mandatory driver changes with a 12-second advantage over his nearest class rival; a lead he was easily able to convert into a second win of the season.
Cameron ran fourth throughout his stint on Sunday while Hedlund survived being hit by a spinning am car while lapping it, and made a spectacular round-the-outside move on the final lap to snatch second.
Championship leaders Martin Barkey and Kyle Marcelli were early retirees from Race One as their Racers' Edge Motorsport car, which had started fifth, suffered contact that holed a radiator and required an overnight engine change.
Despite dropping to the back with an early drive-through penalty for passing under yellow flags, Marcelli recovered well in Race Two and a number of safety-car periods allowed him to close in on the pack.
Slick pitwork meant that Barkey had moved the car into sixth by the time he emerged from his pitstop and he climbed to fourth by the chequered flag.
That was one place ahead of Gradient Racing's Till Bechotlsheimer, who had finished fourth on Saturday with Marc Miller. Bechtolsheimer pitted at three-quarters distance and changed two tyres. He fought back to finish fifth.
With six races remaining, Barkey and Marcelli lead Bechtolsheimer by 13 points in the Drivers' championship while Racers' Edge are the same margin clear of Gradient in the Teams' points. Cameron and RealTime have climbed to fourth.
All three cars were competing as part of the NSX GT3 Customer Racing Programme; a global collaborative project with JAS Motorsport responsible for assembly of all cars.
Honda Performance Development (HPD) and M-TEC handle sales and technical support in North America and Japan respectively, with JAS responsible for these areas across the rest of the world.
Stefano Fini, JAS Motorsport NSX GT3 Project Leader, said: "Six wins from eight races is a fantastic continuation to the season for the NSX GT3 Evo competitors in the Blancpain GT World Challenge America. is a very demanding circuit on chassis, so to hear both pro and am drivers speak of how comfortable they found the car there is a very good comment on the work done to develop the Evo version of the NSX GT3 for 2019. It's clear that Racers' Edge, Gradient and RealTime are three of the strongest teams in the series, and this is excellent news for us."