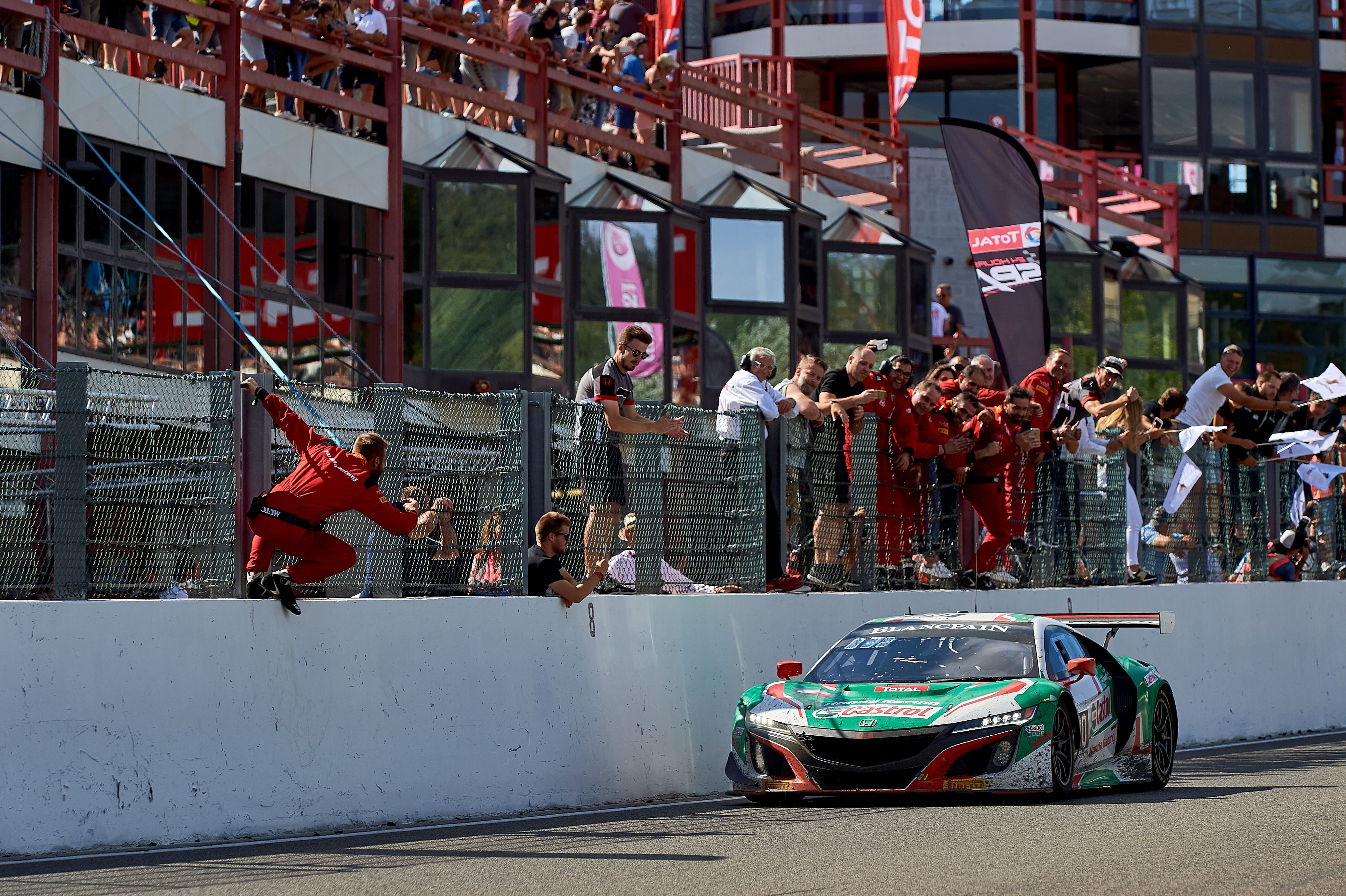 GT3 / 30 July 2018
NSX GT3 finishes on Spa 24 Hours debut
The Castrol Honda Racing team successfully completed the 24 Hours of Spa on the European 24h debut of the Honda NSX GT3, 25 years after the last NSX raced at the iconic endurance event.
Completing 490 laps and nearly 3,500km of flat-out competition, the race weekend was punctuated with early promise when Bertrand Baguette qualified the new machine within 0.8 seconds of the outright fastest time, and transferred that pace to his opening stint.
Supported by Esteban Guerrieri, the #30 entry climbed from ninth in the Pro-Am category and 49th overall to as high as third in class in the opening two hours as the pair cut through the field.
Bronze drivers Riccardo Patrese and Loic Depailler took the reins and continued in consistent fashion, until an unfortunate series of events hampered their progress.
A pitlane speeding penalty was followed by a puncture and unfortunate timing of safety cars - which causing the JAS Motorsport-run team to lose out by pitting just before full-course yellows were deployed.
The cumulative effect of this misfortune was that the #30 NSX had lost three laps to the leaders by the four-hour mark.
Aided by consistent runs from Depailler and Patrese, Baguette and Guerrieri alternated double stints throughout the night. Depailler took over as dawn broke and the crew mounted their fightback.
Having slipped to eighth in class, Guerrieri was at the wheel as the team were chasing fourth, only to be hit with a 30-second penalty for contact.
Showing great spirit in pushing to make a comeback once again, an issue with the air-conditioning system forced an unscheduled pitstop in the closing hours. As Depailler handed over to Guerrieri, the Argentinian completed a double stint without any A/C before handing the car back to Baguette to take the chequered flag seventh in Pro-Am class.
Completing a 24-hour endurance race is an incredibly hard task. Completing one with a new car and three drivers light on GT3 experience is an even greater challenge, so Castrol Honda Racing are incredibly proud of this step to firmly launch the Honda NSX badge back into endurance racing.
Alessandro Mariani, CEO JAS Motorsport, said: "I am very happy to have achieved the finish of the 24 Hours of Spa today because the story was difficult to achieve. Thanks to the huge effort from everybody, from every mechanic to fantastic drivers, with the support of Castrol and Honda, we could do it. Even if we had some small problems, they were very small considering we started everything brand new for this campaign. Of course, I'm a racer so we always like to celebrate successes, but I know with everything the first step is essential and this is the first step, and we can be very proud."
Bertrand Baguette said: "The main target was to finish and we made it so the weekend is good and we can be happy. The car was running very smoothly all the race apart from the A/C issue, and the laptime we did in qualifying was close to the best. This weekend the car was new, the team was new, and I was the only one who had done this race before so what we did we can be really proud about. A race like this takes everything out of you – you don't sleep, you have to push hard for so long – it's tough for everyone from the drivers to the mechanics and engineers. You go through so many pains and so much hard work together so it's very, very special when you can share in it together, and we had a great team and a great team spirit."
Esteban Guerrieri said: "It's difficult to find words for this event – my first 24 hours. It was very, very tough, but when you complete it, all that effort and exertion doesn't matter. When you live what we did finishing the race together, all the emotions, it's a very unique feeling. In my last stint I was tired, I was cramped, I was hot – I gave absolutely everything. I didn't underestimate the race and I did a lot of homework, but for the body it's very tough. It was a big effort from all of us, from the whole team, and it's a very proud moment – I really feel like we've achieved something together and been through something very special together."
Riccardo Patrese said: "I tell you that this weekend for me was very positive and I liked it very much, and at the end I achieved what I wanted – to come back and to see if I can still drive fast, not make mistakes, and be together with another 60 cars at Spa. In the end we managed to be safe home with the car, and I found time through the weekend and managed to go fast through Eau Rouge which is always something you feel in the heart! I was very surprised and happy to see that people still remember what I did in my career, more than 25 years ago. I don't have much experience with GT3 cars but the first time I drove the NSX I liked it very much because it's a car which is well balanced, had good downforce and a lot of electronic aids, which especially for me now, without much practice, helped me a lot! I am very thankful for this opportunity that Honda and Castrol have given me, and I can see how much passion there is for the programme, and from the fans too."
Loic Depailler said: "This experience as a whole has bene like a dream. It's all come together so fast that I didn't really have the time to think about. I tested the car, then was told I had the drive. Then Honda told me my teammate was Riccardo Patrese – it's been a rollercoaster of emotions! A big hero of mine has always been Riccardo, so to be honest when I first met him I was really nervous as to what to say. It's been an amazing experience to work with my three teammates and to see the insight they have on the car, and I learned a lot from them. We did a lot of work in testing on the car, and when we got the setup right it was just a wonder and I was impressed with how fast it was and the laptimes I could do in it. Part of the pressure I felt was playing my part in continuing the legacy of the Honda NSX this weekend, and playing a small part in a big story, but in the end that's what makes you even more proud. It was such an intense experience that I cried at the end of the race it was so emotional. I will tell the story of these 24 hours to my kids and their kids, that's for sure."