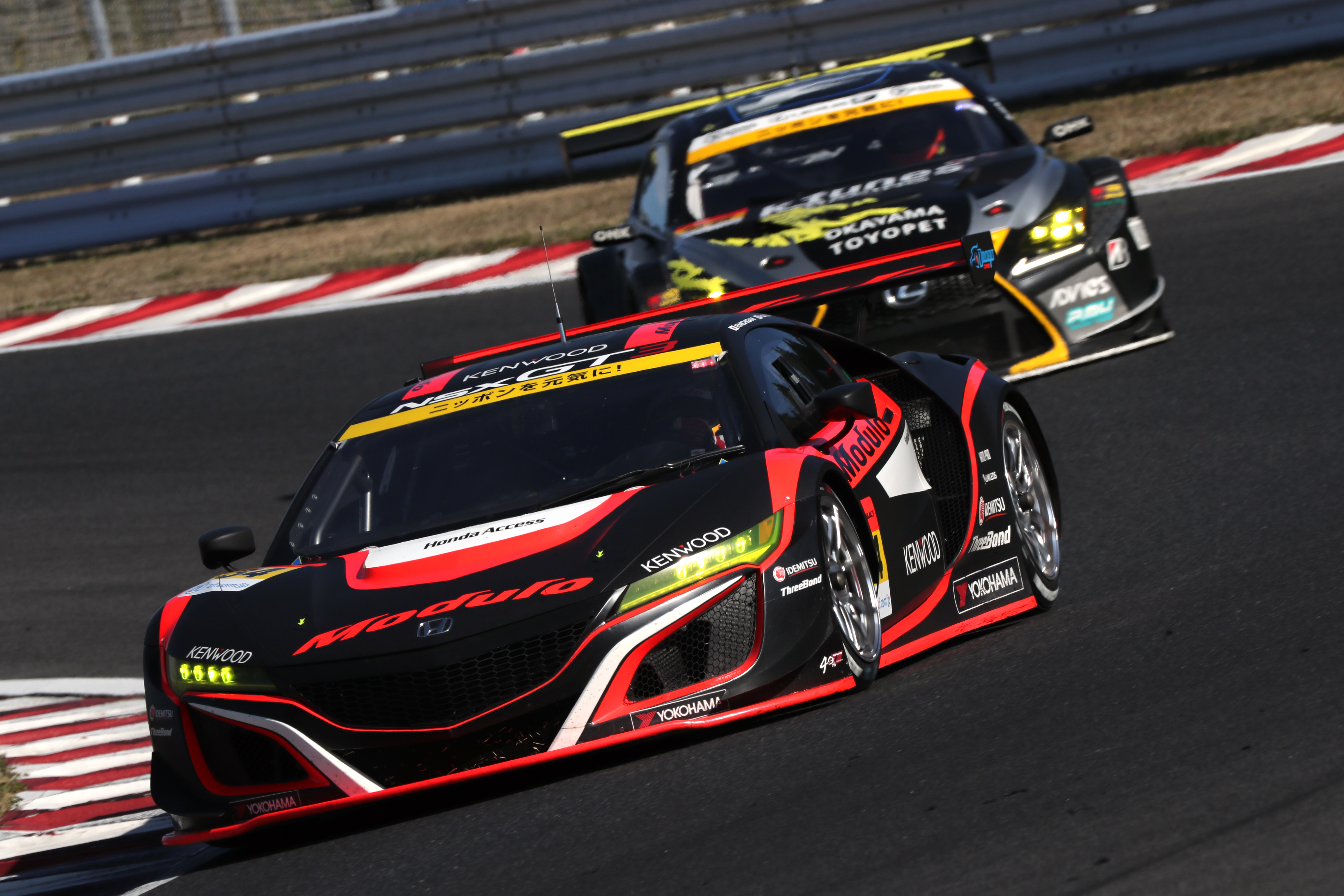 GT3 / 22 October 2018
NSX GT3 takes first Super GT podium
The Honda NSX GT3 took its first podium finish in Japan's premier sportscar series, Super GT, thanks to a superb performance by Modulo Drago Corse in the GT300 class at the challenging Autopolis circuit in Japan.
Drivers Ryo Michigami and Hiroki Otsu, who had missed a top-three finish by just sixth hundredths of a second last time out at Sugo, began the weekend with ninth in Saturday practice and improved to take the car's best-ever qualifying position with seventh.
They ran competitively throughout the 65-lap race. Michigami rose to fifth by the time of the mid-race driver changes and Otsu continued the car's progress; dramatically snatching third spot with a move at Turn One with just four laps remaining.
It was Michigami's first podium finish since he became Japan's first top-three finisher in the FIA World Touring Car Championship at Macau last year and new Super Taikyu ST-TCR Champion Otsu's maiden rostrum in Super GT.
Fellow NSX GT3 team CarGuy Racing returned to the series after missing the event at Sugo.
Naoki Yokomizo and Takeshi Kimura qualified 17th, but retired just beyond half-distance while running in a similar position.
The car was competing as part of the NSX GT3 Customer Racing Programme; a global collaborative project with JAS Motorsport responsible for assembly of all cars.
Honda Performance Development (HPD) and M-TEC handle sales and technical support in North America and Japan respectively, with JAS responsible for these areas across the rest of the world.
Stefano Fini, JAS Motorsport NSX GT3 Project Leader, said: "This is a fantastic result for the NSX GT3 and for Modulo Drago Corse; a result they deserve for the hard work they've put in this year in Super GT. In the past few weeks we have seen the NSX GT3 run strongly in the International GT Open in Europe, take second place in the IMSA series in North America and now secure a first podium in Super GT in Japan, which is a clear sign of the car's increasing competitiveness and our customer teams' ability to exploit its performance. I'm extremely pleased with this news."