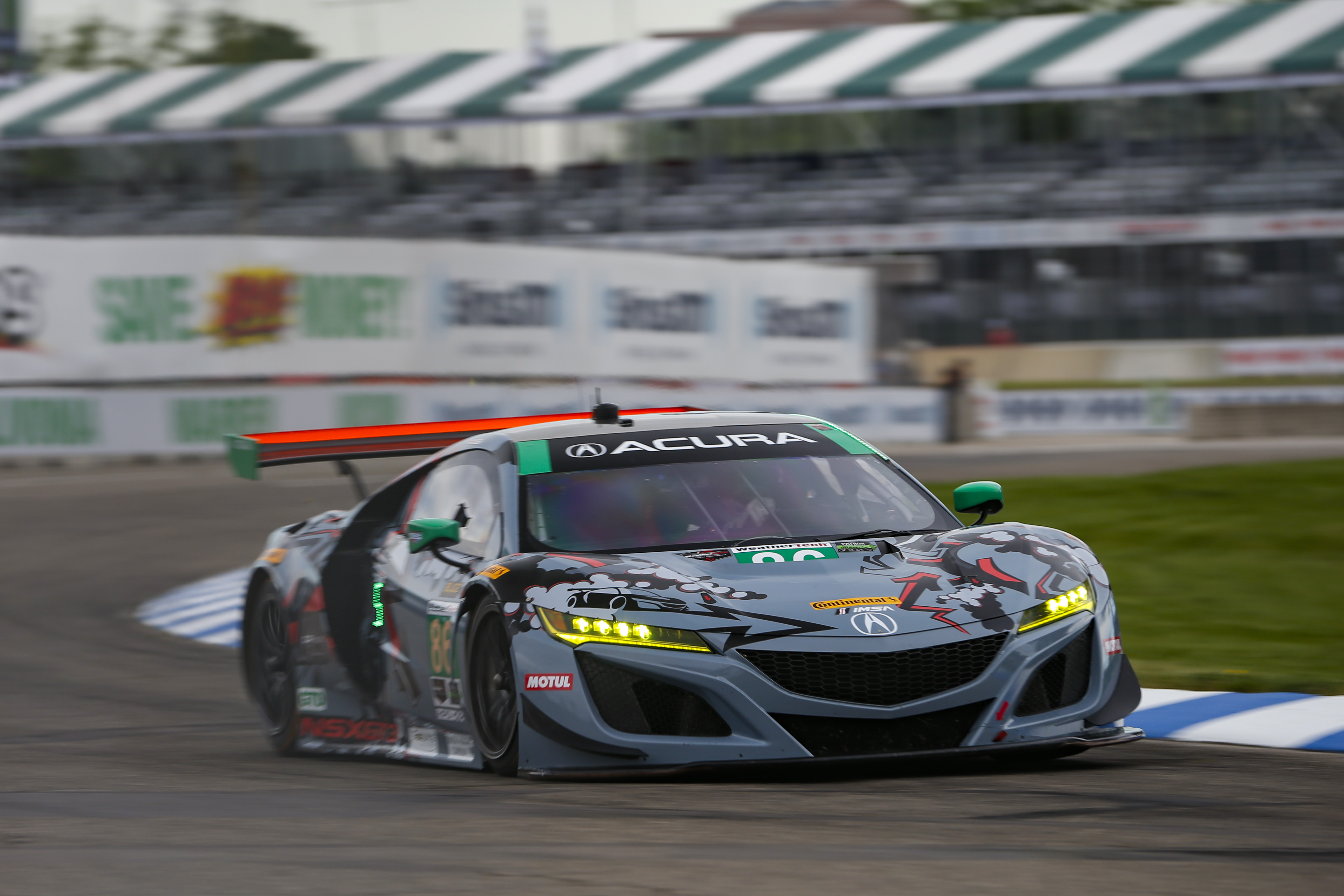 GT3 / 04 June 2018
NSX GT3 wins in Detroit
The NSX GT3 scored a magnificent one-two finish at the latest round of the IMSA WeatherTech Sports Car Championship at Belle Isle, Detroit, last weekend.

Meyer Shank Racing drivers Katherine Legge and Mario Farnbacher claimed victory at the same circuit where one year earlier the car had scored its first global success.

The pair were followed home by team-mates Justin Marks and Lawson Aschenbach.

Legge qualified second and ran there throughout the opening stint; the MSR team electing to pit her with just over 60 per cent of the 100-minute race to run.

Crucially, only left-side tyres were changed on the NSX GT3, allowing Farnbacher - substituting for the unavailable Alvaro Parente - to emerge in a lead he would not lose.

Employing the same strategy - and pitting one lap earlier - Aschenbach was also able to emerge ahead of the early leader and take his best finish of 2018.

The result means the car has achieved four podium finishes in the four IMSA races held this season.

Legge is second in the Drivers' Championship - only three points away from the lead position - and things are just as close in the Teams' and Manufacturers' tables with MSR and Acura in second place in each.

Both cars were competing as part of the NSX GT3 Customer Racing Programme; a global collaborative project with JAS Motorsport responsible for assembly of all cars.

Honda Performance Development (HPD) and M-TEC handle sales and technical support in North America and Japan respectively with JAS responsible for this across the rest of the world.

Stefano Fini, JAS Motorsport NSX GT3 Project Leader, said: "The level of competition in the IMSA Weathertech Sports Car Championship is as high as anywhere in the world, so to see the NSX GT3 score not just a win, but a one-two, is a tremendous achievement. Our huge congratulations go to everyone at Meyer Shank Racing, who extracted every last ounce of performance from the car in Detroit and knew the car would still handle well with old tyres on one side, so were able to make a very good strategic decision."