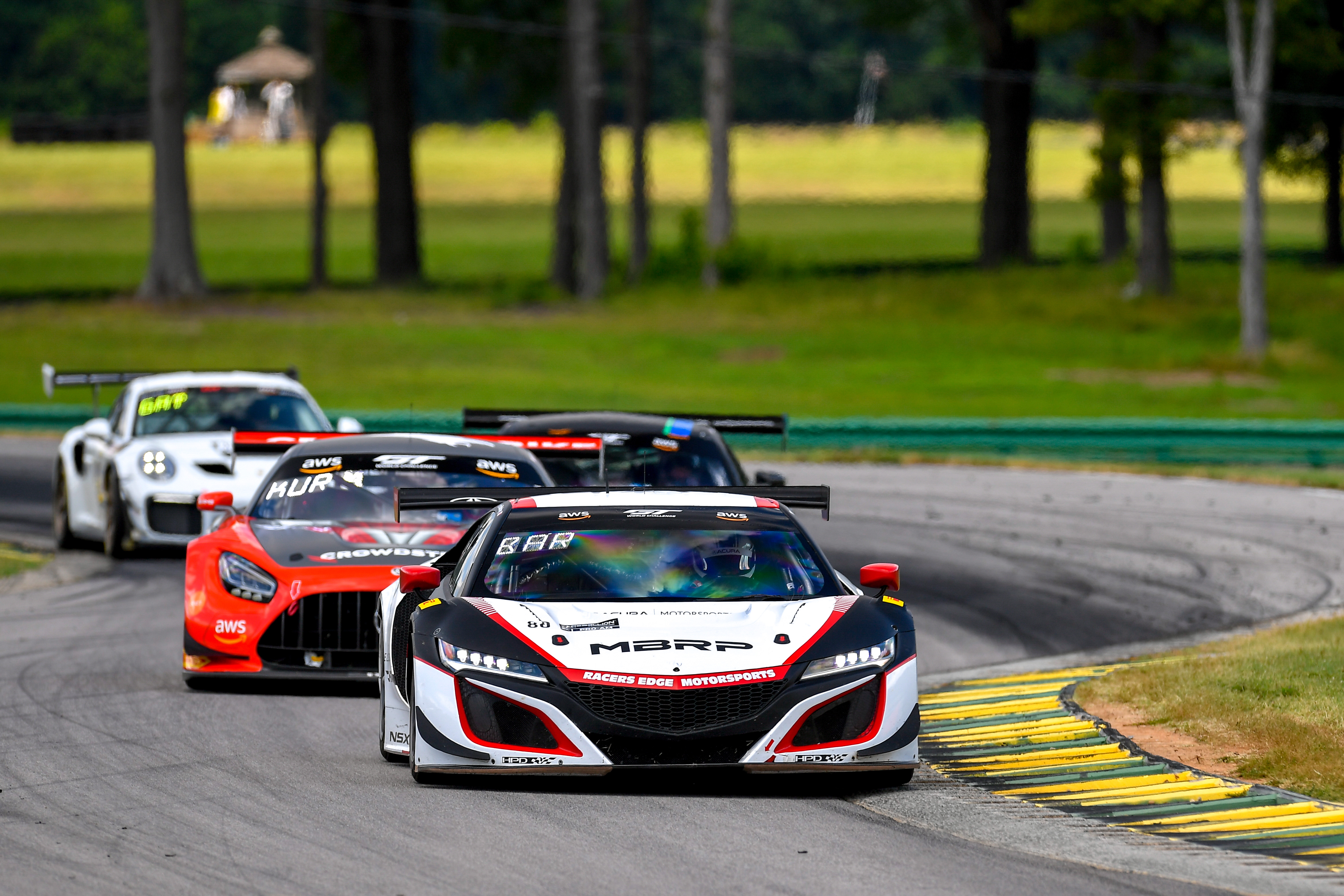 GT3 / 13 July 2020
One-two finish for NSX GT3 Evo and Racers Edge Motorsports
Racers Edge Motorsport scored a sensational one-two finish in the GT World Challenge America to give the NSX GT3 Evo a landmark result at Virginia International Raceway.
Martin Barkey and Kyle Marcelli secured their first outright series win to add to the three class victories they achieved on their way to the 2019 pro-am Teams' title, heading team-mates Shelby Blackstock and Trent Hindman in a tense final half-hour.
Emerging at the front of the field after the mid-race driver changes, Marcelli drove an inch-perfect stint to claim the team's third win from three races in 2020 and score the NSX's first one-two finish in the series.
Blackstock had taken another outright pole position in the sister car and built an eight-second lead by the time the mandatory driver-change window opened.
Frustratingly, full-course caution conditions were declared and then a safety car called while he was in the early stages of his in-lap, losing him an enormous amount of time compared to the pro-am cars that had pitted at the start of the window.
This dropped the car - now with Hindman aboard - to fourth, but the reigning IMSA GTD champion charged back; passing two rivals decisively and finishing right behind Marcelli to claim a third straight Silver class win.
From sixth overall and third in pro-am on the Race Two grid, Marcelli made instant progress to arrive at the pitstops in fourth spot, while a combination of quick pitwork and a late safety-car period helped bring Barkey up to second and onto the tail of the leader.
With maximum commitment, he came within 0.2 seconds of making it a double win, but the result does move he and Marcelli up to third in the pro-am standings, only eight points away from the series lead.
Polesitter Hindman built a three-second lead during his stint, but also incurred a drive-through penalty for speeding into the pitlane at the driver changes. Blackstock served he penalty having just re-taken the lead, but the pair were still classified as silver-class winners for a fourth straight race.
Both cars were competing as part of the NSX GT3 Customer Racing Programme; a global collaborative project with JAS Motorsport responsible for assembly of all cars.

Honda Performance Development (HPD) and M-TEC handle sales and technical support in North America and Japan respectively, with JAS responsible for these areas across the rest of the world.