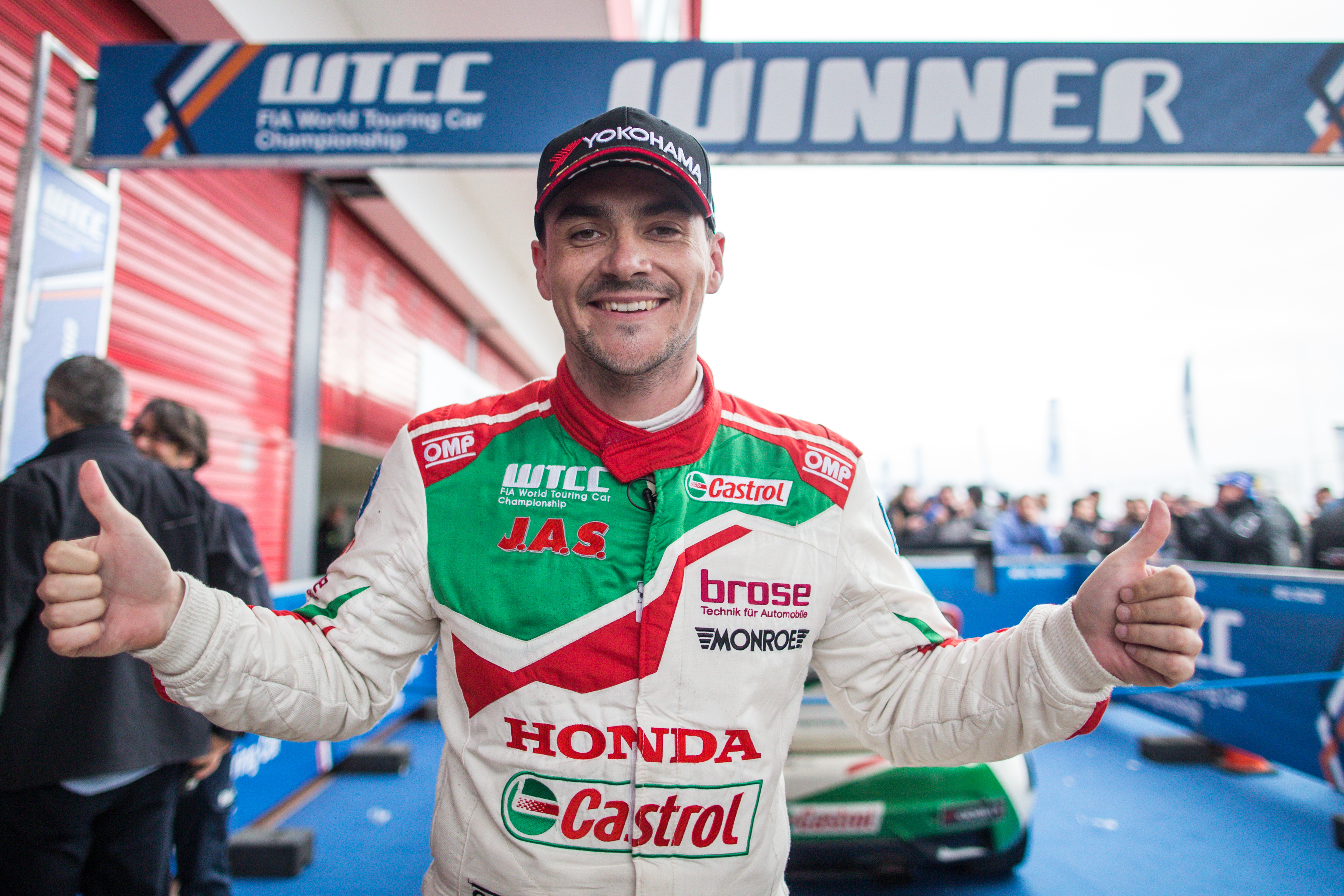 WTCC / 18 July 2017
One-two finish puts Honda on top in WTCC
Honda lead the FIA World Touring Car Drivers' and Manufacturers' Championships after the JAS Motorsport-run Castrol Honda World Touring Car Team recorded a one-two finish on a dramatic weekend in Argentina.
Norbert Michelisz beat team-mate Tiago Monteiro in the Main Race at Termas de Rio Hondo to secure his second victory of the season and move up to third place in the Drivers' Championship with four rounds to go.
Monteiro's second place was his seventh podium finish of 2017 and increased his series lead to 12 points, while Honda now head the race for the Manufacturers' title as well after he and Michelisz secured 102 points across the weekend - the team's best haul of the season.
The coldest track temperatures ever experienced on race day in Argentina meant that data gathered by the JAS engineers during winter testing was used to full effect; both drivers being given Honda Civic WTCCs that were both fast and reliable during the weekend.
Ryo Michigami was another to turn in a solid set of results as the Honda Racing Team JAS driver bounced back from a 24-hour delay in reaching Argentina, an engine change after practice and a boost issue in qualifying to score his first point since the season-opener in Morocco.
After going from 16th to 10th in the Opening Race, he added 11th place in the Main Race.
The Zengo Motorsport team welcomed a new face for the Argentina weekend with Hungarian driver Zsolt David Szabo making his WTCC debut in place of Aurelien Panis. He finished 13th and 15th in the two races, one place behind team-mate Daniel Nagy each time.
The WTCC now has a large gap before the season resumes at the new Ningbo circuit in China on October 14-15.
Norbert Michelisz, Castrol Honda World Touring Car Team, said: "I'm really happy with the result today. To take my second Main Race win in a row is a very special feeling. The team have done an amazing job right from the first free practice session and I've had the confidence to really attack the circuit all weekend. I'm now third in the Drivers' Championship, which is the highest I've been since the first round of the season and Honda are also ahead in the Manufacturers' Championship, which shows what a good job we've done as a team this weekend."
Alessandro Mariani, Team Principal & CEO JAS Motorsport, said: "Today has been very good for us and Norbi and Tiago have driven very well to record a one-two finish. The temperature today has been much colder than we expected, so as a team we've leant on a lot of the tyre and set-up data gained in winter testing to help make the cars as fast as possible today. These tactics have paid off well. I'm also very happy for Ryo, who has reacted from a terrible trip here and some car problems yesterday with two good drives and a points finish."