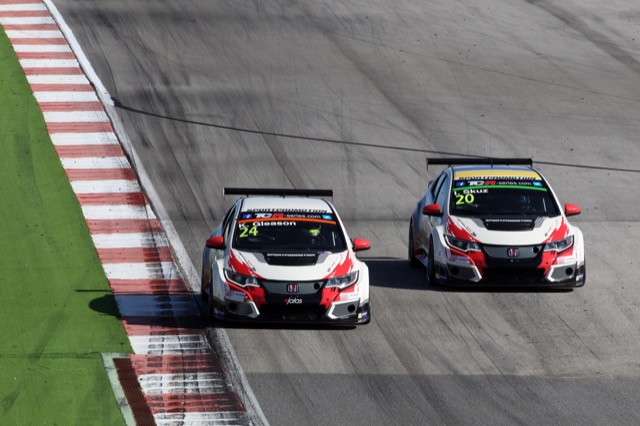 TCR / 10 May 2015
Podium Place for Gleason's JAS Honda Civic TCR in Drama-Filled Portugal
Morbidelli Endures Unlucky Weekend Due to Accident Damage
Kevin Gleason scored a solid second-place finish in race two of championship weekend in the Algarve, driving his JAS Honda Civic TCR run by WestCoast Racing. In warm and sultry conditions, Gleason was not quite able to capitalise upon his pole position off the grid, but nevertheless scored some valuable points for himself and the team in the TCR International Series.
It was a dramatic day for team leader Gianni Morbidelli at the Portimao circuit, as he failed to finish either of the races. The action started as early as lap two in the first race, following a contact with Pepe Oriola. A hardfought battle back through the field was wiped out when Gianni had to take avoiding action due to another incident in front of him. There was even more drama on lap eight, following a collision with Andrea Belicchi. This time however the resulting damage forced a return to the pits and retirement.
After a seventh place finish in the first round, Gleason was on pole position for the second event of the weekend. A strong race saw the American taking the runner-up position and the second step of the podium as others fell by the wayside. Morbidelli was unlucky yet again. He was forced to pit and retire the car on only the second lap, when he was hit by the SEAT of Lorenzo Veglia.
Igor Skuz continued to improve in the third team car, with a ninth place finish in race two.
TCR Championship Positions:
1 Stefano Comini 116 pt.
2 Pepe Oriola 104 pt.
3 Gianni Morbidelli 91 pt.
4 Jordi Gené 90 pt.
5 Kevin Gleason 81 pt.
6 Andrea Belicchi 76 pt
The series now moves to the famous Autodromo di Monza in two weeks time for two races at the temple of speed.