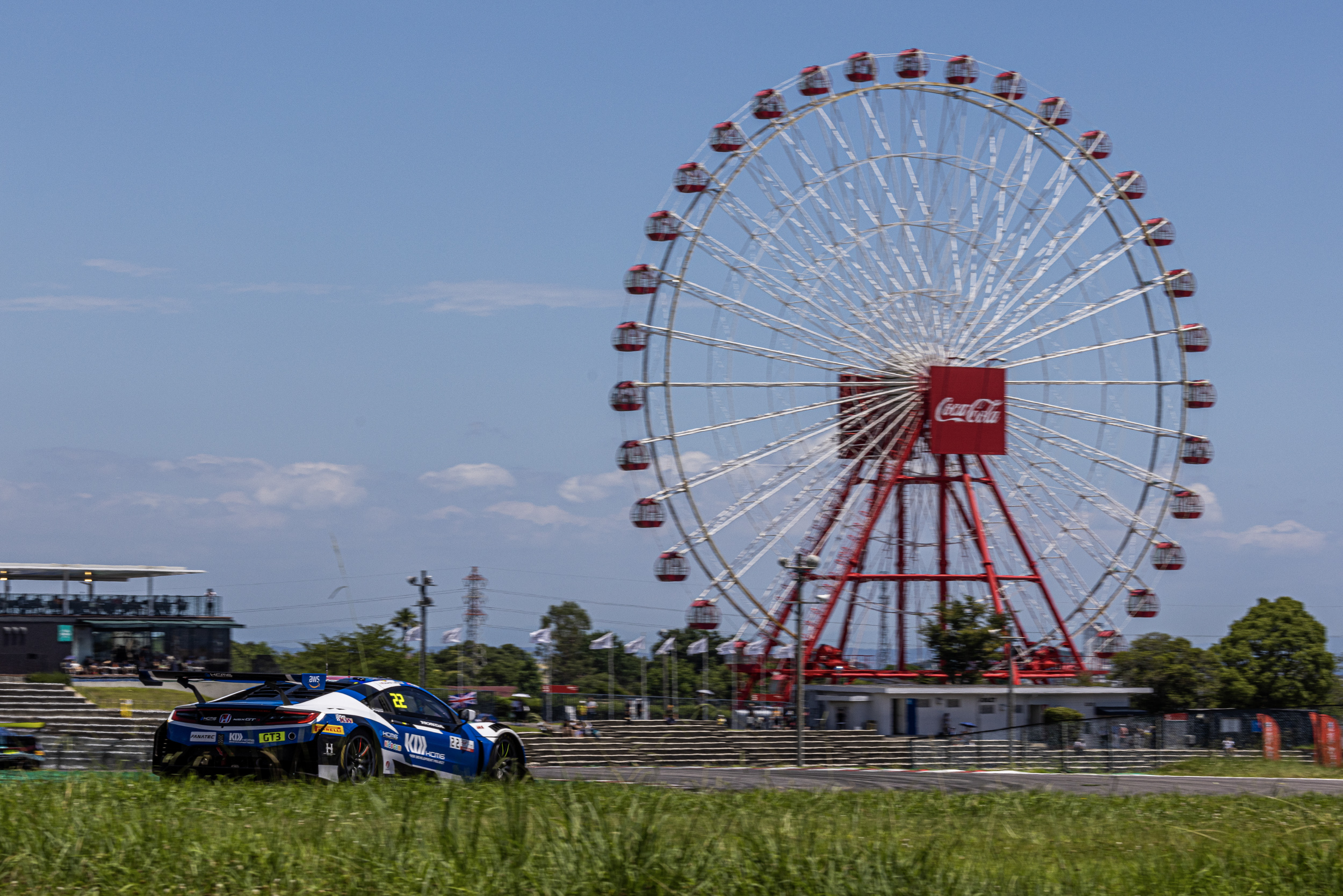 GT3 / 16 July 2023
Points finishes for NSX GT3 Evo 22s in Asia and Europe
NSX GT3 Evo 22 customer teams delivered a string of consistent points-scoring finishes in three high-level series on two continents during the weekend.
GT World Challenge Asia
KCMG produced a starring performance in Saturday's opening race as Paul Ip and Edoardo Liberati rose from 22nd on a star-studded grid to eighth by the chequered flag.
Ip narrowly avoided a spinning car to climb to 16th on the opening lap and ran a consistent pace to reach the mid-race driver changes in 15th.
Liberati continued the charge to climb to eighth; just 0.5 seconds away from fifth place as four cars finished side by side. They were 14th overall and 12th in Pro-Am on Sunday.
GT World Challenge Europe Sprint
JAS Development Driver Leonardo Moncini and Jacopo Guidetti continued their challenge for the Silver Cup title at Misano with Nova Race.
Moncini qualified fourth in class on Saturday and he and Guidetti finished there too. On Sunday they climbed from eighth on the grid to finish sixth; results that leave them well in the championship hunt. Team-mates Erwin Zanotti and Diego di Fabio were eighth in both races.
Le Mans Cup
Lars Pedersen and Jan Magnussen continued their consistent run of points-scoring races as the GMB Motorsport duo finished seventh at Paul Ricard. They qualified their NSX 10th in the GT3 class for the reigning champion team.
The sister car of Thomas Andersen and Simon Birch suffered an unlucky race. Andersen, who started eighth, was hit by an LMP3 car and sustained a rear puncture as a result. A slow lap back to the pits plus an unplanned extra pitstop dropped them to 12th.
All the cars were competing as part of the NSX GT3 Customer Racing Programme; a global collaborative project with JAS Motorsport responsible for assembly of all cars.

Honda Performance Development (HPD) and M-TEC handle sales and technical support in North America and Japan respectively, with JAS responsible for these areas across the rest of the world.