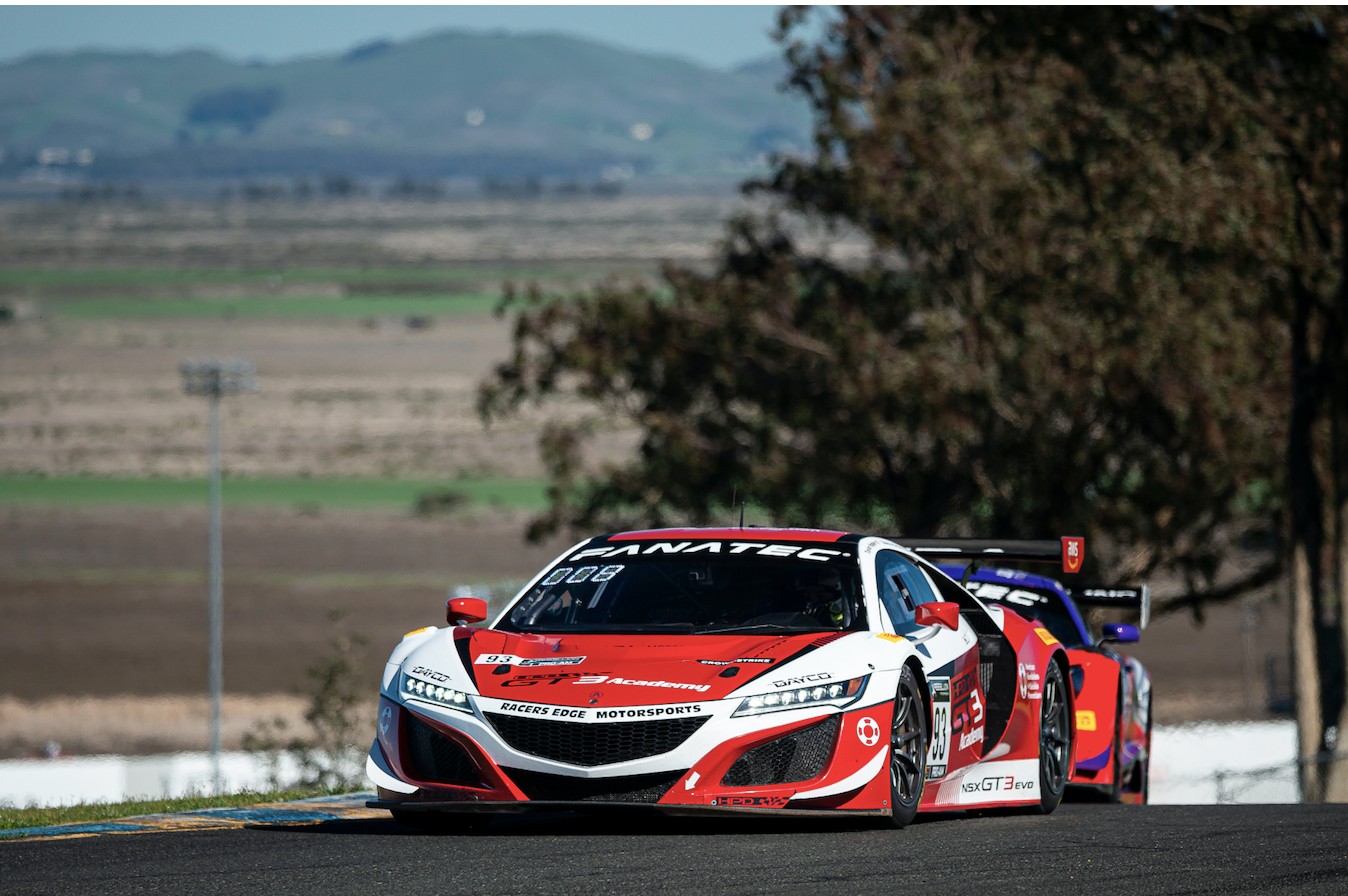 GT3 / 08 March 2021
Pole and double podium for NSX GT3 Evo in USA
The NSX GT3 Evo scored its first pole position of 2021 and a double-podium finish as the GT World Challenge America kicked off at Sonoma Raceway.
Racers Edge Motorsport, who dominated last year's championship, had an all-new line-up of Taylor Hagler and Dakota Dickerson at the wheel of their car, and the pair responded superbly to the challenges posed on their GT3 debuts.
Hagler qualified seventh in the pro-am class for the opening race, but climbed to fourth by the time the pit window opened. Following the mandatory driver change, Dickerson ascended further to finish third in class.
The pair hold third place in the Drivers' standings with Racers Edge third in the Teams' points.
Fellow Acura squad Compass Racing looked set for a stunning victory on their debut with the NSX GT3 Evo after Rodrigo Sales qualified on pro-am pole and led by over 10 seconds when he pitted to hand driving duties over to Matt McMurry.
Sadly for the reigning IMSA GTD champion, a left-rear wheel parted company with the car just six corners into McMurry's out-lap, eliminating him from the race.
McMurry ran a solid opening stint in Race Two, but fell to the back of the pack due to an unscheduled fuel stop 10 minutes before the pit window opened. Despite this, he and Sales recovered strongly to finish fifth in class.
They're seventh in the pro-am standings with Compass sixth in the Teams' points and Acura fourth in the overall Manufacturers' Championship.
Both cars were competing as part of the NSX GT3 Customer Racing Programme; a global collaborative project with JAS Motorsport responsible for assembly of all cars.

Honda Performance Development (HPD) and M-TEC handle sales and technical support in North America and Japan respectively, with JAS responsible for these areas across the rest of the world.