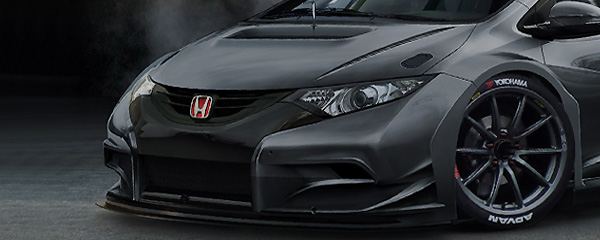 Race Track / 25 June 2013
Preview Porto WTCC race ? 29 & 30 June 2013- A Hero Returns
Preview Porto WTCC race ? 29 & 30 June 2013- A Hero Returns
This weekend sees the final leg of the FIA WTCC's tour of Europe, held on the streets of the Boavista district of Porto, Portugal's second largest city. The Circuito Da Boavista first featured in the WTCC eight years ago and has a rich motor racing history, having hosted the inaugural Portuguese Grand Prix in the 1950s.
For Tiago Monteiro, the Portuguese and Castrol Honda World Touring Car Team driver, the street race will be an emotional homecoming - not to mention an excellent opportunity to end the first half of his season on a high.
The 37-year-old certainly won't have a shortage of supporters. In addition to the massive home crowd (over 200,000 spectators are expected during the weekend), the Honda family will also be there in force, cheering him, Tarquini and the team along. Indeed the enthusiasm of the Honda dealer network for the FIA WTCC is so strong that six European Honda branches are bringing no less than 700 dealer staff! Fans travelling to Porto for the weekend definitely won't miss Honda's presence. On arrival at the city's international airport they will come face to face with the Civic WTCC, which features in the interactive tourism store of the City of Porto. Organisers of the Portuguese round of the WTCC also have 30 other Honda cars at their disposal, which will be used as official track cars - but also seen ferrying people to and from the circuit. And that's only two of the many elements of the strong promotional campaign that Honda Portugal has planned to support the coming of the FIA WTCC - and in particular the Castrol Honda World Touring Car Team - to the country.
"It will be an important weekend for many reasons," laughs Tiago. "There's the fact that so many from Honda will be here, but also friends, family and fans who'll want to say hello. I love that part of my job, but equally I have to do my very best to concentrate on the task in hand and that's ending in front with the Civic, in qualifying as well as the two races..."
Tiago currently stands some way behind teammate Gabriele Tarquini, who's currently second in the FIA WTCC Driver's Championship. But the points difference doesn't faze Tiago...
"It's fair to say that I've had my share of bad luck so far this season," says Tiago. "I've been involved in a few incidents as people know, but these things happen in a first year - it's part of racing and you know that as a driver. Also, don't forget that we are still in our first year in the championship. We learn with every race, everybody works hard and it allows us to prepare ourselves better in the future."
For this, the seventh round of the FIA WTCC, the Honda Civics lose their 30 kilos handicap and according to Tiago the weight loss will be crucial.
"It will be clear to everyone who's being following the season that the extra weight - inherited after our Slovakia success - hasn't helped us. I'm also convinced that making the Civic lighter will mark a turning point in this campaign and help us to fight again in the front."
Although Tiago was born in Porto, he grew up in France, offering an explanation as to why much of his early career took place in French competitions.
"I grew up as a little boy in Paris, where my parents were active in the hotel and the real estate business," explains Tiago in fluent French - without any hint of a Portuguese accent. "My father also raced, but I never had the ambition to make it on my own and he didn't have the spare time to help me either. It was only during my studies – at a hotel school in Switzerland that was my passion at the time- that I accidently got the opportunity to do a test drive on a circuit. I liked it a lot and was invited to take part in the Porsche Cup. Just for fun."
For fun or not, he went on to win five races, become champion and was crowned "rookie" of the year in 1997. That was the same year that the very same Gabriele Tarquini appeared for the first time behind the wheel of the Honda Accord, in the famous British Touring Car Championship. But despite the success, at that moment in Tiago's life he didn't have any plans for a career in motorsport.
"I was 20 years' old and wasn't looking too far into the future, but those close to me were convinced that I was too fast to stay in a one-make competition. They pushed me toward the French F3."
After learning the ropes of F3 in his debut year – a year dominated by David Saelens and Franck Montagny - he won his first race in 1999, ending the season in sixth place in the driver's championship. Another successful year followed, but Tiago was already looking to progress.
"Just like many other young French drivers, Formula 1 was my first and only goal. But due to financial constraints, I signed for a fourth season in Formula 3. I won four times that year and then got an offer from Supernova to push through to Formula 3000."
Driving for David Sears' team, Tiago had to fight against later champion Sébastien Bourdais. "Bourdais was in his third season in Formula 3000 and it was a real challenge. I didn't know certain circuits and because of the ban on private testing, I didn't have the opportunity to drive as much as I'd like. I couldn't see the light at the end of the tunnel and so accepted an offer from Fittipaldi to go to the States and drive in American Champ Car. But it was a short-lived move. Sadly, the team was struggling financially, so I was quickly back to square one."
Despite the setback he was selected by Renault for their F1 driver development programme. "After my return from the States, an engineer from Minardi contacted me - he saw me at work during testing in Spain and that's how I got the chance to be a test driver for Minardi. To help me stay more active, Carlin - who I knew from my days in F3 – offered me the opportunity to enter the World Series by Nissan. So it was Minardi, and in particular Carlin, that allowed me to launch my career in the direction of Formula 1."
Tiago obtained five victories in the WSN, but that wasn't enough to keep Heikki Kovalainen, who was in his second season from the title. Despite this, it was the first time that a rookie had finished second in the championship and won so many races. While the Fin moved sideways to the new GP2 (which had replaced F3000), Tiago got the opportunity he'd always dreamed of – a move to Formula 1.
He made his debut in 2005 at the Grand Prix of Australia, driving for Midlands - Jordan (subsequently Spyker). It was a year he obtained third place in the United States Grand Prix and went on to break the record of the highest number of finishes in a season (18 times) by a rookie driver– a record he still holds today. Tiago also immediately became the most successful Portuguese Grand Prix driver, taking over from Pedro Lamy.
Tiago stayed for a second season in Formula 1, but it would be his last. "There were a lot of discussions with Toro Rosso for me to stay for a third season, but it wasn't to be. Because I wanted to keep driving at the highest level in motorsport, I was intent on the touring car class and so I joined the FIA WTCC."
With his impressive CV he immediately found a place at SEAT Sport in 2007 as part of a works team alongside Gabriele Tarquini, Yvan Muller, Rickard Rydell and Jordi Gené. In 2010, when SEAT terminated their factory programme, Tiago stayed loyal and decided to drive a SEAT in a private team with a certain Gabriele Tarquini.
"Because I was convinced that other manufacturers would make the jump to the WTCC and would look for drivers with experience, I kept doing my best. That allowed me to be involved with Honda Racing Team JAS in the last three meetings of the 2012 WTCC."
These three preparatory races, behind the wheel of the Civic WTCC, were concluded with a stunning third place finish on the streets of Macao.
"You can compare the circuit of Porto with the street race of Macao: it's very technical and fast. Standing in front on the grid, just as in Macao or Marrakech, is very important in street races. But, despite what people will think, I won't have a home advantage in Porto. The streets in the harbour front used for the race run in the opposite way of the daily traffic! But what I can really appreciate is that I can sleep at home and walk to the circuit. It's unique for me in the season and a real gift!"
More:
www.fiawtcc.com