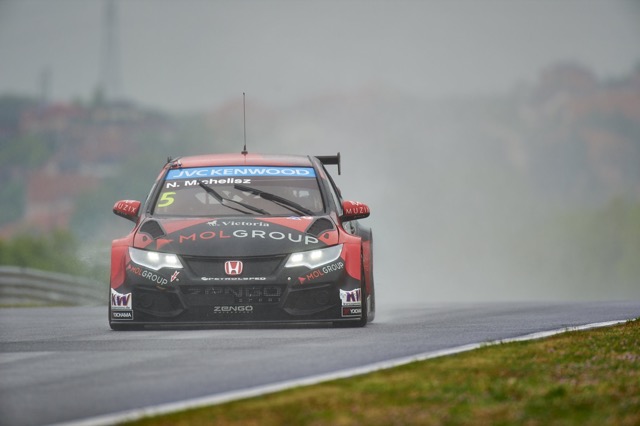 WTCC / 02 May 2015
Qualifying Ends in Frustration for Honda in Hungaroring
Honda Civic WTCC demonstrates strong package in wet, but more to come from dry set up
- All three Civics ran in top five across free practice sessions, proving performance gains
- Tiago Monteiro edges closer to the competition but just misses out on Q3
- Gabriele Tarquini crashes out of qualifying and will start both races from the back
- Norbert Michelisz will start race two on pole position at home round

In a bitterly disappointing qualifying session for Castrol Honda's Gabriele Tarquini, the #2 Civic WTCC spun out at the start of Q1 – the result of hitting the wet kerb at turn three. Simply a passenger as the car struck the tyre wall, Tarquini was unable to recover with sufficient front end & rear suspension damage ruling him out of the remaining sessions.
It means Tarquini will start both races from the back of the grid with the challenge to reach the points ahead, having this morning been a tipped as a hot favourite to overturn the Citroën's dominance following a promising practice session, during which Gabriele and Tiago had run consistently in second and third in both timesheets.
In the sister Civic WTCC, Tiago Monteiro was looking good for entry into the Q3 qualifying shoot-out but for a late surge from Sébastien Loeb, knocking the Portuguese ace into 6th in the closing moments and just outside of Q3.
For Zengõ Motorsport it was a session of highs and lows for local favourite Norbert Michelisz – a 10th place qualifying position secured for the first of tomorrow's races would prove disappointing but it does guarantee a Hungarian pole position for race two.
Gabriele Tarquini: "I made a mistake. The track was dry but the kerbs were wet. I ran a bit wide and as my rear wheels hit the wet outside kerbs, that was it, I spun and crashed into the tyres. The impact broke the rear suspension and front splitter. The car felt good until then, I had good balance but now it will be very tough for me. It is frustrating because we had a real opportunity here. There is definitely more to come from the car; we haven't yet seen the full potential of the new aero kit working owing to the changeable weather."
Tiago Monteiro: "We were very happy with the car this morning in wet practice. For sure the new aero kit works, giving better downforce and it means the car is much more effective in those conditions. In the dry we didn't go to the full dry specifications, which probably hindered us. The car was good but not as good as I know it should be in the full dry specification. We will now analyse the data and certainly as we know the weather should be dry tomorrow, we will go to the maximum dry spec set up. Starting 4th & 5th in the races is not ideal, but we can fight for podium results from there"
Norbert Michelisz: "I am happy with pole position for second race but not so happy with the performance because until Q2 I struggled a little so if I managed to do a very good lap my best chance was 5th maybe 4th. At the end we decided that the timing was right and Bennani had stayed on the track so would be behind me. I am happy with the position and a possible podium but of course we need to improve overall. We know where the performance is coming from. We had understeer and tried to change something on the car but there is little time in qualifying. I will compare the data with Tiago and hope for a good result tomorrow."
Alessandro Mariani, Managing Director JAS Motorsport: "I'm really disappointed because when I saw the weather today, I hoped the rain would continue but it improved very quickly. In the wet conditions earlier I was really happy because all three cars were in top five. Gabriele was very close to Lopez and he set his best time in the second session. The only bad thing that could have happened was a dry track. And it happened!
"Gabriele was the quickest Honda driver today but he made a mistake. For Tiago and Norbi the setup of the car was not the best – too much understeer, which we can correct for tomorrow. Fortunately Norbi was able to get 10th position and a pole for the second race. Both he and Tiago have good potential for points."
Daisuke Horiuchi, Large Project Leader for WTCC Development at Honda R&D: "The wet settings for this morning were very good for us. I did expect a higher position in qualifying and it is disappointing to see Gabriele go off. We are making continuous efforts to maximise power."
Additional Note:
Nika Racing will not be competing this weekend owing to Rickard Rydell's illness.
Owing to Gabriele Tarquini starting both races from the back of the grid, the team took the opportunity to change the engine.

- ENDS -
Provisional Qualifying Results:
Qualifying: Q2 Q3
1 Yvan Muller Citroën C-Elysée WTCC 1:48.848
2 Hugo Valente Chevrolet RML-Cruze TC1 1:49.081
3 José María Lopez Citroën C-Elysée WTCC 1:49.567
4 Sébastian Loeb Citroën C-Elysée WTCC 1:49.572
5 Ma Qing Hua Citroën C-Elysée WTCC 1:49.763
6 Tiago Monteiro Honda Civic WTCC 1:49.819 -
7 Rob Huff LADA Vesta WTCC 1:49.834 -
8 Tom Coronel Chevrolet RML-Cruze TC1 1:50.021 -
9 Tom Chilton Chevrolet RML-Cruze TC1 1:50.284 -
10 Norbert Michelisz Honda Civic WTCC 1:50.301 -
17 Gabriele Tarquini Honda Civic WTCC - -
Main photo shows JAS Motorsport customer Norbert Michelisz taking pole position for Race 2 WTCC Hungary.