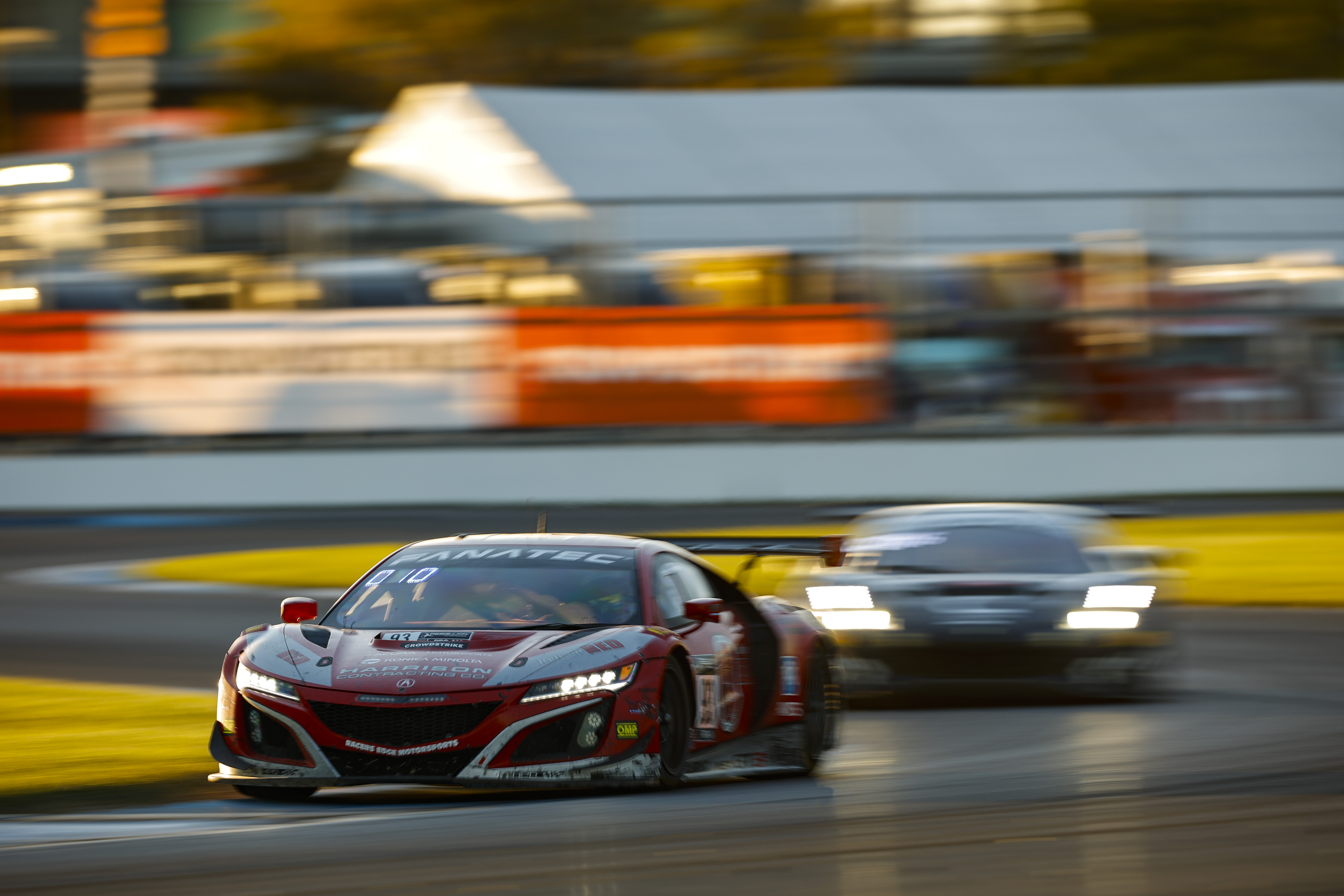 GT3 / 10 October 2022
Racers Edge Motorsports clinch double titles for NSX GT3 Evo 22 at Indy
The NSX GT3 Evo 22 claimed a double-title success in the USA last weekend with Racers Edge Motorsports and drivers Ashton Harrison and Mario Farnbacher at the Indy 8 Hour.
There was another victory and two further podiums in Europe as the number of titles won by the NSX - in all its GT3 variants - climbed to 19.
GT World Challenge America
Racers Edge Motorsports began the Indy 8 Hour - also the penultimate round of the Intercontinental GT Challenge - in fine form with Mario Farnbacher starting and moving into the class lead.
The combination of himself, regular co-driver Ashton Harrison and Christina Nielsen was more than enough to help the car climb into third spot in the class, which is where the JAS-built NSX GT3 largely ran.
With their chief title rivals suffering issues, a flawless performance by Farnbacher, Harrison and team newcomer Christina Nielsen netted the title for the former two.
Racers Edge added the Pro-Am Teams' crown; their seventh title won with the NSX GT3 Evo in its various iterations since 2019.
RealTime Racing led through much of the second hour as they opted put keep Pro Michael Cooper behind the wheel of their NSX through a double-stint to start the race.
Unfortunately contact from a rival car dented the hopes of Cooper, regular co-driver Erin Vogel and team newcomer Taylor Hagler as it headed for repairs in the pit.
Further contact in the penultimate hour put it out for good.
Italian GT Championship
JAS Motorsport Development Drivers Jacopo Guidetti and Leonardo Moncini scored an excellent second-place finish with Jorge Cabezas in the final round of the 'Endurance' Trophy at Monza.
But the trio were denied a victory that might have made them champions thanks to a mid-race safety car that destroyed a 22-second advantage that Guidetti had built up on a damp, but drying, track during the opening stint; one that Cabezas was maintaining.
The gap reduced to nothing, Cabezas pitted with 40 minutes left to hand over to Moncini, who emerged in fourth place once all his rivals had stopped.
The teenager tore through his rivals to finish second; not enough for the title but still a great reward for an excellent season.
There was an Am class victory for team debutants Paul Ip and Marchy Lee, who overhauled recently-crowned class champions Luca Magnoni and Diego di Fabio; the latter pair completing an NSX one-two in the category before being excluded.
Special Saloon Car
Drivemade Racing's Lars Pedersen arrived at the Jyllands-Ringen finale as one of three contenders for the Division Three title in Denmark's premier GT racing series.
But a clutch issue for the Dane while leaving the pits to head to the start prevented him from taking up his rightful second place on the grid. He did not participate in either of Sunday's races either.