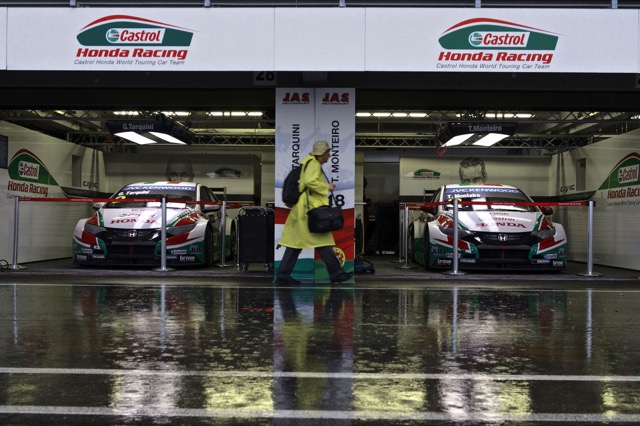 Race Track / 11 May 2014
Rain storm forces cancellation of Race 2 at Slovakia Ring
FIA WTCC - Round 4 - Slovakia Ring - Race 2
The rain that forced the early termination of Race 1 has intensified during the afternoon and with the light fading fast as the 17.45 start time approached, the Race Director had to make the decision to cancel the race. Whilst safety considerations must be paramount the drivers had mixed opinions.
Castrol Honda driver Tiago Monteiro, who would have started Race 2 from pole position, has experienced as bad conditions before.
"When I drove Formula 1 we started the Grand Prix in Malaysia behind the Safety Car and did 15 laps before the race was stopped. I understand that safety is a major concern. I would have liked to have started the race even behind the Safety Car and see if the conditions improved but it is soon getting dark also. Perhaps if we had the race earlier in the day even if it was as wet we could have been on track. It's a missed opportunity for a good showing."
Gabriele Tarquini was philosophical: "I was prepared for the start and to do maybe two or three laps behind the Safety Car and then stop if the rain did not get better in around 20 minutes. But the decision is made so we have to plan for Salzburg and the next race."
Having deserved his earlier podium appearance Norbert Michelisz was more disappointed for the fans than himself. "It is the right decision but I am sad for the fans because they have supported us all and me especially last weekend in Hungary and there have been many of them who have come from Hungary to see us race here."
Mehdi Bennani was also disappointed not to be gaining more experience of the conditions.
"We do not have much rain in Morocco so all my experience has to be gained at WTCC tracks all over the world. But I can see the decision and understand the safety question."
Driver's Championship : 1. José Maria Lopez (ARG) 130 ; 2. Sébastien Loeb (FR) 113 ; 3. Yvan Muller (FR) 109; 4. Tiago Monteiro (PRT) 71; 5. Gabriele Tarquini (I) 52; 6. Hugo Valente (F) 47; 7. Gianni Morbidelli (I), Tom Chilton (GB) 46; 9. Norbert Michelisz (HUN) 40; 10. Tom Coronel (NL), Mehdi Bennani (MAR) 28; 12. Dusan Borkovic (RS) 15; 13. Rob Huff (GB) 12; 14. Mikhail Kozlovskiy (RUS) 10; 15. Franz Engstler (D) 6; 16. John Filippi (F) 4; 17. Pasquale Di Sabatino (I), James Thompson (GB) 2
Manufacturer's Championship : 1. Citroën 323 ; 2. Honda 204 ; 3. LADA 131