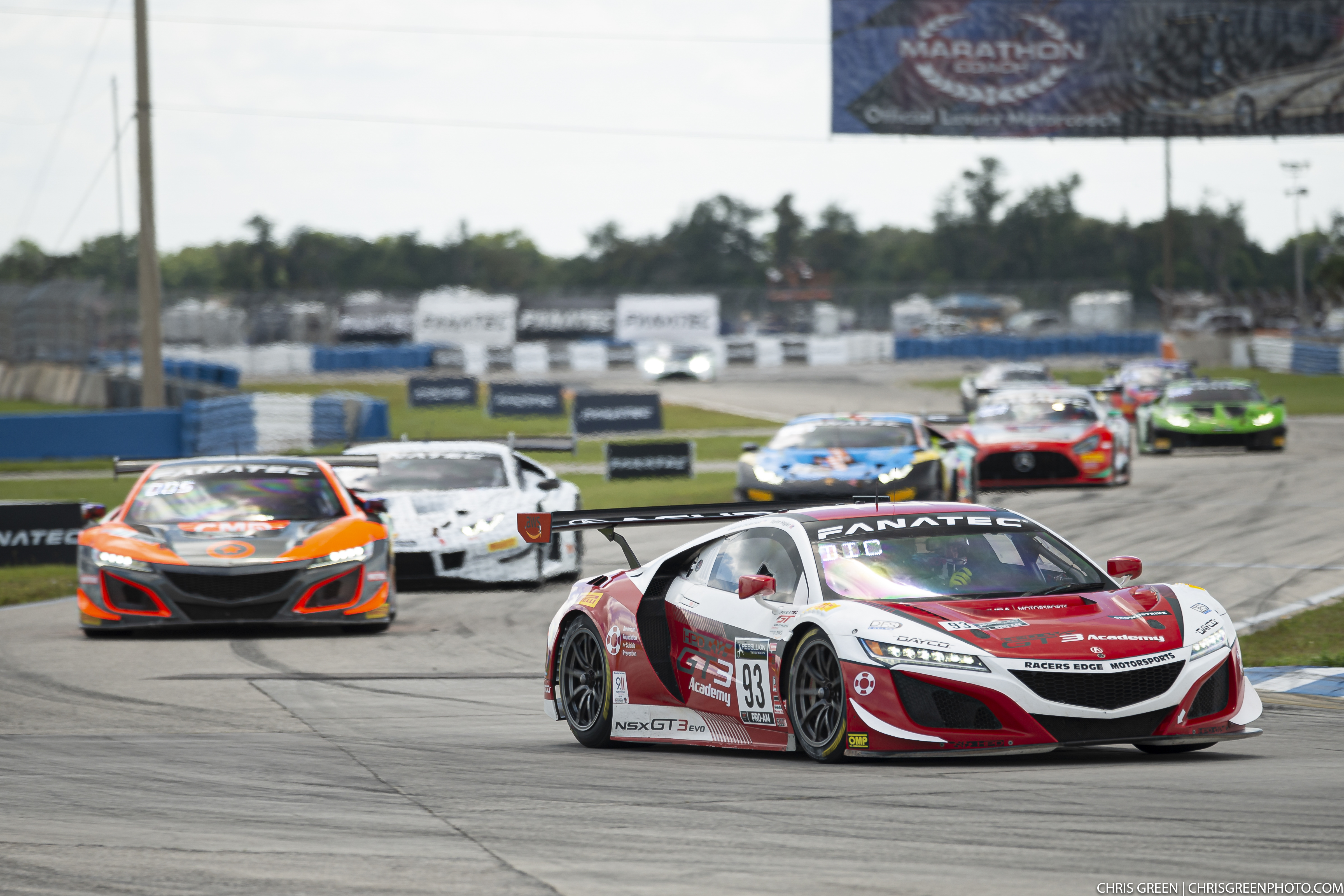 GT3 / 04 October 2021
Remarkable fightback win for Racers Edge Motorsport and NSX GT3 Evo
Racers Edge Motorsports pair Taylor Hagler and Dakota Dickerson produced a stunning recovery drive at Sebring to give the NSX GT3 Evo another pro-am victory in the GT World Challenge America.
From second on the pro-am grid at the legendary Sebring circuit in Florida, Sunday's second race got off to the worst possible start as Matt McMurry - behind the wheel of Compass Racing's NSX GT3 Evo - was hit from behind on the run into Turn 2.
That sent the reigning IMSA GTD Champion sideways into Dickerson's similar car and sent the rookie down the escape road while also costing himself several positions.
From last position, Dickerson instantly began setting fastest laps and had remarkably pulled himself back into fifth spot in class and ninth overall within 20 minutes, at which point he overtook McMurry.
He continued the charge to reach second place by the time the mandatory pit window opened and watched as Hagler - now aboard - sailed into the pro-am lead with a sensational 'around the outside' move into the hairpin just beyond the 60-minute mark.
Hagler pulled away to a three-second win; her third of the season and Dickerson's season. McMurry's returning co-driver Rodrigo Sales brought the Compass car home fourth.
Saturday's race had been just as entertaining. After losing ground at the start, Hagler rapidly gained positions during the middle phase of the opening stint and latched onto the tail of the pro-am leader as the halfway point of the race approached.
After the driver changes, Dakota continued to apply the pressure and was narrowly denied the pro-am lead on several occasions during the closing few minutes as he became part of an intense three-way battle for second place overall.
He finished second in class with McMurry fourth to round off a strong recovery by Compass, who had been pitched into fightback mode when Sales was given an early drive-through penalty for contact that dropped him from second to eighth.
With just one event remaining, Hagler is second in the Drivers' standings, though unable to now win the title. Racers Edge can still be crowned Teams' Champions, despite sitting third in the title race. Compass are fourth in the Teams' points.
Both cars were competing as part of the NSX GT3 Customer Racing Programme; a global collaborative project with JAS Motorsport responsible for assembly of all cars.
Honda Performance Development (HPD) and M-TEC handle sales and technical support in North America and Japan respectively, with JAS responsible for these areas across the rest of the world.