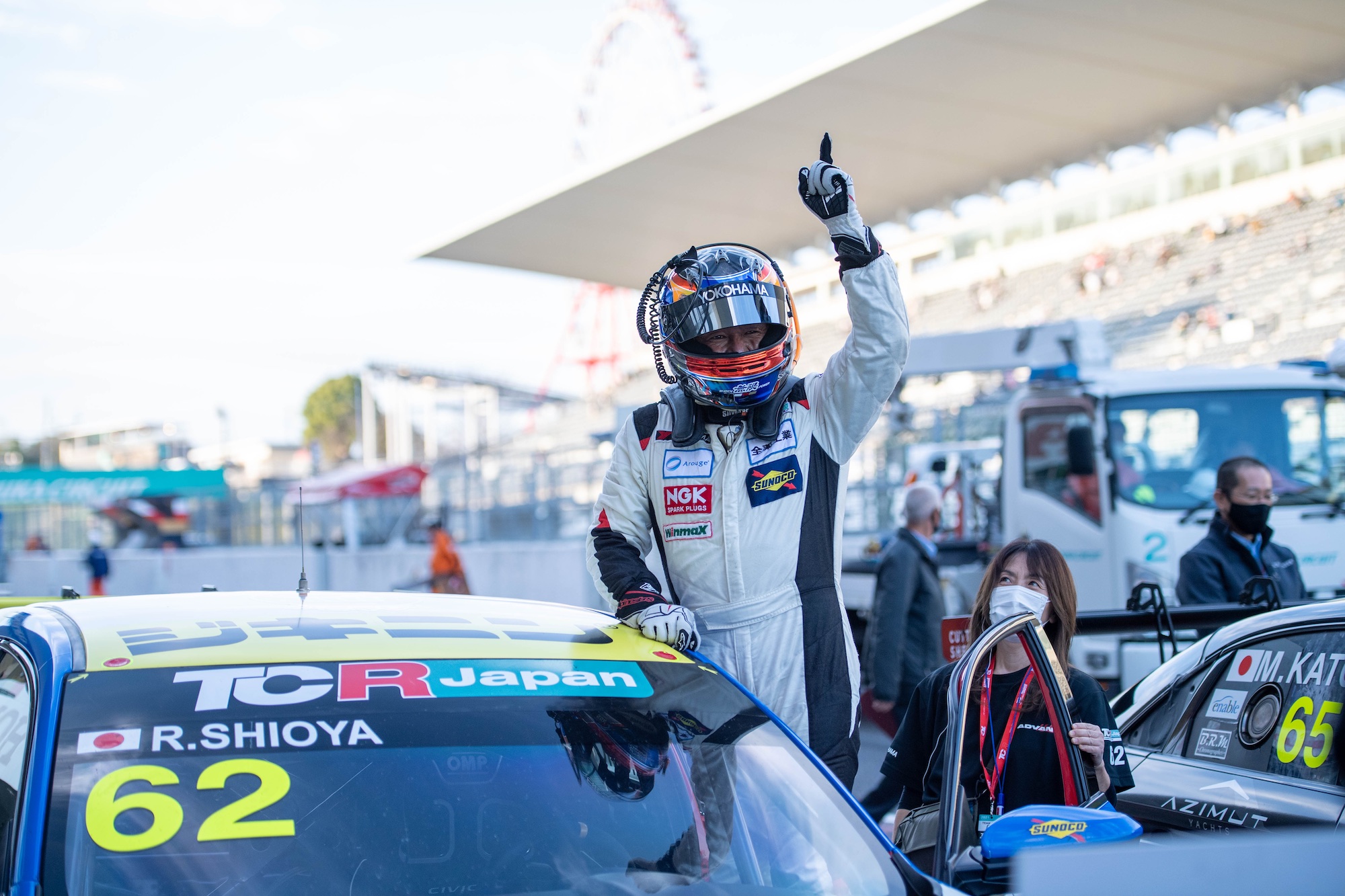 TCR / 01 November 2021
Resshu Shioya takes emotional Civic Type R TCR victory
Resshu Shioya ensured a winning end to the TCR Japan season for the Honda Civic Type R TCR as he scored the most emotional victory of the year.
Meanwhile Pepe Oriola returned to the top of the table as the fight for the TCR South America title continued.
TCR Japan
Shioya had missed several rounds of the 2021 season as he underwent cancer treatment, but returned superbly at Motegi recently with a podium result for the Zenyaku Kogyo by G/Motion team.
He went one better at Suzuka by securing his first series win on Saturday, passing the similar JAS Motorsport-built Honda of Anna Inotsume when the Dome Racing Team driver ran wide at the Degner curve on the final lap.
Inotsume finished second to complete a one-two finish for the Hondas and was fourth on Sunday as Shioya took the final step on the podium.
55Moto Racing's Mototino and Akiland Racing's Masayoshi Oyama scored best finishes of fourth and seventh in Race One.
Dome - represented by four different drivers in 2021 - were the best-placed Honda team in third in the Entrants' points. Shioya was fourth in the Saturday Series Drivers' Championship while Oyama ended the Sunday Series in a tie for fifth.
TCR South America
Pepe Oriola returned to the top of the standings with third and fourth-placed finishes in two hugely entertaining, if chaotic, damp races at Rio Cuarto, Argentina.
The W2 Pro GP driver qualified seventh, but was up to third by the end of the opening race's first lap.
From there he continued his progress and latched onto the leader's tail, trying every which way to pass, but eventually ran wide at the final corner to cross the line third.
A magnificent start from fourth on the grid put him into the lead of Race Two before the first corner, but a multi-car incident triggered by his chief title rival put him off the track, team-mate Raphael Reis almost to the back and Squadra Martino's Jose Manuel Sapag out.
From there, Oriola fought back from seventh to fourth, one spot ahead of Reis - who was fifth in both races and this time salvaged the position with a heavily-damaged car.
Sapag was fourth in Race One while new team-mate Facu Marques led Race Two until sustaining a front puncture that forced him into the pits for a replacement tyre.
Sixth in Race One was his best result while Fabio Casagrande was seventh in his older FK2 Civic.
Oriola is now 12 points clear in the Drivers' standings while W2 Pro GP lead the Teams' Championship with Squadra Martino third. Casagrande is second in the Trophy points.
Mads Fischer, JAS Motorsport TCR Project Leader, said: "I was fortunate to attend a TCR South America round for the first time last weekend. What I found was an incredibly well-organised series despite the challenges posed by the pandemic across the continent over the past 12 months. The races were action-packed, the teams of a high standard and the appetite for this kind of racing huge. I think this is a series with huge potential over the coming years. I would also like to say a special congratulations to Resshu Shioya. After the challenges he's faced this year - which are far more important than motor racing - it's a quite incredible achievement to end the season with a victory."