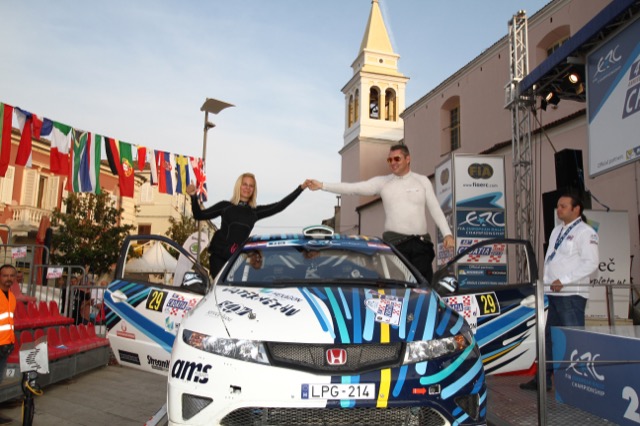 Rally / 09 October 2013
Sanremo Gearing Up To Be Title Decider In 2013 2WD European Rally Championship
FIA ERC - Rally Sanremo
After Zoltan Bessenyey's and co-driver Yulianna Nyirfas' stunning 2nd place in the Croatia Rally last month, the 2WD title in the European Rally Championship would seem to be theirs for the taking. But with the Hungarian pair missing the penultimate round of the 2013 ERC in Sanremo, Italy this weekend, everything is still in the balance and much depends on the result of compatriot Kornél Lukács
"At the start of the season, we made up a calendar of the rallies we wanted to compete in this year given our available budget, and at that time we decided not to come to Sanremo " said Zoltan. "It was only during the campaigns in Romania and Czech Republic when we started to build a lead the 2WD Championship that we looked at changing our schedule. But a turning point was the scores of Kornél and also Frenchman Stéphane Lefebvre in Poland, and especially our amazing result in Croatia. After that we were in a very good place, so stuck to our original plan."
So without the Eurosol-Honda Civic Type R driver, Kornél Lukács will now have a free hand in Sanremo to make up the difference in the 2WD-points...
Zoltan added: "With more than thirty 2WD class cars at Sanremo this weekend, including a number of local drivers who know the course well, it won't be an easy mission for Kornél to take the 39 points he needs. But he's a great driver and anything is possible. Of course if Kornél does succeed then we can still opt to appear in the Rallye du Valais in Switzerland and take the title race to the final"
Suffice to say, Zoltan Bessenyey, co-driver Yulianna Nyirfas and the whole crew of the Eurosol-Honda Civic Type R will be following the results of Lukács in Sanremo closely.
The Rally Sanremo starts on Friday October 11 at 14h30 and ends, after four stages and 107 kilometres, at night with the famous 55,40 km long Ronde stage. On Saturday October 12 there will be a further six special stages and after 125 kilometres against the clock the first contestant will be expected in Sanremo around 17h54.