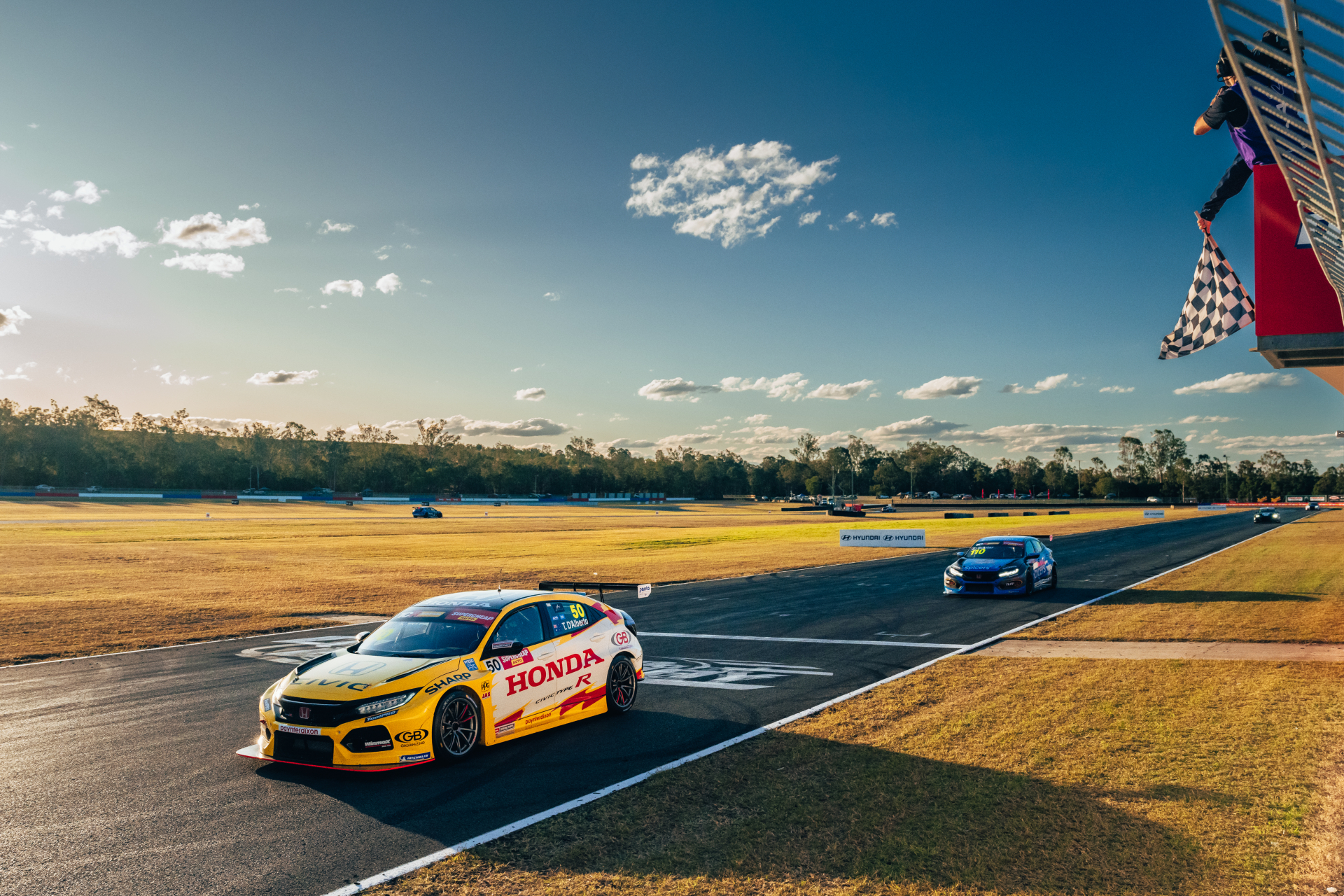 TCR / 08 August 2022
Six wins on three continents for Civic Type R TCR
Six wins and seven pole positions across three continents made for one of the most successful weekends to date for the Honda Civic Type R TCR as it surpassed the 40-win mark for the year.
Drivers of the JAS Motorsport-built car lead three major series as a result of the successes with many of the championships now entering their latter stages.
TCR Australia
Tony D'Alberto scored a dominant double win at Queensland Raceway; heading an all-Honda one-two each time to increase his series lead.
The Honda Wall Racing driver had never previously won in the series, but stormed to pole position and a Race-One win on Saturday and then repeated the achievement in the finale; beating Team Soutar Racing's Zac Soutar on each occasion.
Soutar is now fourth in the standings - an incredible achievement from a privateer entrant.
The pair were fifth and sixth in Race Two, having started further back on the partially-reversed grid. Michael Clemente was seventh, eighth and ninth for his eponymous team, enjoying his best weekend of the season.
TCR Germany
Liqui Moly Team Engstler's Martin Andersen dominated at the Nurburgring to take two pole positions, two race ins and leave with an increased championship lead.
The Dane resisted intense late pressure to win Saturday's opener but was stronger on Sunday as he lost the lead at the start but used a cut-back next time around to move back into the top position.
Roland Hertner was second in the Trophy class both times and maintained the points lead, despite being spun at the chicane on the opening lap of Race One.
Szymon Ladniak qualified second for Race One and won the Junior Trophy in fourth overall but retired in the pits on Sunday. He remains in charge in the Junior points while Engstler hold the top spot in the Teams' Championship.
TCR South America
Colo Rosso maintained his push for the title with a dominant pole position and Race One victory for Squadra Martino at the El Pinar circuit in Uruguay.
Team-mate Fabio Casagrande was second in the Trophy class in both races, increasing his lead in the standings to a comfortable margin. He was ninth outright in Race Two - one place ahead of Rosso, who is third in the overall points.
TCR Denmark
Mike Halder won the first of three races on the streets of Copenhagen and the TPR Motorsport driver added a pair of third-place finishes to remain second in the points table.
A trio of second-place finishes for GMB Motorsport's Kasper H Jensen kept him on track for a third straight title. Jensen qualified on pole position but was penalised four places on the Race One grid after cutting a corner on his best lap and had to pass several cars in the race.
Gustav Birch was fourth every time in the second GMB Civic while TPR's Anton Bergstrom and Budveg Racing's Carsten Lorenzen scored best results of seventh and 11th.
FIA WTCR
Nestor Girolami became the first back-to-back polesitter in series history at Anneau du Rhin, France. The ALL-INKL.COM Munnich Motorsport driver then finished second in Race One and seventh in Race Two to maintain second place in the championship.
Liqui Moly Team Engstler's Tiago Monteiro was a season's-best sixth in Race Two with team-mate Attila Tassi eighth. Esteban Guerrieri - Girolami's team-mate - qualified fourth but was punted off the track in both races by aggressive rivals. Munnich remain second in the Teams' points
TCR UK
Restart Racing's Chris Smiley earned his third pole position of the season at Castle Combe but was again forced to dig deep to rescue two strong points finishes from the races.
A clutch issue caused him to stall at the start of Race One and drop to the back of the back, but he fought back to fifth by the chequered flag. From a pitlane start in Race Two he performed even better to take fourth; a result that keeps him second in the points (though marginally ahead under the dropped-score rule that will be applied at the season's end).
Sports Car Championship Canada
Tom Kwok finished second in TCR in the first of two races on the streets of Trois-Rivieres, passing his brother and M&S Racing team-mate Gary and the similar 89 Racing Team Civic of Jocelyn Hebert just before a red flag forced an early finish.
Hebert added another third-place finish in Race Two with Tom and Gary Kwok seventh and eighth.
IMSA Michelin Pilot Challenge
Victor Gonzalez Jr qualified a career-best fourth for his own VGRT team at Road America, and he led at various stages of the four-hour race until a stud failure caused the car's left-front wheel to fall off at half-distance, putting he and co-driver Karl Wittmer out.
Chad Gilsinger started second for HART, but was hit by a GT4 car early on, causing damage that necessitated a long spell in the pits and eventually led to the retirement of the car he'd planned to share with Steve Eich and Ryan Eversley.