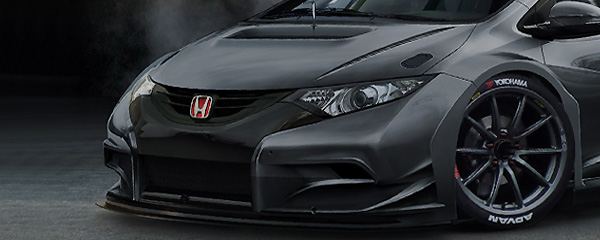 Rally / 18 July 2008
STRONG RUN FOR WILKS IN RUSSIA
Englishman Guy Wilks enjoyed an excellent Intercontinental Rally Challenge debut on the all-gravel Rally Russia, holding a comfortable top-10 position before retiring with just two stages to go as a result of a transmission-related failure.
Nonetheless, Wilks thoroughly demonstrated the potential of the Honda Civic Type R R3, built and run by JAS Motorsport in Italy, on a rally that was extremely tough on both drivers and machinery. Despite the fact that it was the first time Wilks had rallied in Russia, he was able to stay ahead of much more experienced competitors: dominating the IRC two-wheel drive class from the very start.
He broke into the top 10 overall during the second day of the event, and only a rogue driveshaft failure on the final leg prevented him from recording a points-scoring finish. The Rally Russia, which was only Wilks' second event in the Civic, following an outing on the Canberra Rally in Australia earlier this year where he ran as high as fifth overall, presented the Englishman with a steep learning curve. As well as having to learn the stages, it was also his first international event with a new co-driver since 2002.
Forming round five of the Intercontinental Rally Challenge (IRC), the Rally Russia boasted an extremely high-quality field, featuring one former World Champion and two former European Champions. Nobody could have predicted just how rough the conditions turned out to be though, with a combination of soft surfaces and rainy weather unearthing a number of football-sized rocks that claimed several leading competitors.
The Honda Civic Type R R3 was at ease through these extremely rough stages, beating a number of considerably more powerful cars. Unfortunately though, a broken driveshaft ended the hopes of Wilks and his new co-driver David Moynihan. "It was a real pity: we tried to continue with one-wheel drive but it was not possible," said Wilks. "Up until then it has been a really good rally for us. I was particularly pleased by the way that our Civic was so competitive against a number of more powerful cars, and the proof of this was that we managed to be in the top 10 without pushing too hard. I've been very impressed with the car on some of the roughest stages that I've seen for a while: we came so very close to what would have been an extremely good result here." Alessandro Mariani, the team principal of JAS Motorsport, commented: "We did a lot of testing on gravel before this event, and we were very pleased by the car's performance. However, I think everybody was surprised by just how rough the conditions were here in Russia, especially in terms of the number of rocks. For a two-wheel drive car in particular, it was very demanding, and beyond normal expectations."
Media contact : media@jasmotorsport.com
Website : www.jasmotorsport.com