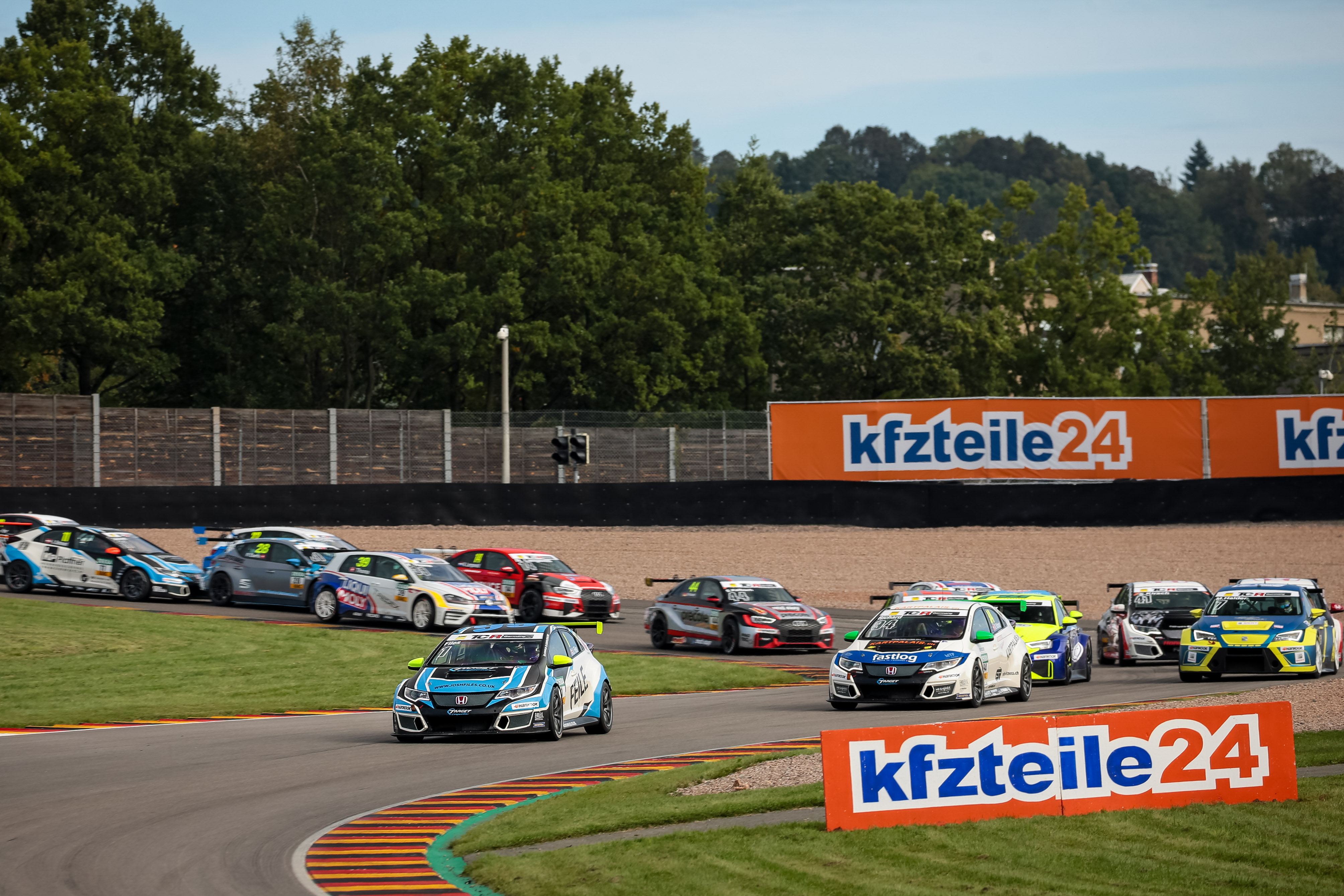 TCR / 18 September 2017
Strong weekend for JAS Hondas globally
Josh Files secured an impressive fifth win of the TCR Germany season at the Sachsenring to move to within touching distance of a second successive title.

The Briton started Race 2 from pole position on the partially-reversed grid and held the lead throughout in his JAS Motorsport Honda Civic Type R, having climbed from 10th to fifth in the previous day's encounter.

His results mean he's 78 points clear of his nearest rival with only 85 available at the Hockenheim season finale next weekend. He will secure back-to-back titles by finishing 14th or higher.

Target Competition team-mate Kris Richard recorded his maiden TCR Germany podium in third place in Race 2 and also scored points on Saturday. The Fugel Sport-run Honda Team ADAC TCR also scored strong results with Moritz Oestreich sixth on Saturday and Steve Kirsch fourth on Sunday.

JAS cars were also victorious at the penultimate round of the FIA European Touring Car Cup at Zolder in Belgium; Christjohannes Schreiber heading home his Rikli Motorsport team-mate Peter Rikli in Race One and Rikli himself adding another runner-up spot later in the day.

Both drivers go to the season finale at Most, Czech Republic, in three weeks, in with a chance of becoming champion.

One title already secured by a JAS driver is the China-based Pan-Delta Super Racing Series. Pat Wong's class victory in his TRC Racing Civic at Zhuhai ensured that he became A1 class champion of the after a long time of trying.

JAS Hondas enjoyed their best weekend of the Scandinavian Touring Car Championship, which concluded its 2017 season at Mantorp Park in Sweden.

Mattias Anderson claimed the first pole position for the Honda Civic Type R TCR in the series and scored two second-placed finishes for Honda Racing Sweden to climb two spots and end the year sixth in the Drivers' Championship.

After starting from the tail end of the grid in all three races, Marcus Annervi performed superbly to claim a career-best fifth place in Race Two for Rent a Wreck Racing and wind up 15th in the points table.

Honda Racing Sweden finished fourth in the Teams' Championship - a remarkable achievement for a single-car outfit - while Rent a Wreck Racing secured ninth spot.

Mads Fischer, JAS Motorsport TCR Project Leader, said: "It's been a strong weekend for JAS Hondas results-wise and I must congratulate Pat Wong for his championship win in China and Josh Files and Christjohannes Schreiber for their victories that mean the Civic Type R TCR is a contender for even more titles. Mattias Andersson and Marcus Annervi have both had their best weekends of 2017 in the STCC, but both could have achieved even more if they hadn't been the victims of poor driving from other racers."