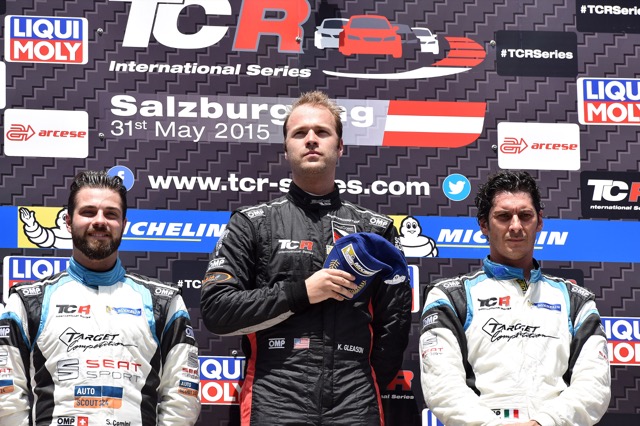 TCR / 31 May 2015
Successful Weekend in Austria for JAS Motorsport Honda Civic TCR Drivers
Two Pole Positions, One Race Win and an Increased TCR Series Lead
There were plenty of reasons to celebrate for the West Coast Racing team in Austria at the weekend, with qualifying domination followed by an inaugural race win for one car and an increased TCR International series points advantage for another.
Race One
American driver Kevin Gleason was able to convert a spectacular pole position into a lights-to-flag race one victory in his JAS Motorsport Honda Civic TCR, at the picturesque Salzburgring track. When the lights went green Gleason got a very clean start and was never challenged throughout the remaining 15 laps. Team leader Gianni Morbidelli did not enjoy such a great start from alongside on the grid, no doubt feeling the drag of the additional success ballast his particular Civic TCR was forced to carry. While Gleason maintained position ahead, Morbidelli nevertheless maintained a strong third early on, challenging for second until a slight miscalculation saw him drop back to an eventual fifth finish.
Said Gleason, the first US driver ever to win an international touring car race: "I am really happy. After two poles, a second and a third, I really wanted this first win badly. Luckily, I had a very good start in Race 1, which here is absolutely crucial, as we saw in Race 2, and was able to stay ahead. I tried to be as clean as possible to keep the gap and I think I did it OK. The only concern was Comini, who was quite close during the entire race and was very fast in the third sector, but I could defend well and rebuild a little gap on the straight at every lap."
Race Two
The driver of the third JAS Motorsport Honda Civic TCR, Igor Skuz was on pole position for race two, but was forced wide by another driver into the escape road at the first corner. He was never able to recover and eventually retired with accident damage. Meanwhile, Gleason and Morbidelli started from the fifth row of the grid, as the qualifying positions from round one were reversed. Both drivers enjoyed an action packed race battling for positions, with Morbidelli taking advantage of some midfield carnage to vault himself up to third position. He would challenge for second before eventually finishing on the third step of the podium, while Gleason finished a solid sixth.
Morbidelli's major series points rival Stefano Comini was penalised for a jumpstart in race two and finished toward the bottom of the points haul. This meant that after all the dust settled Gianni left the Salzburgring with an increased points tally at the head of the TCR international series. Not bad considering that he had to carry the maximum 30 kg success ballast throughout the weekend.
There is now a three-week gap before the championship moves to Russia for the next pair of races in Sochi.
Race One
1 24 Kevin Gleason (USA) JAS Motorsport Honda Civic TCR - 22:14.024
2 25 Stefano Comini (SUI) SEAT León +2.838
3 33 Andrea Belicchi (ITA) SEAT León +5.109
4 88 Jordi Gené (ESP) SEAT León +5.595
5 10 Gianni Morbidelli (ITA) JAS Motorsport Honda Civic TCR +5.919
6 74 Pepe Oriola (ESP) SEAT León +7.399
Race Two
1 17 Michel Nykjær (DEN) SEAT León -- 22:17.434
2 74 Pepe Oriola (ESP) SEAT León +0.436
3 10 Gianni Morbidelli (ITA) JAS Motorsport Honda Civic TCR +1.429
4 77 Sergey Afanasyev (RUS) SEAT León +1.838
5 33 Andrea Belicchi (ITA) SEAT León +2.598
6 24 Kevin Gleason (USA) JAS Motorsport Honda Civic TCR +3.026