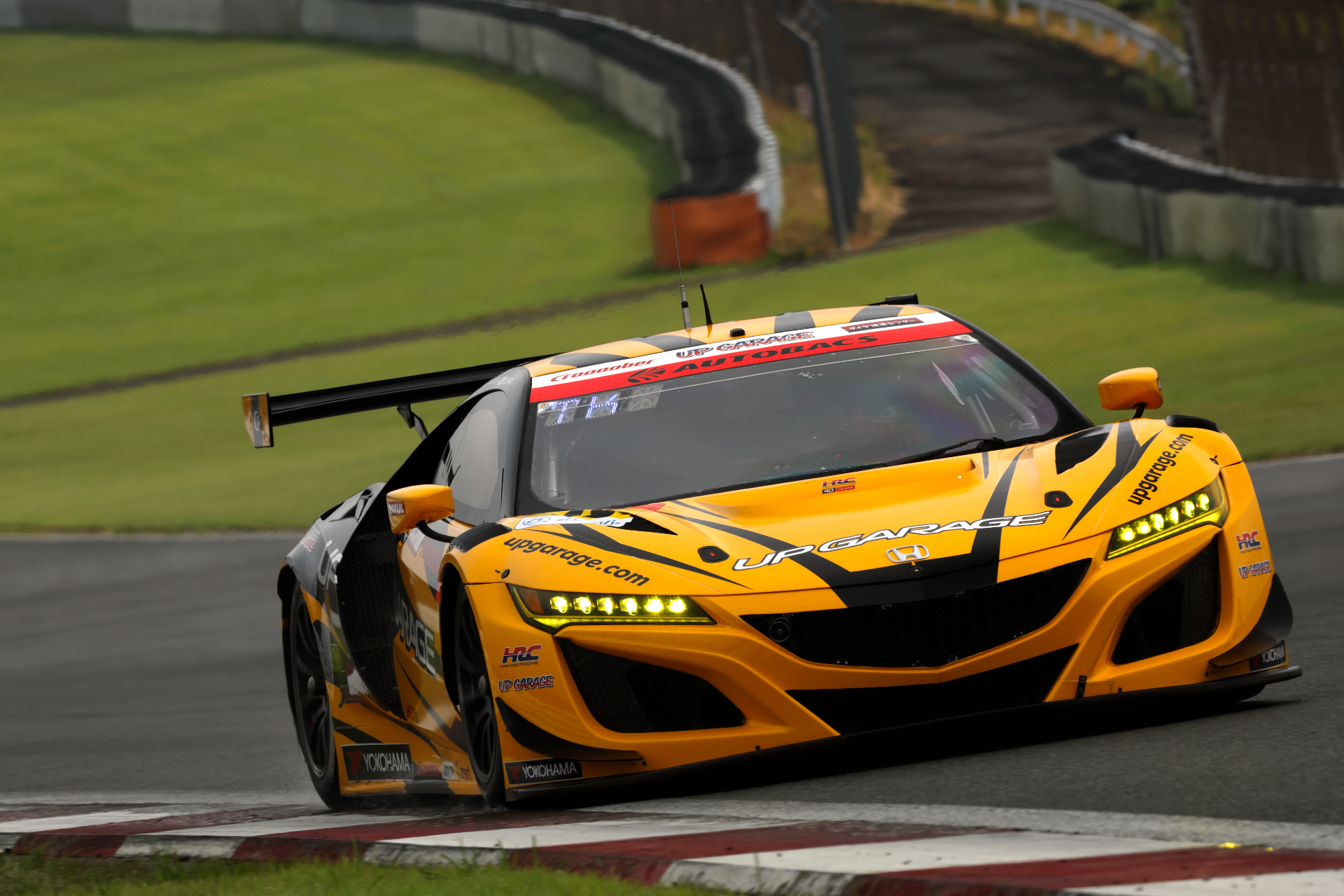 GT3 / 08 August 2022
Super GT podium finish for NSX GT3 Evo 22
Team UPGARAGE maintained the NSX GT3 Evo 22's push for the Super GT title with a superb podium finish at Fuji, while there was a strong showing for the car in North America's IMSA series over the weekend too.
Super GT
TEAM UPGARAGE pair Takashi Kobayashi and Kakunoshin Ohta were among the front-runners in the GT300 class throughout the 100-lap race at Fuji, the pair qualifying fifth and remaining in the hunt throuhghout.
Moving forwards to third spot by the chequered flag - their second podium finish of the season - means Kobayashi and Ohta hold third place in the Drivers' Championship, just 12 points from the series lead with four races remaining.
ARTA duo Iori Kimura and Hideki Mutoh qualified 21st but employed an advantageous pitstop strategy that none of the predicted front-runners reckoned upon.
A highly-impressive stint from youngster Kimura brought the car into the top five by half-distance, with the likelihood being that the #55 machine would have emerged in second place once the upcoming round of pitstops had been completed.
Sadly a technical issue forced the car into the garage soon after and it was retired later.
IMSA WeatherTech Sports Car Championship
Ryan Eversley showed off the NSX GT3 Evo 22's wet-weather prowess - as well as his own - at Road America.
Having climbed into the Rick Ware Racing entry that had been started by Aidan Read at the 40-minute mark under a Full-Course-Yellow conditions, Eversley got underway in full racing conditions in 10th spot.
But an incredible first lap brought him up to third place - a position he held for the remainder of the damp, but drying, stint.
Falling to eighth at his next pitstop, Eversley remained in the car for the remainder of the 2h40m race and equipped with slick tyres on a now dry track, made no further progress. He and Read finished ninth.
All the mentioned cars were competing as part of the NSX GT3 Customer Racing Programme; a global collaborative project with JAS Motorsport responsible for assembly of all cars.

Honda Performance Development (HPD) and M-TEC handle sales and technical support in North America and Japan respectively, with JAS responsible for these areas across the rest of the world.