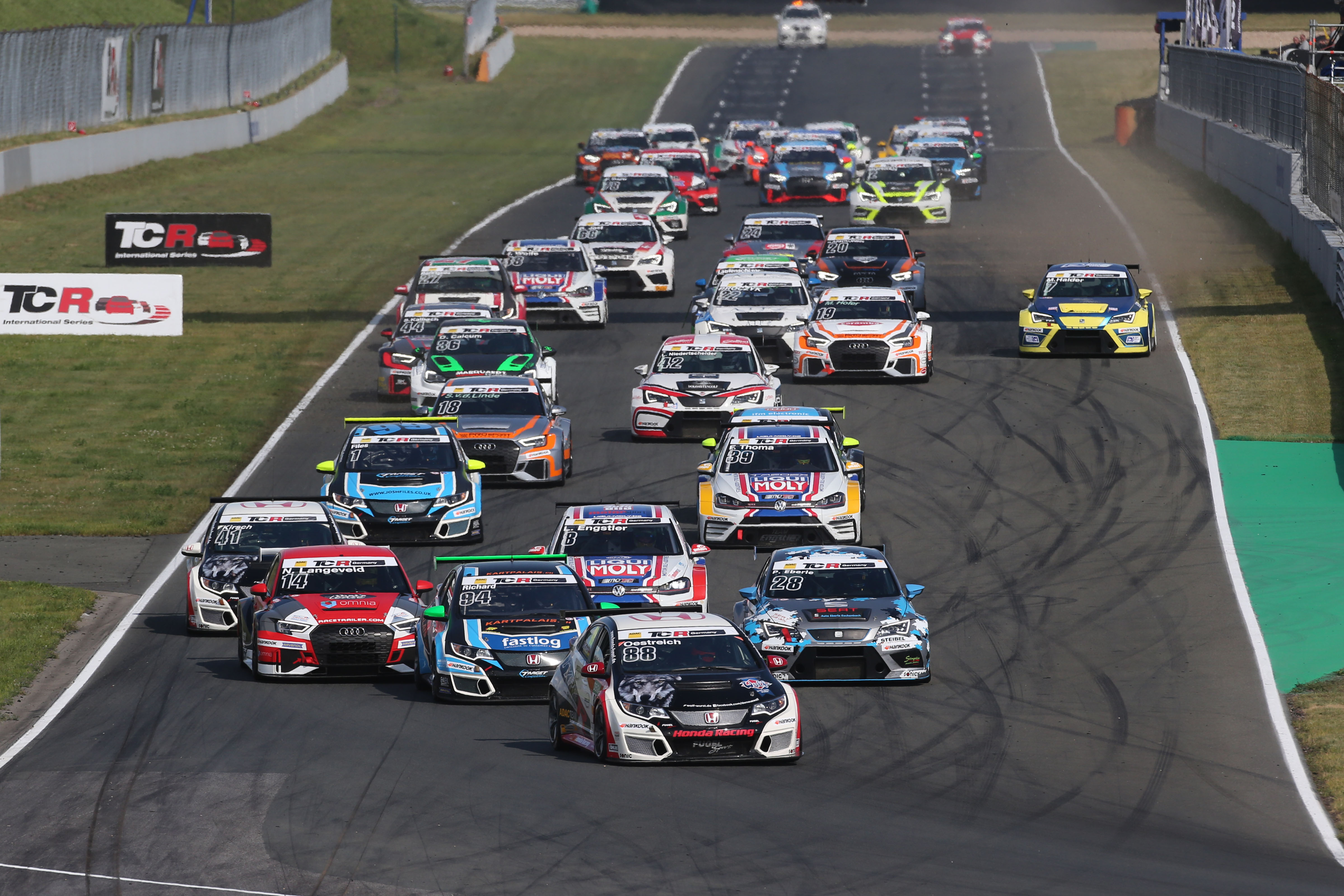 TCR / 10 July 2017
TCR Germany victory for JAS Honda
JAS Motorsport Hondas completed another impressive weekend in TCR Germany with a first series victory for Moritz Oestreich at Oschersleben and an increased championship lead for Josh Files and Target Competition.

Oestreich snatched the lead at the start of Race One and was never headed as he gave the Honda Civic Type R TCR its fourth win of the year. His Honda Team ADAC Sachsen team-mate Steve Kirsch was taken out of both races by rival drivers, denying him a likely double podium.

From 14th on the Race Two grid, British driver Files battled through to second place in his Civic to stretch his lead in the Drivers' Championship and Target Competition UK-SUI's advantage in the Teams' title race. Team Honda ADAC Sachsen now sit second.

It was an altogether tougher weekend in TCR International, also at Oschersleben, as the full effect of the latest TCR Balance of Performance adjustments maximum success ballast for the championship-leading M1RA team left Attila Tassi and Roberto Colciago pushing hard to secure points.

Unfortunately neither managed this with a puncture and a race-stopping startline multi-car accident putting paid to Colciago's hopes and Tassi twice being pushed off the circuit and out of the points by rival drivers. M1RA still lead the Teams' Championship with the Civic ahead in the Model of the Year points.

Eighth place for Reno Racing's Jens Moller was the best result for a Honda across the weekend; the Dane continuing his recent strong form on raceday. There was also a new face in the Honda camp; Aurelien Panis making his TCR International debut with Boutsen Ginion Racing.

Mattias Andersson put on an excellent display of overtaking to climb from 18th to seventh in the second of three Scandinavian Touring Car Championship races at Falkenberg.

He had been eliminated from Race One in a startline incident and could only finish 15th in Race Three. Rent-a-Wreck Racing's Marcus Annervi scored a best finish of 12th in Race One.

Capricorn Racing entered their Civic in the TCR Class of the 24h Series, which continued with the 24 Hours of Misano in Italy. After starting from the pitlane after suffering an issue on race morning, the crew of Claudio Truffer, Patrik Meier, Yanik Stiffler and Hans Peter Stiffler retired in the 11th hour.

Mads Fischer, JAS Motorsport TCR Project Leader, said: "It's very pleasing to see JAS Honda teams lying first and second in the TCR Germany points and the performances from Target Competition and Team Honda ADAC Sachsen were very strong. We do have one big concern, however, and that's the way the Balance of Performance works. The Civic has gone from being the fastest car in Hungary to struggling to qualify in the top 10 in Germany. The 'B' in BoP is supposed to mean 'balance' for all the cars, but this level of variation is not good for anybody. One of the M1RA cars was 50kg heavier than some of the rival vehicles in Germany and that's just too heavy; too much variation. I think we need some smaller adjustments for every car than we're currently seeing."
.