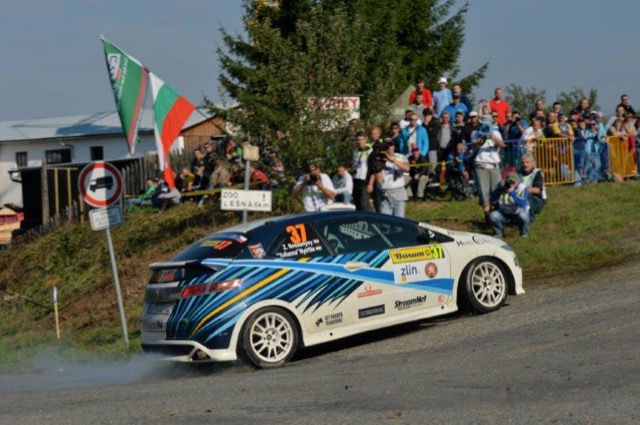 Rally / 22 October 2014
The Countdown Begins for Zoltan Bessenyey and Yulianna Nyirfas
FIA ERC - Rallye du Valais
After last month's trip to the Mediterranean for the Cyprus Rally, the 2014 European Rally Championship heads to cooler climes this week for the Rallye International du Valais, held in the Martigny and Sion regions of Switzerland.
But whilst the season moves forward towards its climax in France this November, the exciting performance of the Honda drivers in Cyprus still lingers. With a 1-2-3 finish for the Civic Type R and 2013 Champion Zoltan Bessenyey claiming top spot on the podium, the Hungarian now sits in a commanding lead in this year's 2WD Driver's Championship; 24 points ahead of Frenchman Stéphane Lefebvre (87) and 24 in front of Czech Jan Cerny (68).
But it's not over yet and with just two rounds of the 2014 ERC season remaining, scoring points at the Rallye du Valais for Zoltan Bessenyey and co driver Yulianna Nyirfas is vital.
"The good news for us is that both Lefebvre and Cerny aren't starting in Switzerland," says Zoltan. "But to take advantage and win the title in Valais, before the last round in Corse, we really need to get 16 points. That means finishing 3rd or 4th, with enough bonus points. But with some strong local drivers in 2WD, who know the stages well, it certainly won't be an easy mission."
"Adding to the challenge is that the Valais is a completely unknown rally to us and I can only really learn the course from onboard footage. Of course I'll have a much better idea after completing the two passages we're allowed during the recce, and we've already faced much worse than this this year. Indeed, during last month's "Cyprus Adventure" we went off the road and heavily damaged the car, but were still able to fight back and take the victory! So I'm going into this rally with quiet confidence, especially given that we're using the same Civic Type R. That's no mean feat either because after Cyprus, the guys from Eurosol Racing needed to completely rebuild the car."
In addition to the Hungarian Honda driver, two other Civic Type R drivers will be competing in this week's 2WD battle. The first will be driven by local driver Xavier Craviolini, an eight time veteran of the Valais classic, and co-driver Yannick Micheloud, while Bertrand Nicollier and co-driver Corinne Caze are defending the colours of the Racing Team Nyonnais.
The Rallye International du Valais will start on Thursday 23rd October with three Special Stages. On Friday morning the participants will start the first of eight stages and then on Saturday the first car will cross the finish line, after further eight Special Stages, or a grand total of 260, 20 km against the clock.