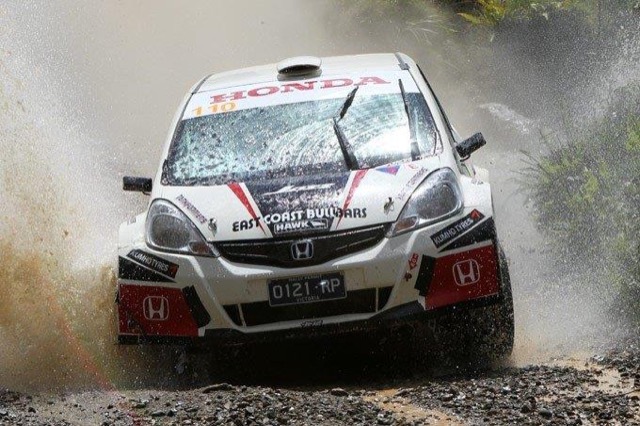 Rally / 27 September 2013
The eleventh straight victory for the Honda Jazz G2
Australian Rally Championship
Eli Evans has secured this year's 2WD Australian Rally Championship after another superb victory in the Rally Australia. The Evans Motorsport-Honda Jazz driver has now won a record 11 rallies from 11 starts and the sixth and final round of the ARC, the Rally Victoria, on the 15th and 16th of November, is still to come. The win means the Honda Jazz crew repeats their successful 2012 campaign, where they won the Australian Championship in its debut year.
The victory adds to an already memorable season for Evans and co-driver Glen Weston. At the Scout Rally in May they secured their place in Australian rally history by clinching a superb ninth victory in a row, taking them past the record previously held by the 1990s rally legend Possum Bourne.
However, despite the trophy winning performance, everything didn't go Evan's way in the Rally Australia. Tire dramas beset the Australian driver the day before and rival Brendan Reeves was nipping at his heals consistently throughout the rally. But Evans controlled the pace from the start and in the end led Reeves by 16.1 seconds.
"It's such a great feeling!" Eli said. "Even though we've won every rally this year it's been tough and hasn't been easy at all. I've just been very fortunate to have had a dream run."
"All the guys in the team have put in such a great effort, and the Honda Jazz never let me down. I can't thank Honda enough for all their support over the last four years, and this is a great way to reward them with our eleventh straight win and two Championships in a row."
Evans' co-driver, the hugely experienced Glen Weston, added: "It's an amazing achievement and I can't see eleven straight wins being beaten in a hurry!"
After two seasons with the Civic Type R, Honda Australia was keen to enter a new car into the Australian Rally Championship and the Jazz was the obvious choice. Setting Rally Calder, the 2012 season opener, as their target, J.A.S Motorsport developed two race-ready and fully conforming Jazz in just three months, working with Mugen on the engine.
Eli Evans is full of praise for the Jazz and the relationship between J.A.S. Motorsport and Evans Motorsport. Evans said: "It was yet another incredible weekend for us. Honda, Mugen, J.A.S. and of course the entire squad of Evans Motorsport were all brilliant at helping us obtain this second title."