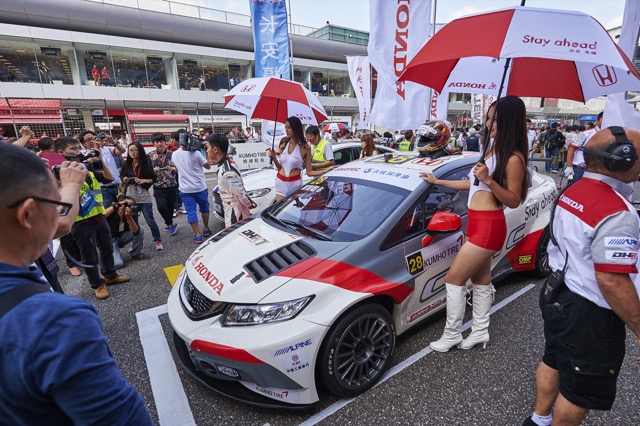 Race Track / 23 October 2014
The first victory of the Civic CTCC!
China Touring Car Championship
The arrival of the FIA World Touring Car Championship in China earlier this month introduced a whole new audience to the excitement of the "China Touring Car Championship" or CTCC, which ran parallel to the WTCC races in Beijing and Shanghai.
In Shanghai for instance, world touring car fans were treated to the seventh round of the CTCC; a classic for Honda fans where driver Peter Li Zhe Cong took victory behind the wheel of his Dongfeng Honda Civic. It was a fantastic achievement made all the more remarkable given that the Civic's first outing in the CTCC only took place one week before in Beijing!
"We were playing catch up for our first race in Beijing as we had some problems with the delivery of parts," clarifies Mads Fischer, project leader and race engineer of J.A.S. Motorsport. "But the fact that we could immediately fight in front and therefore dominate in Shanghai, has got everything to do with finding the right set-up for our first confrontation in Beijing. It was there that we could really see the car's potential."
The Civic Saloon's participation in the CTCC (the Chinese Civic Saloon features slightly different styling to the European version) is the result of the collaboration between Dongfeng Honda Racing, M-Tec Mugen and J.A.S. Motorsport.
"It underlines, once again, the strong relationship that exists between M-Tec and J.A.S. Motorsport as partners in the CTCC," says Yoshihiro Nezu, M-Tec Project Leader.
J.A.S. Motorsport is no stranger to the CTCC either, having already supported a number of Hondas in previous rounds of the Championship.
"For every constructor involved, the CTCC is THE showcase for the technical potential of their cars," explains Mads Fischer about the CTCC's choice to feature 1.6 litre turbocharged TC2 cars. "And because of that, the CTCC will stick to the same formula in 2015. Unquestionably, the TC2 remains the pinnacle touring car championship in China for the brands involved."
He added: "Dongfeng represents Honda's factory in China, where a lot of the team's technicians are employed. For them the CTCC is more than just a job; it's an extension of their passion for Honda in China and the races are their DNA. J.A.S. Motorsport has provided four employees, and next to four engineers from Mugen, there are also nine team members from Honda China. Together we form a strong team and that also explains our early success."
Two weeks after tasting their first success, the united team is preparing itself for the final round of the CTCC in the Yancheng Street-race, held in the north of Shanghai.
"Street races aren't risk-free, so our main goal in Yancheng is simply to bring both cars across the finish line, and preferably in a good position," diagnoses Fischer. "We already have one victory under our belt, which we're thrilled with and whilst these three races in the 2014 Championship are important, they're really about our preparation for next season because it's our intention to participate with two Civics in the CTCC in 2015."