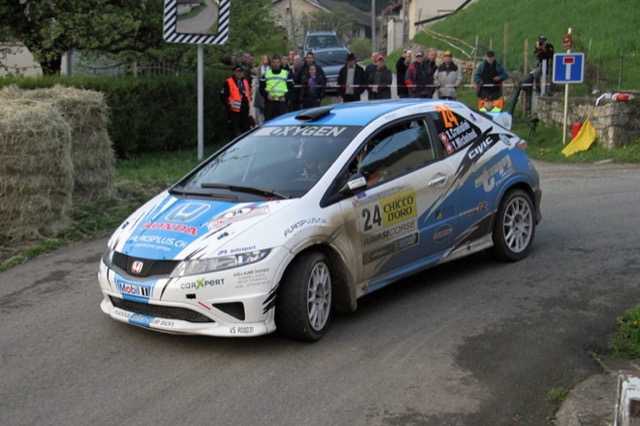 Rally / 06 November 2013
THE GRAND FINAL IN THE SWISS ALPS!
FIA ERC - Rallye du Valais
The FIA European Rally Championship concludes next weekend in the mountains of southwest Switzerland with the Rallye International du Valais.
However, for Civic Type R R3 driver Zoltan Bessenyey and co-driver Yulianna Nyirfas the celebrations have already begun. Despite not appearing in last month's Rally Sanremo, the Hungarian duo clinched the 2013 European Rally Championship 2WD driver and co-driver titles when Kornél Lukács, their closest rival in the Championship, failed to score the necessary points to take it to the wire.
Commenting on the winning the title following the Italian round of the ERC, Zoltan said: "If Kornél had secured the points he needed in Sanremo then it was in our plans to appear in the Rallye du Valais and take the title race to the final. But thankfully it proved to be an impossible mission for Kornél, so we'll now use the time to focus on what can be done for the next season."
So without the Eurosol-Honda Civic Type R drivers, Honda will be counting on local driver Xavier Craviolini, a seven time veteran of the Valais classic, and co-driver Yannick Micheloud. And in addition to competing in the final of the ERC, the Honda pair from the Lugano Racing Team and their Swiss peers are contesting the final round of the Swiss Rally Championship, which is running in parallel.
The Rallye International du Valais will start on Thursday 7 November with three Special Stages; the first in the famous ski resort of Crans Montana. On Friday 8 November the participants will take the start of seven stages and finally on Saturday 9 November the first car will cross the finish line, after another eight special stages, or a grand total of 287, 84 km aiganst the clock.
2WD Championship Drivers (*)
1.Zoltan Bessenyey (HUN) 150 points; 2. Kornél Lukács (HUN) 77; 3. Elwis Chentre (I) 67; 4. Hannes Danzinger (A) 66; 5. Stéphane Lefebvre (F) 61; 6. Molly Taylor (AUS) 43; 7. Sebastian Barbu (ROU) 40; 8. Gorka Antxustegi (E) 39; etc.
2WD Championship Co-drivers (*)
1.Yulianna Nyirfas (HUN) 150; 2. Mark Mesterhazi (HUN) 77; 3. Katharina Wüstenhagen (D) 66; 4. Thomas Dubois (F) 61; 5. Sebastian Marshall (UK) 43; 6. Horatiu Baltador (ROU) 40; 7. Igor D'Herin (I) 40; 8. Alberto Iglesias (E) 39; etc.
(*) Subject to confirmation of the results by the FIA