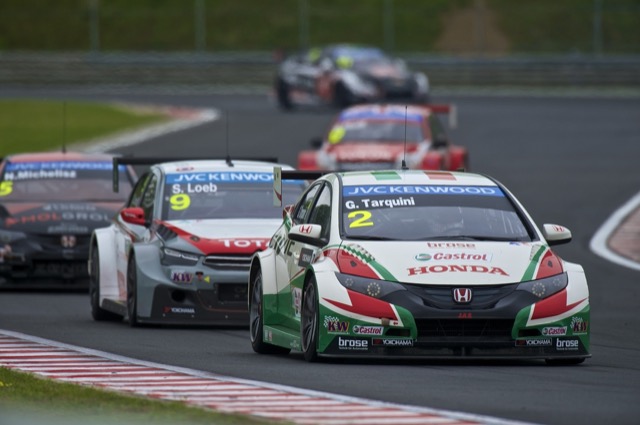 Race Track / 08 May 2014
The Return of the Honda Civic on the Slovakia Ring?
FIA WTCC - Round 4 - Slovakia Ring
Tiago Monteiro has been on fine form, earning crucial points by securing third place in Race 1 at Hungaroring and second place in Race 2 in the FIA World Touring Car Championship. His performance puts him fourth in the FIA WTCC's overall standings, ahead of his Honda team-mate Gabriele Tarquini. Leading up to the fourth round of the championship on the Slovakia Ring - some 40 km east of Bratislava, the capital of the Slovak Republic – the Castrol Honda World Touring Car Team is more determined than ever to continue its momentum, especially since the Portuguese driver came so close to winning in Hungary.
"It was a really close race and during the last laps victory was almost within our grasp", a very satisfied Monteiro stated. "The hard work of everybody in the team gave us the opportunity to fight up front, in both the qualifiers and the race. Each member of the team is giving everything to ensure the best possible chance of victory our situation is improving inch by inch. The team effort has ensured that we are now scoring vital points and are edging closer to our ultimate goal."
The other Honda drivers share this opinion, especially Norbert Michelisz, who drove his 100th FIA WTCC race in Hungary: "Going to the Slovakia Ring, it gives me a lot of confidence to see that in Hungary the Civic WTCC was able to fight for top-5 positions in Q3 and finished on the podium twice."
Twelve months ago, the same Slovakia Ring was the scene for the Honda Civic's first win in the FIA WTCC, with Gabriele Tarquini crossing the line in first place. The Italian shared the podium with two of his Honda colleagues, Tiago Monteiro and Norbert Michelisz.
"It was an important win, for me personally as well as for Honda", Gabriele reminisces on the Honda Civic's victory. "It confirmed the potential of the Civic and it was the foundation for the remainder of the WTCC season and the wins that Norbert, Tiago and I would consequently take. At 5.9 km, the Slovakia Ring is a very complicated circuit, with some quick corners and plenty of changes of direction. In some ways, it is similar to Spa-Francorchamps. The Civic of 2014 is a completely different car to last year's machine, but I am convinced that once again we'll be in the running for the top spot!"
With the Slovakia Ring only a two hour drive away from Budapest, the team has enough time to organize two days of testing on the Hungaroring, before arriving in the Slovakian paddock on Thursday.
"Ever since Valencia in March followed by such a short shakedown on the Tazio Nuvolari-circuit near Pavia we have been unable to do any testing, because the races were so close together", says Alessandro Mariani, Team Principal of the Castrol Honda World Touring Car Team. "During the free practice and qualifying sessions of a race weekend you are fully focused on using every second to find the optimum set-up. These two days on the Hungaroring will give us the chance to try out several ways to improve the car and to better prepare ourselves for the upcoming races. In Hungary the opposition had to deal with a weight handicap and we don't know how much that influenced the outcome of the race, so we need to make sure we exploit our test sessions to the fullest."
Driver's Championship: 1. José Maria Lopez (ARG) 115; 2. Yvan Muller (FR) 105; 3. Sébastien Loeb (FR) 84; 4. Tiago Monteiro (PRT) 65; 5. Gabriele Tarquini (I) 48; 6. Hugo Valente (F) 47; 7. Gianni Morbidelli (I) 37; 8. Tom Chilton (GB) 36; 9. Mehdi Bennani (MAR) 26; 10. Norbert Michelisz (HUN) 23; 11. Tom Coronel (NL) 16; 12. Dušan Borkovic 15; 13. Rob Huff (GB), Mikhail Kozlovskiy (RUS) 10; 15. Franz Engstler (D) 6; 16. John Filippi (F) 4; 16. Pasquale Di Sabatino (I), James Thompson (GB) 2
Manufacturer's Championship: 1. Citroën 271; 2. Honda 172; 3. LADA 112