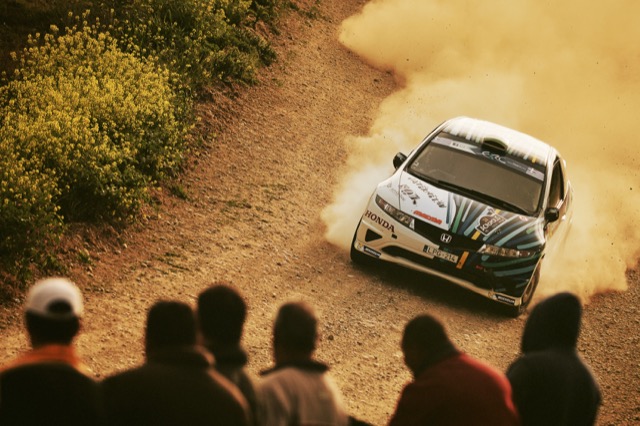 Rally / 19 September 2014
The Return of Zoltan Bessenyey
FIA ERC ? Cyprus Rally ? 20 & 21 September 2014
The FIA European Rally Championship heads to Cyprus this weekend. The rally is the 9th round of the 2014 ERC and the first time the European Championship has travelled to the Mediterranean island since 1999.
At lot has changed in the last years. Since it was last held in the country the organisers of the Cyprus Rally have switched the course; changing it from the famous mountain roads around Limassol to the faster and less punishing Special Stages in and around the capital Nicosia.
Reigning 2WD champion Zoltan Bessenyey was forced to miss the last round of the ERC, the Barum Rally, held in the Czech Republic. Bessenyey had damaged his left ankle in a sporting accident, and after taking medical advice, decided to withdraw. It was a painful decision in more ways than one as Frenchman Stéphane Lefebvre (87) now currently leads the Championship, 15 points ahead of Zoltan (72) and 19 in front of Czech Jan Cerny (68).
The Hungarian Honda Civic Type R driver is 100% fit this weekend though and raring to defend his 2013 2WD drivers title.
"Cerny didn't score points in his home rally and both Lefebvre and Cerny aren't starters in Cyprus," said Zoltan. "Mathematically I still have a chance to take the lead again after Cyprus, so finishing on the podium and scoring enough points: that's the mission. It's important for myself, for the team, for Honda and for my sponsors."
"The mix of gravel and asphalt always makes you drive differently and forces you to find a compromise between handling, grip and the right pace," said Zoltan after the recce. "This is my first time on this course, but Janos Puskadi, the team principal of the Eurosol squad, has participated several times at the Cyprus classic, so has been huge help in my preparations."
In addition to Zoltan Bessenyey, two other Honda Civic drivers will be competing in their home rally. They are Soteris Karousiou and Stravros Achilleos.
The Cyprus Rally will start on Saturday 20 September at 8h47 and finish on Sunday 21 September around 18h30. The participants will take on a total of 15 Special Stages over 233 km, covering a mix of tarmac (35%) and gravel (64%).