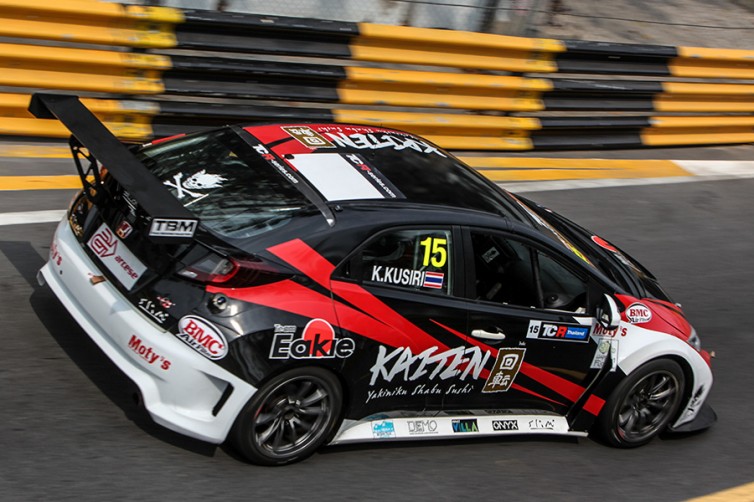 TCR / 26 February 2017
The young Thai Kantadhee Kusiri wins last round of Thailand 2016 Championship
Kusiri dramatically driving one Honda TCR Civic JAS built
The Bangsaen street circuit was hosting last week the final event of the 2016 TCR Thailand that was originally scheduled to take place on October 23th 2016, but postponed because of the period of national mourning declared after the death of King Bhumibol the Great.
The 15-laps Race 1 was won by Kantadhee Kusiri (Billionaire Boy Racing) in a JAS prepared Honda Civic, while Carlo van Dam (Singha Motorsport Team Thailand Seat León) was able to beat Jack Lemvard , (Vattana Motorsport Seat León), in the fight for the second place..
At the start of Race, Kusiri sprinted to the lead and bid farewell to the rest of the field. He pushed to create a gap in the first laps, leaving van Dam and Lemvard to have a close battle for the second place.
In the second part of the race, Kusiri eased down his pace and went to claim his third victory of the season, 15.2 seconds in front of van Dam, followed by Lemvard and Grant Supaphong (Kratingdaeng Racing Team SEAT León).
Kusiri won also Race 2 of the final round of the 2016 TCR Thailand Championship.
Lemvard took a brilliant start, which allowed him to create a small gap, while van Dam and his Seat were involved in a close fight with Kusiri's Billionaire Boy Racing Honda Civic
On lap 5 Kusiri overtook van Dam for second, and quickly closed the gap from Lemvard, passing him on lap 6 and maintained a comfortable lead achieving another impressive win, 8,2 second in front of Lemvard!