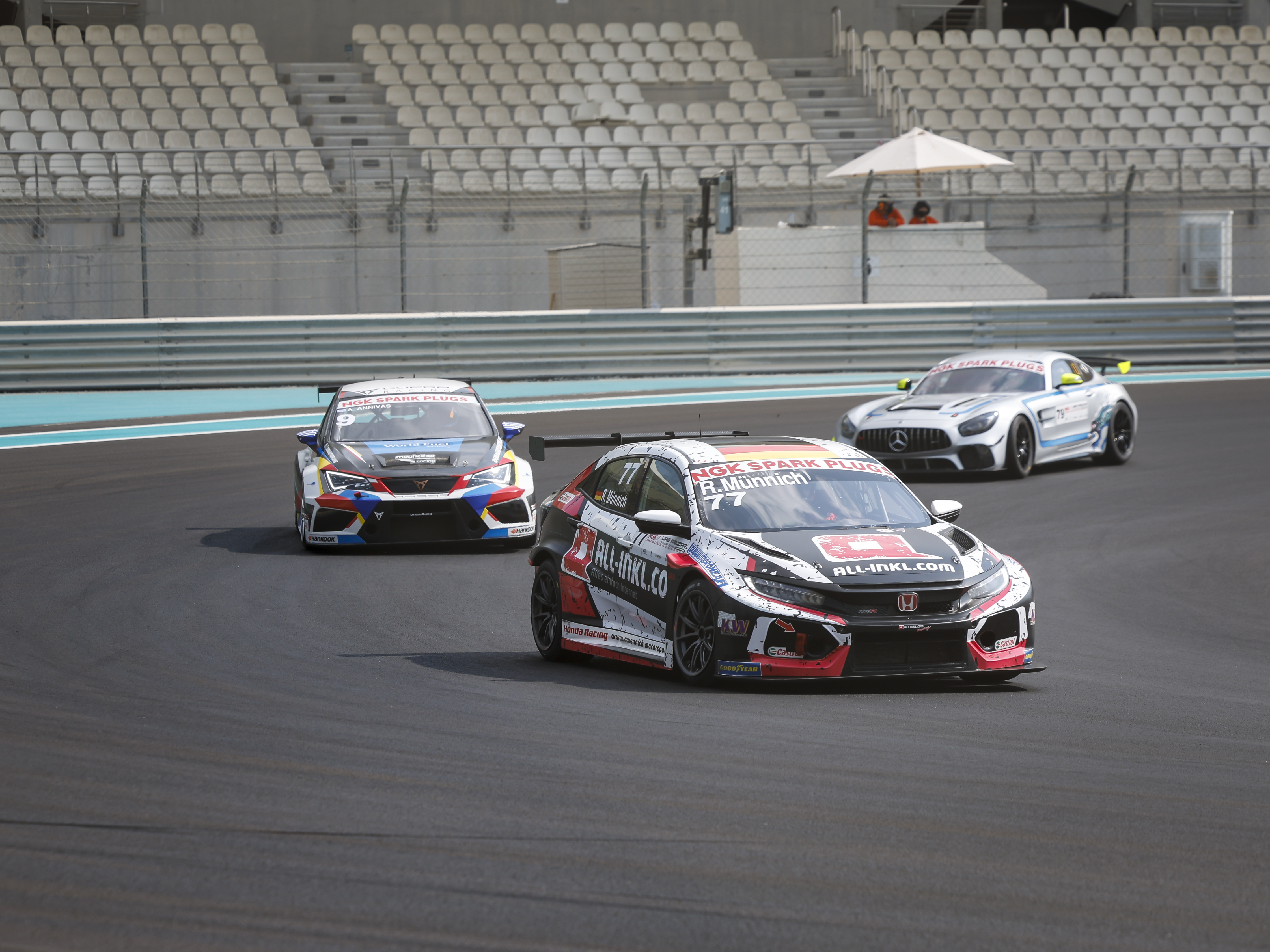 TCR / 22 November 2021
Three more wins for Honda Civic Type R TCR
The Honda Civic Type R TCR scored three more victories in Asia and Europe as ALL-INKL.COM Munnich Motorsport and MM Motorsport proved their credentials against stiff opposition.


UAE Procar Championship
Rene Munnich and ALL-INKL.COM Munnich Motorsport dominated the second round of the series at Yas Marina.

Kicking off with a second-straight pole position, the German led the opener into the first corner and put in a faultless performance under heavy pressure from behind to score his maiden series win.

He then repeated the achievement later in the afternoon; keeping his JAS Motorsport-built Honda Civic Type R TCR just a few car lengths ahead of his main rival for the 25-minute duration. Munnich has climbed to second in the championship as a result.


Magione Two Hours
MM Motorsport won a topsy-turvy race with polesitters Luigi Bamonte and Emanuele Alborghetti triumphing for the latter's squad.

Having led the opening stint, the Honda began dropping positions in the second half of the race and fell as low as sixth with half an hour remaining, but staged a superb recovery to snatch the overall lead inside the final minutes and take victory.

The sister car of Alessio Aiello and Paolo Rocca qualified second and led the opening laps, but suffered a technical issue at quarter-distance, losing a significant amount of time.

The pair did rejoin the action and finished second in the Touring Car class to complete a team one-two.


Macau Guia Race
A highlight of the annual touring-car calendar, this year's Guia Race on the Macau street circuit provided even more gruelling than usual as none of the five entered Civic Type R TCRs finished the main race.

Team TRC provided the greatest threat for victory; a point proven when Andy Yan and James Tang qualified third and seventh.

Both drivers' weekends were undone in Saturday's qualifying race, however as each suffered front punctures while running third and fifth respectively.

Yan was forced to start the Guia Race from 17th as a result and charged through to sixth before crashing. Tang suffered issues of his own and did not finish.

Z-Challenger Racing's Jactin Chung and Jason Mok made up 10 and 14 places respectively during the qualifying race to finish seventh and 12th. But both were forced out on Sunday; Mok parking on the hillside section as the leaders entered their final lap.

MacPro Racing Team's Wai Hung Wu qualified 19th, but improved to 15th on Saturday.