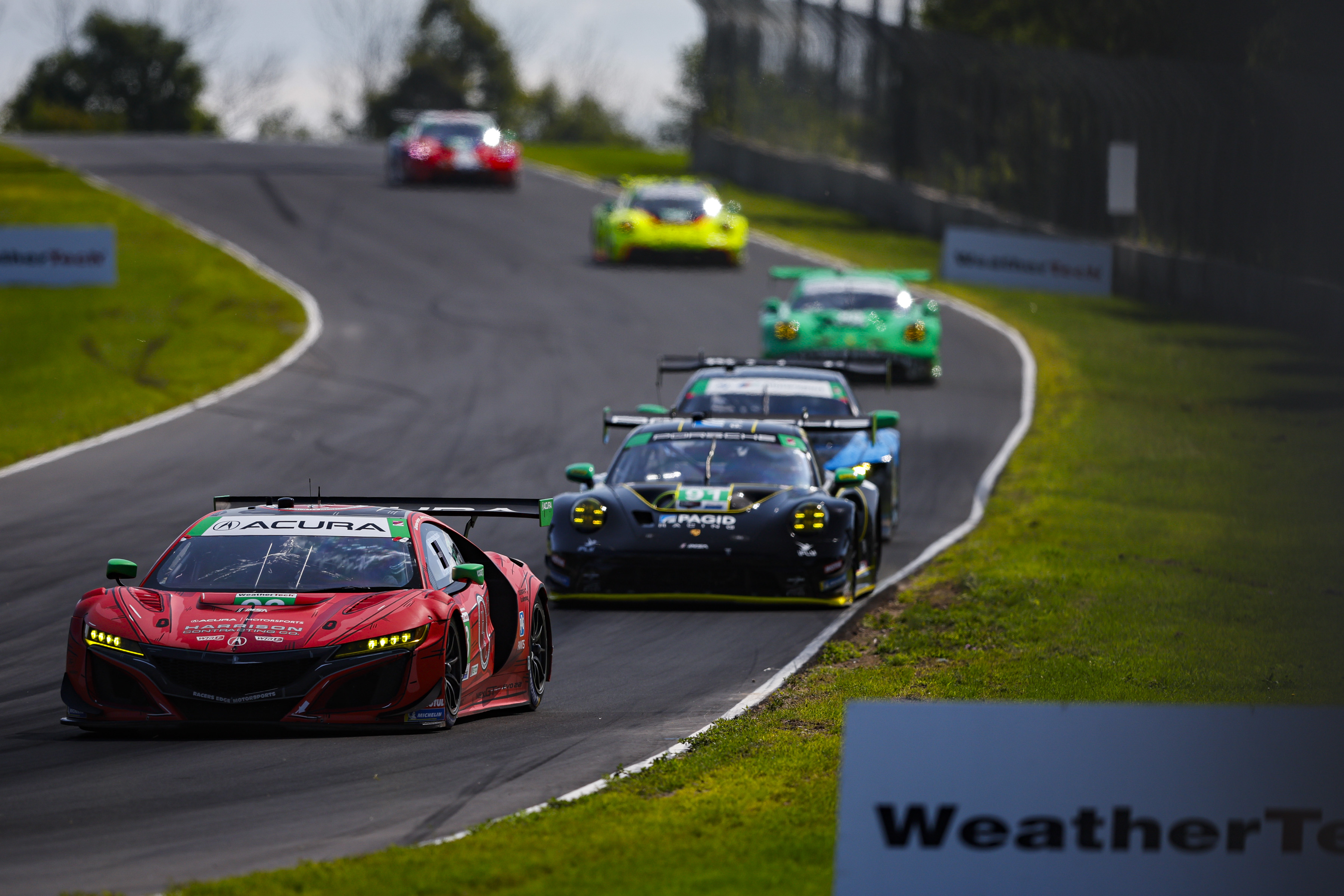 GT3 / 07 August 2023
Top-10 finishes for NSX GT3 Evo 22 teams
The NSX GT3 Evo 22 battled hard on two continents during the weekend, although results proved hard to come by as fortune often turned against partners of the NSX GT3 Customer Racing Programme.
IMSA
Racers Edge Motorsports with WTR Andretti Autosport joined the field at Road America, adding the race to its planned 'Endurance-only' programme in the series with drivers Ashton Harrison and Mario Farnbacher.
Predicting plenty of caution periods during the second half of the race at the often punishing circuit, the team made their final planned pitstop with over an hour to go, hoping to gain track position and stretch fuel mileage under 'yellow' conditions when they came.
Instead the race ran green for its final two hours, 20 minutes, meaning Farnbacher had to forfeit his second place for a late 'splash and dash' stop and dropped to eighth.
That should have put it behind the Gradient Racing NSX, which Sheena Monk had qualified a career-best 10th, but contact for her co-driver, Katherine Legge, from another car pushed her off the track and out of seventh spot with an hour to go.
She fell to 12th, but recovered to 10th by the finish.
Super GT
The crews from opening-round winners Team UPGARAGE and Yogibo Racing found it even tougher as Japan's leading GT series resumed at Fuji.
Carrying 60kg success ballast as a result of their win at Okayama in April, UPGARAGE duo Takashi Kobayashi and Syun Koide qualified 20th in GT300 and even a rainshower just before the start couldn't help them to anything better than 17th-place result.
Yogibo pair Yugo Iwasawa and Reimei Ito started 25th and finished 20th.
All four cars were competing as part of the NSX GT3 Customer Racing Programme; a global collaborative project with JAS Motorsport responsible for assembly of all cars.

Honda Performance Development (HPD) and M-TEC handle sales and technical support in North America and Japan respectively, with JAS responsible for these areas across the rest of the world.