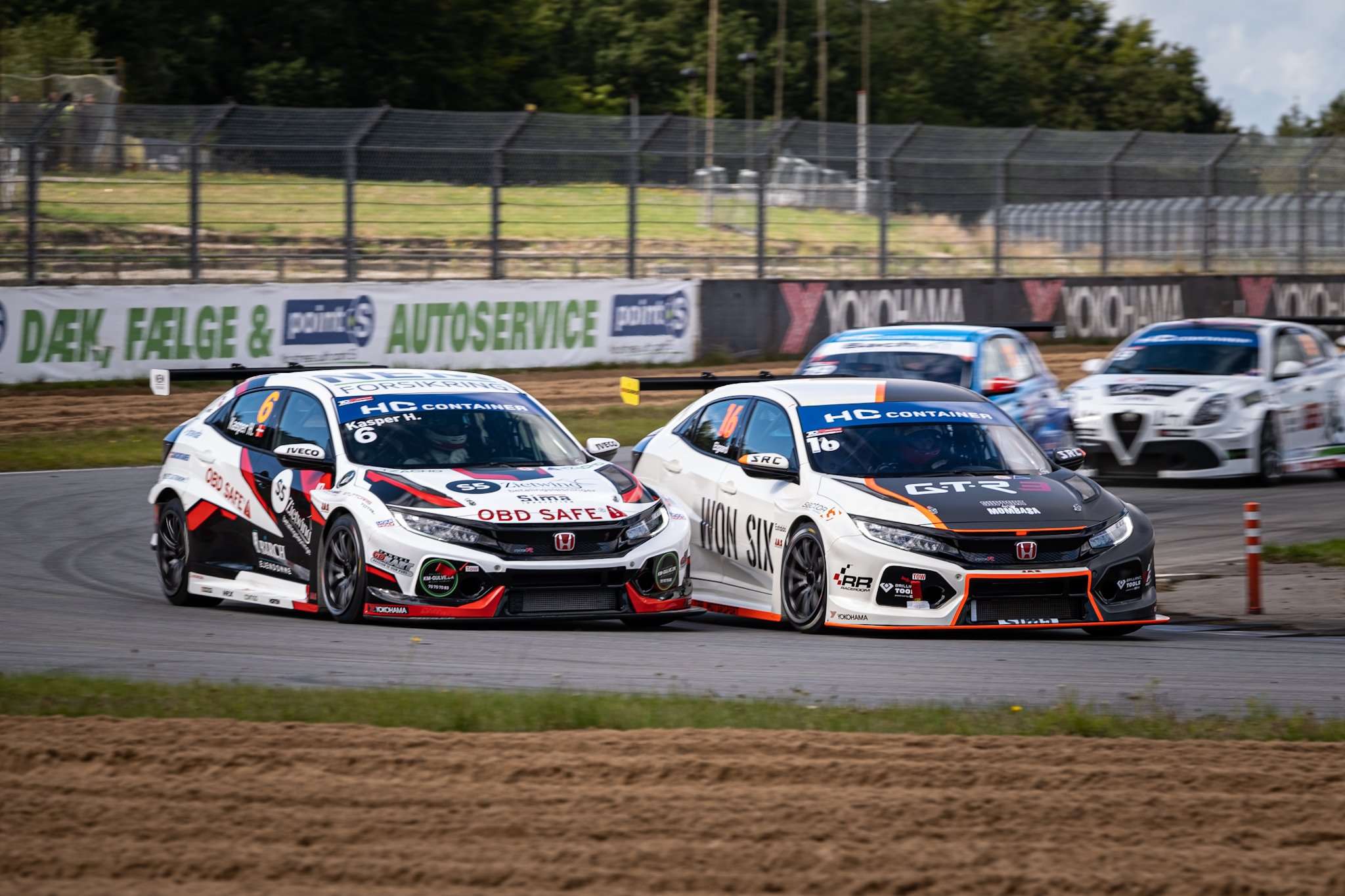 TCR / 07 September 2020
Treble victory highlights super weekend for Civic Type R TCR
A treble victory in Denmark for the Honda Civic Type R TCR was the highlight of a terrific weekend that also included podium finishes in Japan, Russia and the USA.
That treble win came from Casper Elgaard, who had missed the opening TCR Denmark event of the season, but brought the TPR Motorsport team to Jyllands-Ringen last weekend to battle the similarly JAS Motorsport-built Honda Civic Type R TCRs of Massive Motorsport.
Elgaard qualified on pole position and fought against Massive's Kasper H Jensen for the whole of the opening race; eventually winning by 0.3 seconds. It was a similarly close fight in Race Five as the pair again recorded a one-two finish for the Civic.
Two seconds and two third for Jensen increased his lead at the head of the Drivers' Championship and moved Massive to the top of the Teams' points, while Elgaard is now sixth.
Jensen's team-mate Kenn Bach scored his first outright podium finish in third place in Race Two and was also the Trophy class winner in each of the first three races.
Unfortunately, a fuel issue prevented him starting from reversed-grid pole position in Race Four and restricted him to 10th overall in the finale. He's second in the Trophy standings.
Mike LaMarra and Mat Pombo scored the Civic Type R TCR's first IMSA Michelin Pilot Challenge podium finish of the season with a strong run to third place at Road Atlanta.
LaMarra qualified his LAP Motorsports-run LA Honda World Racing car seventh for the four-hour race - the longest since the Daytona season-opener in January - and climbed to fourth before the second round of fuelstops began.
Pombo then charged to third during the second half of the race. He was followed home by Ryan Eversley, whose co-driver Taylor Hagler had started ninth and followed LaMarra through the field during her stint. Fourth - despite an unscheduled pitstop due to a front-left puncture - was their best result of 2020.
LA Honda World have leapt three spots to fourth in the Teams' Championship with Honda still third in the Manufacturers' Rankings, but only five points away from second spot.
Anton Nemkin kept up his push for TCR Russia's SMP Rookies' Trophy category as the series made its second visit of 2020 to the Smolensk Ring.
The Motor Sharks driver climbed from sixth on the Trophy grid to third place in Race One, but made even more progress in the Sunday evening race to claim the runner-up spot in ninth place overall; a result that promoted him to fourth in the points.
New squad Floral Racing with Uematsu enjoyed a strong Super Taikyu debut as the Japanese series kicked off with its showpiece race, the Fuji 24 Hours.
Tadao Uematsu, Tomoki Nojiri, Yuji Ide and Shintaro Kawabata qualified second and finished in the same position in a race that was red-flagged between the fifth and eighth hours due to bad weather. For ex-F1 racer Ide, it was his first podium finish for a decade.
Dome Racing Team were beset by delays for a variety of reasons, but their sextet of Shinji Nakano, Hiroki Otsu, Mitsuhiro Endo, Syun Koide, Kenta Harada and Ryusuke Masumoto showed extreme resilience to make the finish in fourth place.
Sebastian Kolokowski scored the best result of his rookie TCR Eastern Europe season as the Honda Wyszomirski driver secured 11th place in Race Two at Brno, Czech Republic.
Team-mate Jakub Wyszomirski was ninth in Race One and put on a terrific charge to climb to fifth in Race Two before he was forced off the road and out of the race by a rival with three laps left.