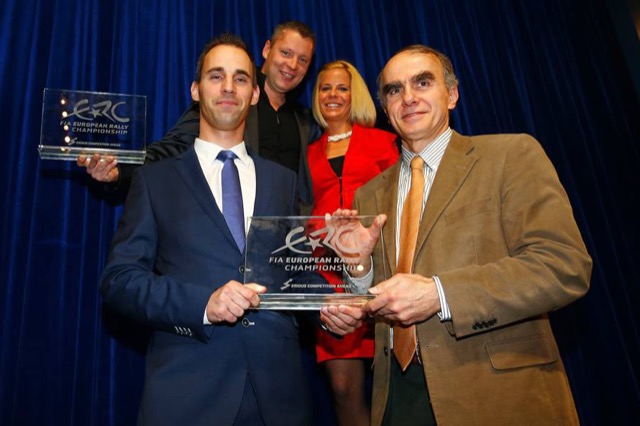 Rally / 16 December 2013
TRIO OF TITLES FOR CIVIC TYPE R IN EUROPEAN RALLY CHAMPIONSHIP
FIA ERC PRIZE GIVING
The inaugural FIA European Rally Championship (ERC) awards ceremony was held in Paris last week and much attention was made to the 2WD Cup and the drivers and team members of the Honda Civic Type R.
After completing a phenomenal season in their Civic Type R R3, first up on stage was Hungarian driver Zoltan Bessenyey and co-driver Yulianna Nyirfas to collect their 2WD driver and co-driver titles. Also celebrating on the memorable night was the "Eurosol-Honda Civic Type R" team whom Bessenyey drives for. Securing 175 points throughout the year, they were worthy winners of the 2013 2WD team title.
"That crowned it all," explained Zoltan Bessenyey and Team Principal Janos Puskadi. "These awards are the result of the efforts of the whole Eurosol Honda Civic Type R team and that's why we dedicate them to the crew of Eurosol, which worked together so perfectly with the guys at Honda Racing Customer Service. It's been a fantastic season and the opposition didn't grant us any respite until the last rounds. In fact it was only after the Rally of Sanremo that we were 100 per cent certain that'd we'd won all of the titles."
This year's success echoes the 2011 season of the Intercontinental Rally Challenge where Honda secured the 2WD Manufacturer's Cup. After six years of competition at the highest level, the IRC was replaced by the FIA European Rally Championship this year.
The second season of the FIA ERC will start on January 3-4-5 with the Jänner Rallye in Austria and there is every indication that Zoltan Bessenyey, co-driver Yulianna Nyirfas and the Eurosol-Honda Civic Type R will defend their titles in 2WD.
"It's already certain that we'll start in Austria, but after that we don't know as we've not completely finalized which rallies we'll compete in yet," clarifies Zoltan. "But to prepare ourselves for the winter rallies, over the next few days we're heading off to practice on the snow and ice of Norway. We're leaving nothing to chance."
JAS Motorsport, the official partner of Honda Motor Europe, will once again be providing technical and logistic support during the main rounds of the 2014 ERC season.
(Picture, from left to right) Eurosol Hungary Team Principal Janos Puskadi, Zoltan Bessenyey, Yulianna Nyirfas and William De Braekeleer, Motorsport Manager at Honda Motor Europe.