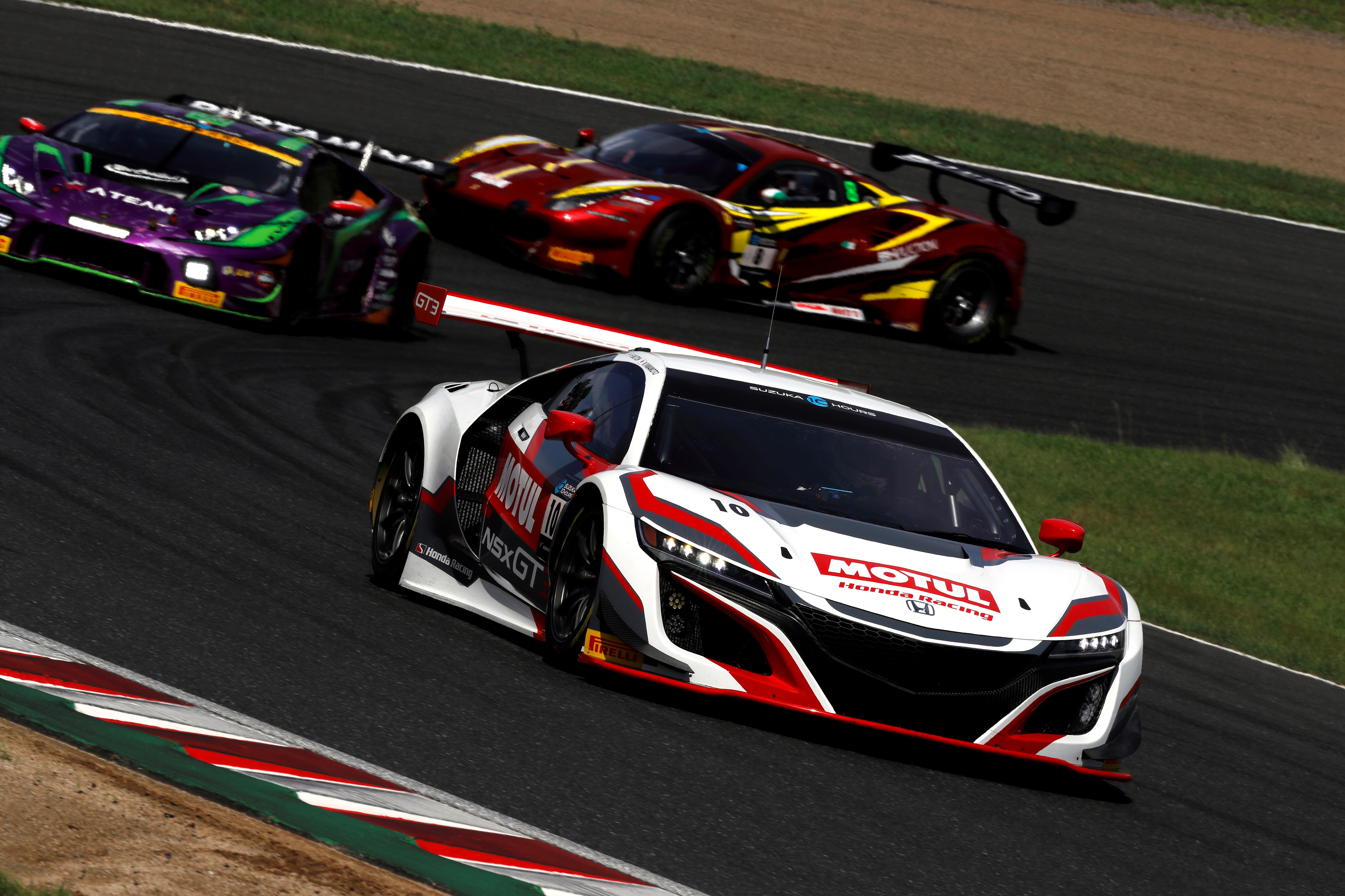 GT3 / 27 August 2018
Triple finish for NSX GT3 at Suzuka 10 Hours
The Honda NSX GT3 achieved a triple finish in the inaugural Suzuka 10 Hours as the Intercontinental GT Challenge continued in Japan.
On a sweltering day at the Japanese Grand Prix venue, with ambient temperatures of 33 degrees, drivers, teams and cars were pushed to the limit, but the strength and durability of the NSX GT3 was proven as all three machines ran reliably throughout.
The NSX GT3 had debuted in the IGTC at the Spa 24 Hours in July, where the Castrol Honda Racing team had gone the distance and finished seventh in the pro-am class.
For Suzuka, Super GT regulars Modulo Drago Corse and CarGuy Racing were joined by Honda Motul Racing, who were fielding an NSX GT3 for the first time.
Showing strong pace, Daisuke Nakajima, Naoki Yamamoto and Hideki Mutoh easily qualified for the pole position shoot-out on Saturday and were joined by the Drago car, which was driven at Suzuka by Ryo Michigami, Hiroki Otsu and Takashi Kogure.
Nakajima put the Motul car 22nd on the Pro grid while Kogure spun at the Degner curve on his fastest lap, meaning Drago qualified 21st in class; his first lap time instead counting.
CarGuy's Naoki Yokomizo ensured the car he shared with Takeshi Kimura and Kei Cozzolino would qualify as the fifth-fastest pro-am car, despite it suffering a heavy impact during regular qualifying that forced the team to work through the night to make repairs.
All three cars sought to make up ground early in a dry race and started well as the large pack of cars battled hard for position.
Both the Drago and CarGuy entries received time penalties during the race; Drago for contact with another car and GarCuy for exceeding the allowed driver stint length, but both crews rallied well and bounced back in what time remained.
Drago's charge, which was also hampered by a fuel issue that forced a few extra pitstops, brought them up to 16th in Pro by the chequered flag – one place behind the Motul car in the class.
CarGuy crossed the finishing line seventh in pro-am; a good reward for the team following their hard work after qualifying.
All the cars were competing as part of the NSX GT3 Customer Racing Programme; a global collaborative project with JAS Motorsport responsible for assembly of all cars.

Honda Performance Development (HPD) and M-TEC handle sales and technical support in North America and Japan respectively with JAS responsible for this across the rest of the world.
Stefano Fini, JAS Motorsport NSX GT3 Project Leader, said: "It's pleasing to see all cars make the finish of such a gruelling race and means that, coupled with the performance at the Spa 24 Hours, the NSX GT3 has a 100 per cent finishing record in the Intercontinental GT Challenge this year. This championship is fought at such an incredibly high level that winning is extremely difficult, so it was good that both pro cars made it into the pole shoot-out and showed what they could do at various times during the race. This has been a useful exercise and both Drago and CarGuy will now return to SuperGT and aim for strong results in GT300 in the last few races of their season."