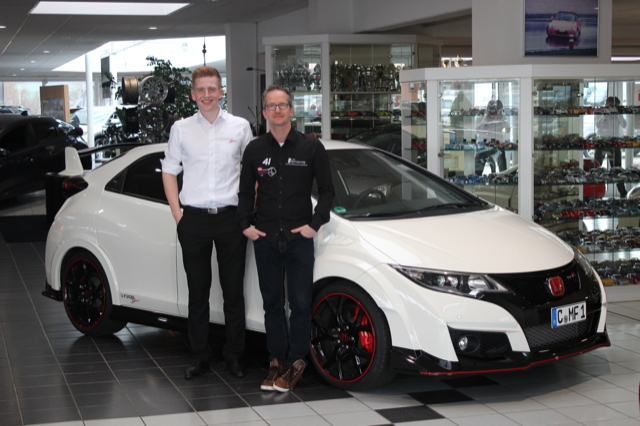 TCR / 01 December 2015
TWO JAS MOTORSPORT HONDA CIVIC TCR CARS FOR FUGEL SPORT IN TCR GERMANY
Kirsch and Fugel to Drive
The first two JAS-built Honda Civic TCR cars destined for the new for 2016 TCR Germany series have been ordered by Fugel Sport for the seven round ADAC organised championship. The JAS Civic TCRs will be operated from the family run Honda dealership in Chemnitz-Mittelbach and driven by experienced touring car racer Steve Kirsch and 18 year old Dominik Fugel.
The new TCR Germany series will run as part of the popular ADAC GT Masters events package which will visit the Nurburgring, Oschersleben, Hockenheim and Sachsenring in Germany and also the Red Bull Ring in Austria and Zandvoort in Holland.
Based on the latest Honda Civic Type R sports saloon the JAS Civic TCRs have proved winning machines in the 2015 inaugural TCR International series with Gianni Morbidelli, Kevin Gleeson and World Touring Car Champion Rob Huff all taking outright victories with the West Coast Racing Team. The JAS Civic TCR of Michael Choi run by Hong Kong based Prince Racing won the 2015 TCR Asia championship and the new cars being built for 2016 feature all the latest developments approved by TCR regulations.
The Fugel Sport team has raced Honda products for many years. From 2006 to 2008 Steve Kirsch and team owner Markus Fugel successfully ran a Honda S2000 in the popular VLN Endurance Championship and recently Dominik Fugel has driven a Civic in the Endurance races on the Nordsleife.
"JAS is receiving many enquiries for TCR Civics from around the globe," reports Mads Fischer, JAS Customer Racing Manager. "We have production running strongly already and plan to build at least 20 Civics in time for the start of the various national TCR series and the second year of the TCR International series. Technically the JAS Civic is the standard for TCR racing and the purchase cost is the most competitive of any make on the market. The Fugel Sport cars will be ready to test by March so they will be well established for the start of the ADAC series."