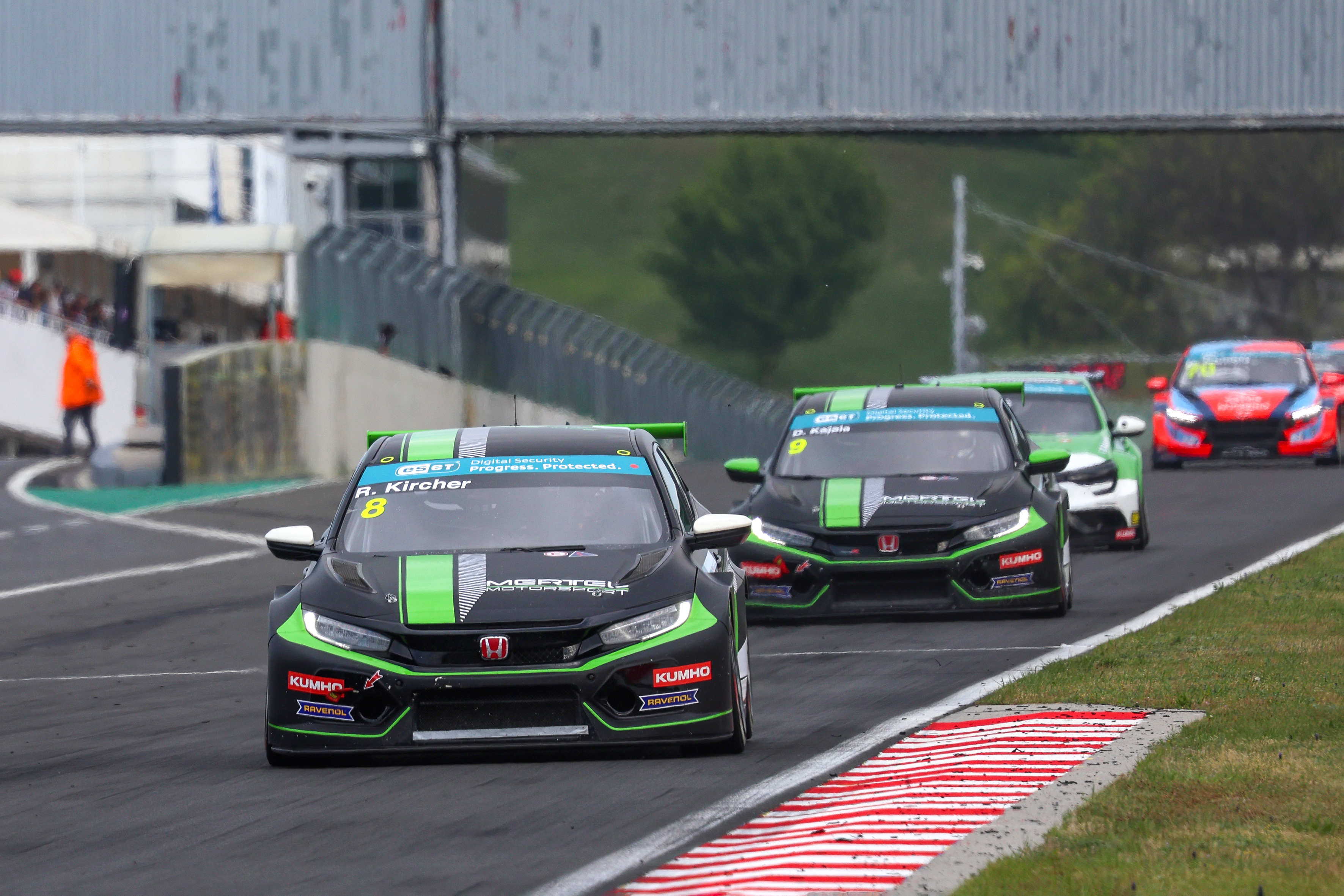 TCR / 01 May 2023
Victories for Civic Type R TCR in Europe and Asia
The Civic Type R TCR continued its successful start to the 2023 season with two outright race wins and a further four class victories on three continents for the JAS Motorsport-built car last weekend.
TCR Eastern Europe
Rene Kircher led a one-two finish at the Hungaroring to the first win in the series for himself and Mertel Motorsport.
From fifth on the partially-reversed Race Two grid the young German climbed to second by the finish and was then promoted to victory when his team-mate Davit Kajaia was given a time penalty post-race for exceeding track limits and dropped to second.
Kircher, who was the Junior Trophy winner in both races to extend his category lead, was second overall in Race One with Kajaia third. He's now second in the overall points while Mertel lead the Teams' rankings.
Honda Wyszomirski's Sebastian Kolakowski was second in the Trophy category in both races and is now second in the class points.
TCR Chinese Taipei
GH-Team AAI picked up where they left off in 2022 by domination the opening race of the season at Lihpao and heading an all-Honda podium.
Shaun Thong and Shi Shiwei (below) qualified on pole position and recovered to win, despite losing 20-seconds at their mandatory driver change with an air-jack issue. Liu Weizhi drove solo to second in the sister car while KOE Racing's Zhang Jishun and Cai Zhangda were third.
Gao Jianong made it four Hondas in the top five for Speed Verse Racing while NS KOE Racing's Su Yanming and Chen Junfu were non-starters.
Liming Racing's Gao Zilong and Wu Yizhan won Class B with solo driver Chen Jinhong seventh for Carsman Racing.
TCR South America
Squadra Martino made it four Trophy class wins in five races in 2023 as Enrique Maglione and Rodrigo Aramendia combined to take the category spoils in the first of the two-driver 'endurance' races of the season.
The duo ran a consistent race-long pace and were joined on the podium by points leading-team-mate Fabio Casagrande and Franco Coscia.
Ignacio Montenegro continues to lead the points despite being hit from behind after the first corner and dropping to 14th place. He and Lucas Colombo Russell recovered to seventh while Juan Manuel Casella and Matias Milla were the best-placed Martino crew in fourth.
Martino retained their position at the top of the Teams' Championship.
TCR World Tour
The inaugural TCR World Tour – the nominal replacement for WTCR – got underway at Portimao with JAS official race driver Nestor Girolami the sole Honda representative in the new FL5 Civic Type R TCR run by ALM Motorsport.
The Argentinian qualified and finished fifth in the opening race, but a first-lap collision in Race Two caused damage that would lead to his retirement soon afterwards.