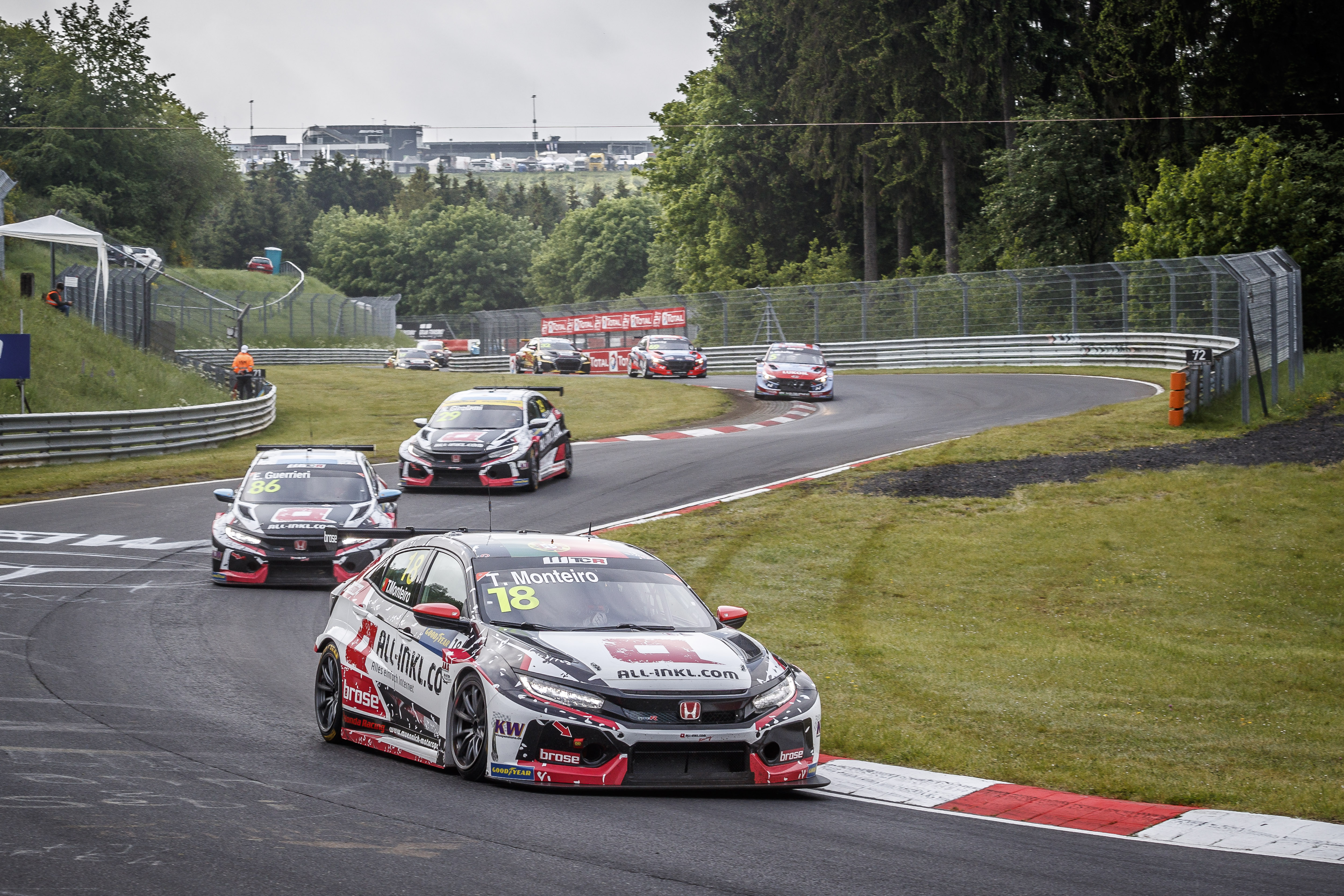 TCR / 08 June 2021
Victories for Honda Civic Type R TCR in Germany & Italy
Two superb victories and nine further podium finishes were the highlights of another superb weekend for the Honda Civic Type R TCR globally as Tiago Monteiro and Franco Girolami stole the limelight.
FIA WTCR
Tiago Monteiro surged from fifth to first in a sensational final lap to win the opening race of the WTCR - FIA World Touring Car Cup season on Germany's fearsome Nurburgring Nordschleife.
Taking three positions in one move at the start of the lap, he lined up his target on the run to the final sequence of corners and snatched victory for the ALL-INKL.DE Munnich Motorsport squad in his JAS Motorsport-built car.
He was fourth in Race Two while ALL-INKL.COM Munnich Motorsport's Nestor Girolami - who had set pole position on Friday for a second straight season - finished third. Esteban Guerrieri and Attila Tassi both had best results of fourth.
Monteiro is second in the Drivers' points with Girolami third and the two Munnich-run outfits second and third in the Teams' standings.
TCR Italy
Franco Girolami brilliantly won from pole position in Race One at Misano as he returned to the series with MM Motorsport. The Argentinian's hopes of a repeat on Sunday ended due to a puncture that put him out.
JAS Development Driver Jack Young - making his series debut - scored his first overall touring car podium finish with third spot in Race Two in the sister car. That success was also a victory in the under-25s category.
The Briton, who had qualified fourth,retired from second place in Race One with a technical issue.
Teenager Ruben Volt - competing in only his second car-racing event - was an impressive sixth in both races and is now second in the race for the Under-25s title.
Team-mate Mattias Vathel - a JAS Development Driver - was 10th in Race One while Technodom Sport's Jonathan Giacon was ninth on Sunday.
Nurburgring 24 Hours
Castrol Honda Racing turned in a flawless performance to finish third in a bizarre event that featured less than 10 hours of racing due to thick fog bringing out the longest red flag in the German classic's 51-year history.
Tiago Monteiro and Dominik Fugel - who were going for their third straight win at the event with the Fugel Sport-run team - were joined by 2019 winner Cedrik Totz and Nestor Girolami.
Having started last due to a speeding violation for Totz in qualifying, the quartet employed a strategy that should have seen the race come to them over 24 hours, but had to be content with a podium finish following the stoppages.
TCR Denmark
Kasper H Jensen began his title defence with a pair of second-place finishes at Ring Djursland; the Massive Motorsport driver his two podiums to the fourth spot he'd secured in Race One.
Team-mate Kenn Bach was third in the Trophy class for non-professional drivers in all three races.
TPR Motorsport's William Nyberg took a best result of sixth in the Trophy standings, but team-mate Louise Frost - competing in the full 'pro' category was sidelined for the rest of the day after being eliminated at the start of Race One.
Steffen Larsen and Miccar Racing's Carsten Lorenzen took best finishes of fourth and seventh in the Trophy.