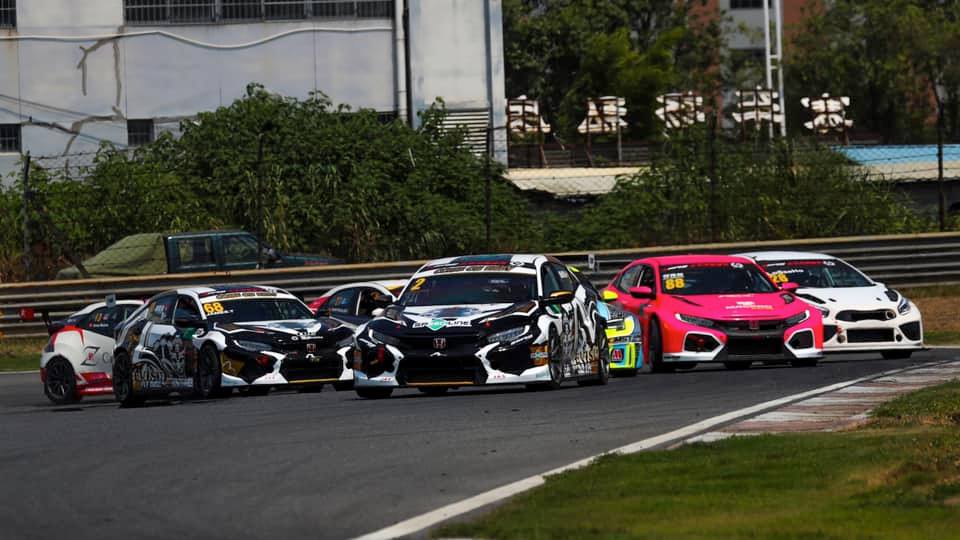 TCR / 26 July 2021
Victory and four podiums for Civic Type R TCR drivers
A win and four podium finishes on three continents made for another ultra-strong weekend for Honda Civic Type R TCR drivers and teams.
Pacific Motorsport Festival
Andy Yan dominated his first event behind the wheel of a JAS Motorsport-built Civic at Guangdong, taking pole position and a commanding victory for Team TRC.
The Multiple China Touring Car Champion's nearest challenge in Race One came from MacPro Racing Team's Henry Ho, who finished second. Yan's team-mate James Tang and Maximum Motorsport's Ivan Szeto were further back.
The Pacific Motorsport Festival is one of a number of events in South China that is instrumental in deciding the entries for the touring car races at November's Macau Grand Prix.
TCR Italy
Ruben Volt claimed his first podium in car racing with third place in Race Two at Imola. The ALM Honda Racing driver qualified sixth after running in the top six throughout practice and added his result to seventh in the opener.
His results also owned him a double-win in the under-25 category; a class in which he continues to hold second place on points.
His team-mate, JAS Development Driver Mattias Vahtel was part of a seven-car fight for fourth in Race Two and eventually came home seventh, following a Race One-retirement.
MM Motorsport duo Martin Ryba and Ibragim Akhmadov were eighth and ninth in Race Two; each having been spun around (Ryba to the tail of the field and Akhmadov into the gravel and out of the race) early in Race One.
TCR Japan
Dome Racing Team's Ai Miura continued to show her speed as the Dome Racing Team driver again finished on the podium at Sugo.
Third on the road in Saturday's opening race before a ride-height infringement le to her exclusion, Miura then finished fifth in Race Two - a replacement for the weather-cancelled Autopolis Sunday Series race.
She finished the weekend on a high with third place in the scheuled Sunday Series race; a result that left her fifth in the Sunday Series standings and Dome and Honda fifth in both the Teams' and Manufacturers' rankings.
Daiwa Trading N Akiland Racing driver Masayoshi Oyama and 'Mototino' - who was racing a Honda for the first time in the series - each scored best results of sixth across the weekend.
TCR South America
Raphael Reis and Valdeno Brito looked set for victory in the series' first endurance race at Curitiba when a left-front puncture struck their car with two laps to go, forced an unscheduled pitstop and dropped the pair to fourth in the final results.
Identical punctures in the second half of the race limited the sister W2 Racing car of Pepe Oriola/Marcelo Costa and the best of the Squadra Martino Hondas of Ayrton Chorne/Pedro Aizza to sixth and fifth.
Esteban Guerrieri and Jose Manuel Sapag had put the other Squadra Martino car on pole position and, despite an early left-front puncture themselves, were in contention to win until a driveshaft issue - caused by excessive vibrations from a loose engine mount - forced their retirement just beyond half-distance.
TCR Eastern Europe
Sebastian Kolakowski was Honda Wyszomirski's only representative as the series move on to Grobnik, Croatia.
The Polish driver qualified 14th in his older FK2 Civic Type R TCR, but climbed to 11th by the end of Race One. He did not start Sunday's race.