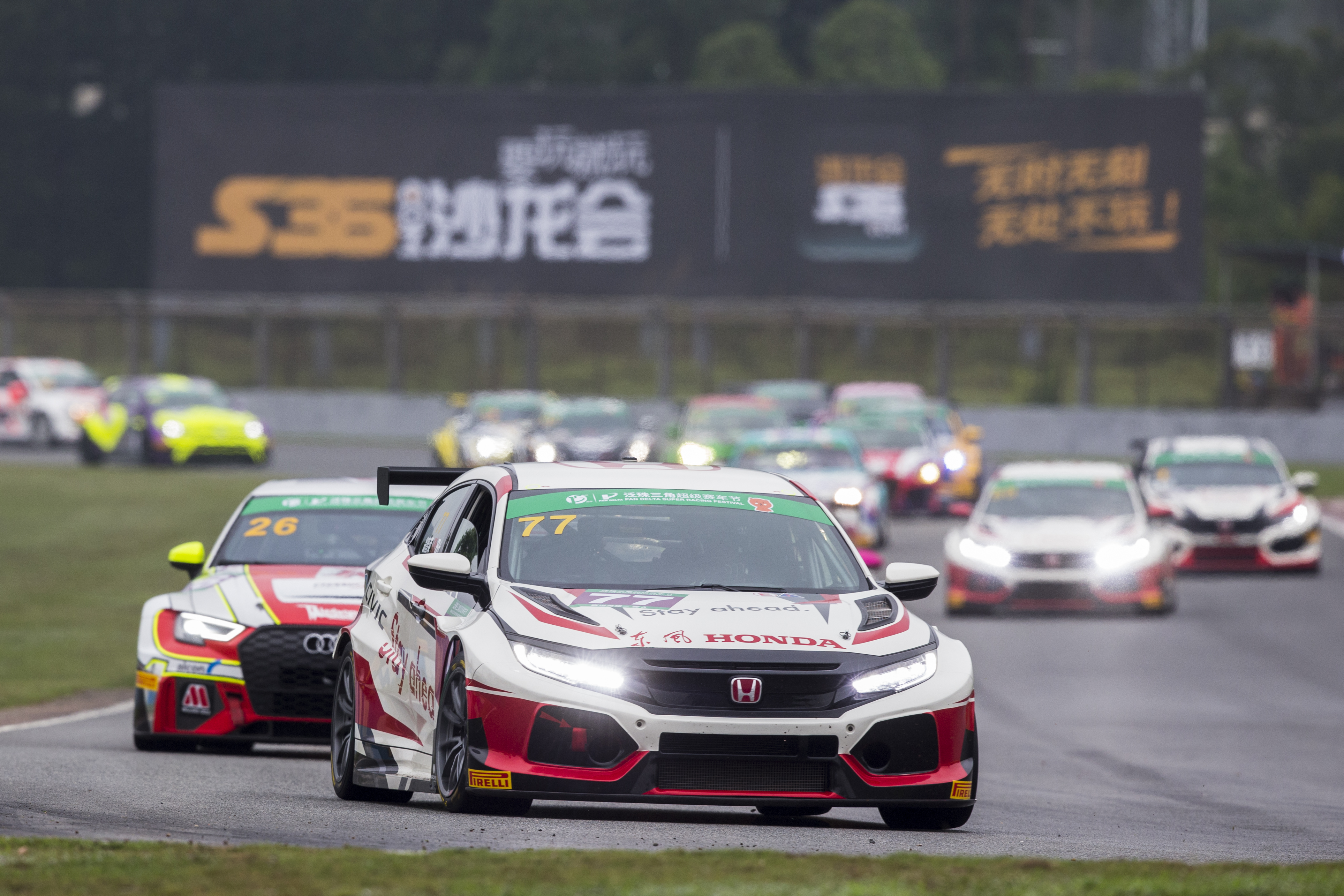 TCR / 25 March 2019
Victory for Civic Type R TCR in China
Pattarapol Vongprai gave the Honda Civic Type R TCR victory in the opening round of the Pan-Delta Super Racing Festival at Zhuhai International Circuit in China.
Driving for the Dongfeng Honda Racing Team, which is run by MacPro Racing Team, the Thai driver qualified his JAS Motorsport-built car second and produced a flawless performance on a damp track to win by 2.4 seconds.
His team-mate Charles Ng was involved in an entertaining battle for third place during the first half of the race, but eventually had to give best to the older FK2-based car of Top Racing's Li Ka Hei.
Top Racing's Li Siu Wa put the newer FK7 Civic on pole position, but spun on the formation lap as the rain began to fall, started last and was then forced through the gravel on the first lap when a wayward car rejoined right in front of him, resulting in contact.
He recovered to fifth while TRC's Pat Wong was eliminated further around the opening lap through contact and Terence Tse did not start as a technical issue suffered in qualifying was unable to be repaired.
KCMG scored a podium finish on their debut in the TCR category of Japan's Super Taikyu series as Matt Howson, Jim Ka To and Paul Ip finished third.
Reigning champions Dome Racing Team qualified second and led through the first stint, but suffered awful luck when another car blocked Hiroki Otsu's entry to their pit at their first scheduled stop.
Forced into re-pitting next time around, the car dropped to fourth, but Shinji Nakano, Mitsuhiro Endo and Tadao Uematsu all fought back strongly with Otsu finishing second; only for a post-race penalty to put the car fourth in the final results.
Team Noah came home sixth with their crew of Toshihiro Tuskada/Yoshikazu Sobu/Kuniyuki Haga/Yuji Kiyotaki. RFC's Jun Fujii/Takahisa Ohno were non-finishers with a mechanical issue.
Fresh from confirming their entry in June's Nurburgring 24 Hours, the Fugel Sport-run Honda Team ADAC Sachsen contested the opening round of the Nordschleife-based VLN endurance series.
Dominik Fugel qualified fifth in a session that was delayed by several hours due to thick fog at the 25km circuit in Germany. Fugel, Markus Oestreich and guest driver Tiago Monteiro - who was using the event as a warm-up for the WTCR season - finished fourth.
Mads Fischer, JAS Motorsport TCR Project Leader, said: "It's been incredibly pleasing to see the Civic Type R TCR rack up so many wins already in 2019. For Dongfeng Honda Racing Team and MacPro Racing, this is a great way to start their season and with Top Racing on pole position and TRC also competing, JAS-built cars are well-represented in Pan-Delta. In Super Taikyu we expected a victory and Dome certainly had the fastest car at Suzuka, but they suffered every bit of bad luck possible and still finished fourth. KCMG scored a great podium, which I'm sure won't be their last in 2019, and the other new teams competing show that the Civic is again the car to have."