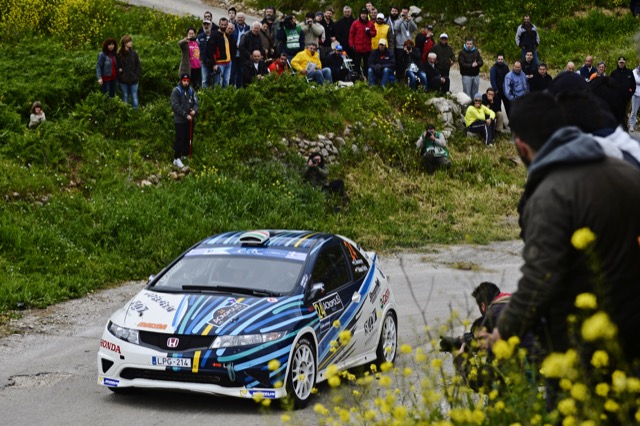 Race Track / 21 June 2014
Zoltan Bessenyey and Yuliana Nyirfas to miss the Belgian classic!
FIA ERC - Geko Ypres Rally - Preview
The ERC travels to Belgium this weekend for the Geko Ypres Rally, one of the most important and successful rallies in the European Rally Championship calendar. Noticeably absent though at the 6th round will be Hungarian Zoltan Bessenyey, who currently stands second place on the 2WD Driver's Championship leaderboard.
Zoltan says: "At the start of the season, we made up a calendar of the rallies we wanted to compete in this year given our available budget, and we decided to skip Ypres and concentrate on the Estonia Rally, the 7th round of the ERC."
Bessenyey and co-driver Yulianna Nyirfas will not be the only members of the Civic-crew at the start of the Auto24 Estonia Rally (17-19 July), which is held within the beautiful countryside of southern Estonia. Australians Eli Evans and Glen Weston, the reigning Australian Rally Championship driver and co-driver 2WD champions, will also be making the trip, which will mark their first appearance in the ERC, behind the wheel of the J.A.S Motorsport Civic Type R.
So without the Eurosol-Civic Type R in Ypres, Honda will be counting in Belgium on fellow other Hungarian Civic driver Szabolcs Varkony, and Poland's Grzegorz Sikorski, who will be competing at the rally for the first time.

Varkonyi started in the Hungarian Championship during the 1990s and has driven with the Civic Type R since 2011. Last year was his Ypres debut, but unfortunately was forced to retire on the first day.

"I definitely want a second chance in Ypres. I know the stages better now, which are very fast with lots of cuts. My target is to finish the rally and to end in the Top 5," said the Hungarian.
The Geko Ypres Rally starts on Friday June 20 with seven special stages, followed by another thirteen consecutive special stages on Saturday June 21 – a total of 298,79 km against the clock.